01.12.2017 | Research | Ausgabe 1/2017 Open Access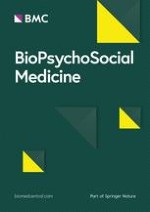 The relationship between salivary amylase and the physical and psychological changes elicited by continuation of autogenic training in patients with functional somatic syndrome
Zeitschrift:
Autoren:

Tadashi Kiba, Tetsuya Abe, Kenji Kanbara, Fumie Kato, Sadanobu Kawashima, Yukie Saka, Kazumi Yamamoto, Yasuyuki Mizuno, Junji Nishiyama, Mikihiko Fukunaga
Abstract
Background
The aim of this study was to clarify the changes in biological measures during autogenic training (AT) sessions and the relationship between these biological measures and the changes in physical and psychological measures induced by continuation of AT in patients with functional somatic syndrome (FSS). We used the salivary amylase (SAMY) level, skin temperature of the finger (TEMP), subjective symptom scores, and psychological characteristics to assess these changes.
Methods
We assessed 24 patients with FSS and 23 healthy controls before and after AT. We then conducted the same tests after the participants had practiced AT at home 1 and 2 months later.
Results
The baseline SAMY levels in the first session were significantly higher in the FSS group than in the control group. However, this difference was not significant in the second and third sessions. The pattern of changes in TEMP induced by AT was not different between the FSS and control groups. Tension-anxiety and somatic symptoms in patients with FSS were improved by AT. In the FSS group, the baseline SAMY levels in the first session showed a significant negative correlation with the changes in the subjective symptom score and tension-anxiety score at baseline.
Conclusions
The practice of AT, both during the first session and after 1 month of continuation, eased the dysregulation of the autonomic nervous system that is reflected in SAMY in patients with FSS. AT also contributed to decreases in the tension-anxiety and somatic symptoms in patients with FSS. We suggest that SAMY is related to both physical and psychological effects of AT in patients with FSS.