01.12.2017 | Research article | Ausgabe 1/2017 Open Access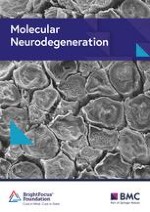 The release and trans-synaptic transmission of Tau via exosomes
Zeitschrift:
Autoren:

Yipeng Wang, Varun Balaji, Senthilvelrajan Kaniyappan, Lars Krüger, Stephan Irsen, Katharina Tepper, RamReddy Chandupatla, Walter Maetzler, Anja Schneider, Eckhard Mandelkow, Eva-Maria Mandelkow
Wichtige Hinweise
Electronic supplementary material
The online version of this article (doi:
10.​1186/​s13024-016-0143-y
) contains supplementary material, which is available to authorized users.
Abstract
Background
Tau pathology in AD spreads in a hierarchical pattern, whereby it first appears in the entorhinal cortex, then spreads to the hippocampus and later to the surrounding areas. Based on this sequential appearance, AD can be classified into six stages ("Braak stages"). The mechanisms and agents underlying the progression of Tau pathology are a matter of debate. Emerging evidence indicates that the propagation of Tau pathology may be due to the transmission of Tau protein, but the underlying pathways and Tau species are not well understood. In this study we investigated the question of Tau spreading via small extracellular vesicles called exosomes.
Methods
Exosomes from different sources were analyzed by biochemical methods and electron microscopy (EM) and cryo-EM. Microfluidic devices that allow the culture of cell populations in different compartments were used to investigate the spreading of Tau.
Results
We show that Tau protein is released by cultured primary neurons or by N2a cells overexpressing different Tau constructs via exosomes. Neuron-derived exosomal Tau is hypo-phosphorylated, compared with cytosolic Tau. Depolarization of neurons promotes release of Tau-containing exosomes, highlighting the importance of neuronal activity. Using microfluidic devices we show that exosomes mediate trans-neuronal transfer of Tau depending on synaptic connectivity. Tau spreading is achieved by direct transmission of exosomes between neurons. In organotypic hippocampal slices, Tau-containing exosomes in conditioned medium are taken up by neurons and microglia, not astrocytes. In N2a cells, Tau assemblies are released via exosomes. They can induce inclusions of other Tau molecules in N2a cells expressing mutant human Tau. We also studied exosomes from cerebrospinal fluid in AD and control subjects containing monomeric and oligomeric Tau. Split-luciferase complementation reveals that exosomes from CSF can promote Tau aggregation in cultured cells.
Conclusion
Our study demonstrates that exosomes contribute to trans-synaptic Tau transmission, and thus offer new approches to control the spreading of pathology in AD and other tauopathies.