01.12.2017 | Study protocol | Ausgabe 1/2017 Open Access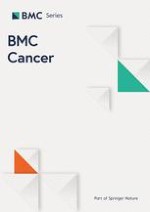 The RENAISSANCE (AIO-FLOT5) trial: effect of chemotherapy alone vs. chemotherapy followed by surgical resection on survival and quality of life in patients with limited-metastatic adenocarcinoma of the stomach or esophagogastric junction – a phase III trial of the German AIO/CAO-V/CAOGI
Zeitschrift:
Autoren:

Salah-Eddin Al-Batran, Thorsten O. Goetze, Daniel W. Mueller, Arndt Vogel, Michael Winkler, Sylvie Lorenzen, Alexander Novotny, Claudia Pauligk, Nils Homann, Thomas Jungbluth, Christoph Reissfelder, Karel Caca, Steffen Retter, Eva Horndasch, Julia Gumpp, Claus Bolling, Karl-Hermann Fuchs, Wolfgang Blau, Winfried Padberg, Michael Pohl, Andreas Wunsch, Patrick Michl, Frank Mannes, Matthias Schwarzbach, Harald Schmalenberg, Michael Hohaus, Christian Scholz, Christoph Benckert, Jorge Riera Knorrenschild, Veit Kanngießer, Thomas Zander, Hakan Alakus, Ralf-Dieter Hofheinz, Claus Roedel, Manish A. Shah, Mitsuru Sasako, Dietmar Lorenz, Jakob Izbicki, Wolf O. Bechstein, Hauke Lang, Stefan P. Moenig
Abstract
Background
Historical data indicate that surgical resection may benefit select patients with metastatic gastric and gastroesophageal junction cancer. However, randomized clinical trials are lacking. The current RENAISSANCE trial addresses the potential benefits of surgical intervention in gastric and gastroesophageal junction cancer with limited metastases.
Methods
This is a prospective, multicenter, randomized, investigator-initiated phase III trial. Previously untreated patients with limited metastatic stage (retroperitoneal lymph node metastases only or a maximum of one incurable organ site that is potentially resectable or locally controllable with or without retroperitoneal lymph nodes) receive 4 cycles of FLOT chemotherapy alone or with trastuzumab if Her2+. Patients without disease progression after 4 cycles are randomized 1:1 to receive additional chemotherapy cycles or surgical resection of primary and metastases followed by subsequent chemotherapy. 271 patients are to be allocated to the trial, of which at least 176 patients will proceed to randomization. The primary endpoint is overall survival; main secondary endpoints are quality of life assessed by EORTC-QLQ-C30 questionnaire, progression free survival and surgical morbidity and mortality. Recruitment has already started; currently (Feb 2017) 22 patients have been enrolled.
Discussion
If the RENAISSANCE concept proves to be effective, this could potentially lead to a new standard of therapy. On the contrary, if the outcome is negative, patients with gastric or GEJ cancer and metastases will no longer be considered candidates for surgical intervention.
Trial registration
The article reports of a health care intervention on human participants and is registered on October 12, 2015 under ClinicalTrials.gov Identifier:
NCT02578368
; EudraCT: 2014–002665-30.