01.12.2018 | Case report | Ausgabe 1/2018 Open Access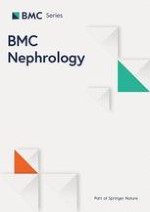 The renal manifestations of type 4 familial partial lipodystrophy: a case report and review of literature
Zeitschrift:
Autoren:

Ru-Xuan Chen, Lei Zhang, Wei Ye, Yu-Bing Wen, Nuo Si, Hang Li, Ming-Xi Li, Xue-Mei Li, Ke Zheng
Abstract
Background
Lipodystrophy syndromes are rare disorders of variable body fat loss associated with potentially serious metabolic complications. Familial partial lipodystrophy (FPLD) is mostly inherited as an autosomal dominant disorder. Renal involvement has only been reported in a limited number of cases of FPLD. Herein, we present a rare case of proteinuria associated with type 4 FPLD, which is characterized by a heterozygous mutation in
PLIN1
and has not been reported with renal involvement until now.
Case presentation
A 15-year-old girl presented with insulin resistance, hypertriglyceridaemia, hepatic steatosis and proteinuria. Her glucose and glycated haemoglobin levels were within normal laboratory reference ranges. A novel heterozygous frameshift mutation in
PLIN1
was identified in the patient and her mother. The kidney biopsy showed glomerular enlargement and focal segmental glomerulosclerosis under light microscopy; the electron microscopy results fit with segmental thickening of the glomerular basement membrane. Treatment with an angiotensin-converting enzyme inhibitor (ACEI) decreased 24-h protein excretion.
Conclusions
We report the first case of proteinuria and renal biopsy in a patient with FPLD4. Gene analysis demonstrated a novel heterozygous frameshift mutation in
PLIN1
in this patient and her mother. Treatment with ACEI proved to be beneficial.