01.12.2017 | Review | Ausgabe 1/2017 Open Access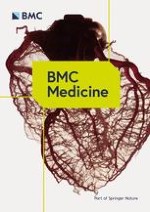 The renin–angiotensin system: a possible new target for depression
Zeitschrift:
Autoren:

João Vian, Círia Pereira, Victor Chavarria, Cristiano Köhler, Brendon Stubbs, João Quevedo, Sung-Wan Kim, André F. Carvalho, Michael Berk, Brisa S. Fernandes
Background
The pathophysiology of depression remains elusive and current treatments, which focus on traditional pathways (monoamine alterations), are only partially effective. Remission rates in the treatment of depression are only about 30% for those treated with traditional pharmacotherapy, and multiple agents are often required to achieve an adequate level of recovery [
1
] Evidence points to the involvement of neuroinflammation, oxidative and nitrosative stress pathways, mitochondrial dysfunction and neurotrophic signalling in depression [
2
].
Recently, the renin–angiotensin system (RAS) was proposed to be implicated in depression, and that blocking this system, either with angiotensin-converting enzyme inhibitors (ACEIs) or with angiotensin II type 1 receptor (AT1R) blockers, would translate into clinical benefits for the depression treatment [
3
–
7
]. Here, we review the literature so far on RAS-targeting drugs in depression.
Methods
A PubMed search was conducted for literature published between January 1974 and June 2017. Search terms included were: depression OR inflammation OR anxiety OR mood AND renin–angiotensin system, angiotensin, ATR1, ATR2, angiotensin receptor blockers, angiotensin-converting enzyme inhibitors, ATR3, ATR4, Mas, and aldosterone. Systematic reviews, randomised controlled trials (RCTs), observational studies, case series and animal studies with an emphasis on the angiotensin system and its role in depression were included. Articles not in English were excluded. The PubMed search was augmented by manually searching the references of key papers and related literature. The results were presented as a narrative review.
The RAS in the brain
Major depressive disorder (MDD) and neuroinflammation: pre-clinical data
Clinical data
Conclusions
A growing body of evidence suggests a role for the angiotensin system in the pathophysiology of MDD. Drugs targeting the RAS reduce oxidative and inflammatory stress and enhance neurogenesis; all documented pathological markers in depression. Despite the heavy burden of depression, new drug development has been underwhelming. While RCTs providing definitive proof are yet to come, available preclinical and clinical data suggest the potential antidepressant properties of ACEIs and ARBs. The search for novel, effective, safe anti-inflammatory drugs that act centrally in the brain are of fundamental interest. Future clinical trials targeting the brain angiotensin system are necessary to verify the usefulness of these agents in treating depression.
Acknowledgements
Not applicable.
Funding
BSF is supported by a postdoctoral fellowship from Deakin University, Australia. CAK is supported by a postdoctoral scholarship from the Coordenação de Aperfeiçoamento de Pessoal de Nível Superior (CAPES; Brazil). AFC is supported by a research fellowship award from the Conselho Nacional de Desenvolvimento Científico e Tecnológico (CNPq; Brazil). MB is supported by a National Health and Medical Research Council (NHMRC) Senior Principal Research Fellowship (grant number 1059660). The Department of Psychiatry and Behavioral Sciences of McGovern Medical School (USA) funds the Translational Psychiatry Program. The University of Texas Health Science Center at Houston (UTHealth). Laboratory of Neurosciences (Brazil) is a National Institute for Molecular Medicine centre, and a member of the Center of Excellence in Applied Neurosciences of Santa Catarina. Its research is supported by grants from CNPq (JQ), Fundação de Amparo à Pesquisa e Inovação do Estado de Santa Catarina (JQ); Instituto Cérebro e Mente (JQ) and Universidade do Extremo Sul Catarinense (JQ). JQ is a 1A CNPq Research Fellow. MB is supported by an NHMRC Senior Principal Research Fellowship (GNT1059660).
Availability of data and materials
Not applicable.
Ethics approval and consent to participate
Not applicable.
Consent for publication
Not applicable.
Competing interests
The authors declare that they have no competing interests.
Open Access
This article is distributed under the terms of the Creative Commons Attribution 4.0 International License (
http://​creativecommons.​org/​licenses/​by/​4.​0/​
), which permits unrestricted use, distribution, and reproduction in any medium, provided you give appropriate credit to the original author(s) and the source, provide a link to the Creative Commons license, and indicate if changes were made. The Creative Commons Public Domain Dedication waiver (
http://​creativecommons.​org/​publicdomain/​zero/​1.​0/​
) applies to the data made available in this article, unless otherwise stated.