16.01.2020 | Original Article | Ausgabe 3/2020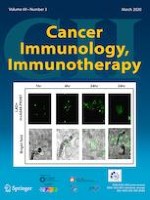 The repertoire of tumor-infiltrating lymphocytes within the microenvironment of oral squamous cell carcinoma reveals immune dysfunction
Zeitschrift:
Autoren:

Hongzhi Quan, Zhongyan Shan, Ziyi Liu, Sixuan Liu, Liu Yang, Xiaodan Fang, Kun Li, Baisheng Wang, Zhiyuan Deng, Yanjia Hu, Zhigang Yao, Junhui Huang, Jianjun Yu, Kun Xia, Zhangui Tang, Liangjuan Fang
Wichtige Hinweise
Electronic supplementary material
Publisher's Note
Springer Nature remains neutral with regard to jurisdictional claims in published maps and institutional affiliations.
Abstract
Background
The role of tumor-infiltrating lymphocytes (TILs) in the immune remodeling of tumor microenvironments (TME) in oral squamous cell carcinoma (OSCC) remains controversial. In this study, we pursued a comprehensive characterization of the repertoire of TILs and then analyzed its clinical significance and potential prognostic value.
Methods
Fresh tumor tissue samples and peripheral blood from 83 OSCC patients were collected to comprehensively characterize the phenotypes and frequencies of TILs by flow cytometry. Archived paraffin-embedded tissues derived from 159 OSCC patients were analyzed by immunohistochemistry to further assess the TIL repertoire. The clinical significance of TILs and their potential prognostic value were further analyzed.
Results
A series of unique features of TILs were observed. IL-17 was highly expressed in betel nut chewers, and CD20 was abundantly expressed in patients who did not drink alcohol; high expression of CD138, PD-L1, and Foxp3 was associated with poor prognosis. The Th17/Treg ratio was an independent prognostic factor for patient survival with greater predictive accuracy for overall survival.
Conclusions
Our results suggest an antigen-driven immune response; however, the immune dysfunction within the microenvironment in OSCC and the Th17/Treg balance may play important roles in the modulation of antitumor immunity.