01.12.2018 | Review | Ausgabe 1/2018 Open Access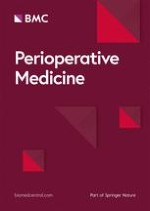 The rising tide of opioid use and abuse: the role of the anesthesiologist
Zeitschrift:
Autoren:

Elena J. Koepke, Erin L. Manning, Timothy E. Miller, Arun Ganesh, David G. A. Williams, Michael W. Manning
Abbreviations
ERAS
Enhanced recovery after surgery
ERP
Enhanced recovery pathway
NSAIDs
Non-steroidal anti-inflammatory drugs
ORD
Opioid-induced respiratory depression
SSRI
Selective serotonin reuptake inhibitor
TAP
Transversus abdominis plane
Background
Opioids are an effective form of analgesia for acute pain but, with over-prescription, have become detrimental to public health in the USA. In the 1990s, a patient advocacy movement focused on pain control was born, and physician, patient advocacy, and professional societies began to promote aggressive treatment of both acute and chronic pain with opioids. The movement was propagated by many well-intentioned clinicians; however, the pharmaceutical industry had a hand in its creation and distribution. Although not a comprehensive summation of the causes of the opioid epidemic, the following events illustrate that a multitude of parties were complicit in its evolution:
1.
In 1996, the American Pain Society declared that pain should be assessed "with the same zeal (as) other vital signs…."
2.
In 1999, the VA Hospital System declared pain as "the fifth vital sign."
3.
JCAHO, the hospital credentialing agency, followed suit and educated health professionals to perform a consistent assessment and treatment of pain, as well as mandated the documentation of pain scores (Alam
2016
).
4.
During this time, the Federation of State Medical Boards also released a pain control policy that encouraged the use of opioids in the treatment of chronic pain.
Incidentally, the educational media promoted by JCAHO and the FSMB policy on chronic pain were funded by the pharmaceutical industry, or written by members who were on the payroll of a prominent pharmaceutical company. As a result, use and prescriptions for opioids began to multiply. The misleading claims and treatment guidelines were not brought to light until the USA was in the midst of an opioid epidemic.
Since 1999, there has been a steady increase in the number of opioids sold and opioid-related deaths (Manchikanti et al.
2012
) (Fig.
1
). In 2015, more than 40% of the world's supply of thebaine, a main ingredient in hydrocodone and oxycodone, was consumed by the USA. Gram for gram, people in the USA consume more narcotic medication than other nations worldwide. By 2017, the number of opioid-related deaths has continued to increase (Hedegaard et al.
2017
) and the US government has declared the opioid epidemic as a public health emergency.
×
In this review, we will briefly describe the opioid burden within the USA, with emphasis on the emerging evidence of a link between acute exposure to opioids and chronic opioid dependence. We will then highlight alternative approaches to the management of intraoperative and acute postoperative surgical pain which emphasize multimodal analgesics and thereby decrease the need for opioid use in the acute hospital setting.
Perioperative use of opioids
In a recent survey of adult surgical patients, 75% had pain they rated as moderate/extreme during the immediate post-surgical period (Gan et al.
2014
). Approximately 99% of all surgical patients in the USA receive opioids perioperatively at some point during their care (Kessler et al.
2013
). Some argue, however, that opioids are used more frequently than needed due to increasing use of quality metrics that use pain control as a measure of quality of care (Zgierska et al.
2012
). Despite the fact that opioids have significant side effects, they have historically been the primary treatment for post-surgical pain as they are very effective with a quick onset of action and no analgesic ceiling.
Opioid use, however, begets opioid use. Patients who received opioids for their primary pain therapy in the acute perioperative period are commonly to require increased doses to maintain the same analgesic effects (Chia et al.
1999
). This is usually attributed to the development of "acute tolerance" to the analgesic effects of opioids, although this loss of analgesic efficacy may also be the result of opioid-induced hyperalgesia. Opioid-induced hyperalgesia has been defined as a state of nociceptive sensitization caused by exposure to opioids (Chu et al.
2008
). Hyperalgesia and tolerance are very different pharmacologic phenomena that can lead to similar net increases in opioid dosing over time. This has been referred to as the
opioid paradox
: the more opioids used intraoperatively, the more opioids required postoperatively. The paradox has been measured in surgical patients up to 2 days postoperatively (Joly et al.
2005
). Both acute opioid tolerance and opioid-induced hyperalgesia are the postulated mechanisms behind this phenomenon.
Postoperative use of opioids and chronic opioid use
Using opioids to treat acute post-surgical pain was not originally believed to increase the risk of long-term opioid dependence or addiction in patients. An infamous letter published in a 1980's
New England Journal of Medicine
quotes: "We conclude that despite widespread use of narcotic drugs in hospitals, the development of addiction is rare in medical patients with no history of addiction" (Porter and Jick
1980
). However, recent literature suggests that some opioid-naïve patients became chronic users of opioids after surgery, chronic being defined as opioid use lasting > 90 days postoperatively. In a retrospective study of over 36,000 opioid-naïve patients undergoing elective surgery in the USA between 2013 and 2014, the incidence of chronic opioid use after surgery was ~ 6%. This did not differ between major and minor surgical procedures (Brummett et al.
2017
).
Another study of opioid-naive patients undergoing short-stay surgery also found significant rates of chronic opioid dependence 1 year after surgery (Lee et al.
2017
). Focusing on curative-intent cancer surgery in the USA from 2010 to 2014, Lee et al. found approximately 10% of patients were still using opioids 1 year after surgery.
The perioperative use of benzodiazepines, selective serotonin reuptake inhibitors (SSRIs), diabetes, younger age, lower income, higher intraoperative use, and the duration of acute postoperative opioid use have all been identified as factors which carry increased risk of prolonged postoperative opioid use (Clarke et al.
2014
). A study by Shah et al. analyzed a one million patient sample of a large health insurance claim database which represented the US-insured population from 2005 to 2015. They found that postoperative prescribing patterns can effect the incidence of chronic opioid use disorder. Starting on the third postoperative day, every day of opioid therapy increases the risk of a patient becoming a chronic consumer of opioids—with the most dramatic increases after the fifth and 31st day of therapy. Cumulative prescription dose of ≥ 700 morphine milligram equivalents, initial prescription for a 10- or 30-day supply, or a second prescription or refill were also associated with an increased incidence of chronic opioid use disorder at 1 year postoperative. Moreover, the incidence of long-term usage is approximately 15% in patients whose first episode of consumption is for > 8 days, and this rises as high as 30% for patients whose initial acute opioid use lasts 31 days or more (Shah et al.
2017
). This study may underestimate the true incidence of long-term usage as it focused on the American commercially insured population and did not include patients who paid for their prescriptions out of pocket or obtained opioids illicitly. Additionally, this study included all types of patients and was not limited to the perioperative population.
Given that a significant proportion of opioid-naïve patients entering surgery may ultimately become chronic opioid users, minimizing opioids during the perioperative period should be an important goal of anesthesiologists. Identifying the patients that are high risk for opioid misuse or opioid use disorder in perioperative clinics enables the perioperative team to construct a plan to minimize the length of time the patient is exposed to opioids inside and outside of the hospital.
Acute side effects of perioperative opioids
Beyond increasing the risk of developing opioid use disorder, perioperative opioid consumption may produce undesirable side effects such as nausea/vomiting, constipation/ileus, pruritus, altered mental status, urinary retention, respiratory complications, and increased length of stay (Oderda et al.
2007
). While many of these side effects are frustrating to patients in the immediate postoperative period, the most dangerous effects are those that affect the respiratory system.
Opioid-induced respiratory depression (ORD) is a significant cause of brain damage and death in the postoperative period. Cashman and Dolin reported their meta-analysis of almost 20,000 patients who underwent thoracic, abdominal, major gynecological, or major orthopedic surgery using a single postoperative analgesic technique with observation for adverse events for at least 24 h postoperatively (Cashman and Dolin
2004
). The authors reported incidence of ORD varying from 0.1 to 37% based on their analysis, depending on the route of administration of the opioid, the type of opioid, the definition and method of monitoring ORD, and the prospective versus retrospective nature of the study. Lee et al. analyzed the Anesthesia Closed Claims Project Database and found that over 88% of ORD occurred within 24 h of the surgical procedure, and 13% of these occurred after the patients had been discharged from the PACU to the ward (Lee et al.
2015
). The most common outcome for these ORD was death (55%) followed by recoverable injury (23%) and brain damage (22%).
Postoperative prescribing: public health considerations
A small selection of studies has explored the quantity of opioids prescribed for various surgeries and the amount actually taken by patients following hospital discharge. Surgeons at Dartmouth found that 67% of prescribed opioids after common general surgeries were not taken by the patient (Hill et al.
2017
). The quantity of pills prescribed was inconsistent and ranged from 0 to 120 pills.
Unused medications, including opioids, can subsequently be used for nonmedical purposes by the patient, his or her family, or others who may have access to improperly stored medications. In a survey of heroin users, approximately 75% reported that they initially started with a prescription opioid, often from another patient's prescription (Jones
2013
). In a study examining patients undergoing either cesarean section or thoracic surgery, investigators found that patients took fewer than five doses after discharge, and almost 80% of patients left their leftover pills in an unsecured location in their homes (Bartels et al.
2016
; Rodgers et al.
2012
). Almost none of the patients receiving opioids were given information on how to properly dispose these unused pills (Brummett et al.
2017
).
Further research is needed to determine the appropriate amount of post-discharge opioids for each individual patient and procedure. We recommend that anesthesiologists assist their surgeon colleagues to establish institution-wide guidelines for postoperative opioid prescription. As anesthesiologists, we can provide verbal and written education on proper disposal techniques of opioids at perioperative clinic visits in an effort to decrease the distribution of leftover pills (Bicket et al.
2017
). The perioperative anesthesia clinic visits are also an appropriate time to educate patients about the benefits of multimodal analgesia. A conversation should be held about our duty to ensure patient safety, and subsequently, we may avoid high doses of opioids with multimodal analgesia.
In addition, all physicians or providers who write for opioid prescriptions outside of the initial surgery encounter should be educated on the expected course length of an opioid prescription after a given surgery or injury. This will prevent primary care physicians from unnecessarily refilling prescriptions outside the normal time window and will also give them an idea as to when a patient is not healing properly or may be having a complication from surgery.
Despite the notoriety of the epidemic, it is still commonplace to use large amounts of opioids in the perioperative setting. Both anesthesiologists and surgeons are well-positioned to partner together to decrease the total amount of opioid used and prescribed in the preoperative, intraoperative, and postoperative settings. However, a multidisciplinary and multifaceted approach is needed to address the problem of the prescription opioid epidemic successfully. An important goal should be to start from the beginning and to ensure as many opioid-naïve patients remain opioid-naïve while having adequate pain control throughout their recovery.
Contribution of multimodal analgesia
Regional anesthesia
Enhanced recovery pathways
Enhanced recovery pathways (ERPs) are multidisciplinary pathways aimed at reducing the stress of surgery, and thereby accelerating functional recovery. A key principle of ERPs is that anesthesia, surgery, and nursing team work together to decrease perioperative opioid use by implementing a multifaceted analgesia technique through all phases of perioperative care.
The goal is to deliver optimal analgesia. Optimal analgesia can be defined as "a technique that optimizes patient comfort and facilitates recovery of physical function, while minimizing the adverse effects of analgesics" (McEvoy et al.
2017
).
To facilitate this goal, preoperative patient education is key. As pain is a complex and subjective biopsychosocial experience, optimal analgesia cannot be achieved without management of patient expectations and education regarding realistic goals of pain treatment. It is critical for the patients to understand that "pain-free" is not the primary goal of optimal analgesia.
The exact components of an enhanced recovery pathway will vary from institution to institution based on local factors, as well as the surgical and patient population. Importantly, there are many ways to achieve optimal analgesia that are efficacious. Each pathway should include a well-structured and planned multimodal approach from the preoperative period into the post-discharge recovery phase. It is also recommended that each pathway should have a "plan B" to allow for individual patient variation and a rescue analgesia pathway to troubleshoot breakthrough pain while continuing enhanced recovery principles and minimizing the negative effects of intravenous opioids.
High compliance with a variety of standardized non-opioid ERP bundles is strongly associated with a significant decrease in primary inpatient opioid consumption and improved outcomes in a variety of surgical procedures. Although multimodal analgesia routinely continues after hospital discharge, at present, most current care pathways in the USA do not include any guidelines on discharge opioid prescribing. With recent data showing that ERP implementation has not reduced the amount of opioid prescribed at discharge, this appears to be a missed opportunity and should be addressed as ERPs evolve (Brandal et al.
2017
).
Opioid-free anesthesia: present and future
Prior to the widespread adoption of opioids into anesthesia practice in the late 1960s, anesthesia (hypnosis, amnesia, and immobility) was obtained through the use of inhaled anesthetics and/or high-dose Pentothal. Unfortunately, this brought with it the complication of hemodynamic instability and suppression of hemodynamics requiring additional support.
In summary, the available evidence suggests that avoiding opioids during anesthesia is feasible without hemodynamic instability. Further studies are needed that look at long-term outcomes such as total postoperative opioid use, duration of this use, and return to function, as well as the incidence of chronic pain. In the current setting of the opioid crisis, we should lead the charge to change our clinical practice to minimize or eliminate the use of perioperative opioids which can potentially have more far reaching effects than simply length of stay or reduced nausea. The new approach in anesthesia can provide hypnosis with amnesia and muscle relaxation at the moment the anesthesiologist or surgeon requires it, while also maintaining sufficient tissue perfusion and sympathetic stability to protect organs.
Conclusion
Anesthesiologists are leading experts in pain medicine, and through evidence-based implementations such as ERAS and multimodal anesthesia, the specialty is helping to address the opioid crisis by reducing the amount of opioid used in the perioperative period while still maintaining adequate acute pain control. The time has come to change the foundations of our practice from that of an opioid-based one to that of a multimodal practice (Fig.
2
), wherein analgesia is managed with non-opioid-based agents first, then layering on additional layers of analgesics saving opioids as the capstone in analgesic management.
Perioperative physicians and anesthesiologists should continue to pursue evidence-based research to assist with the opioid epidemic from a broad, perioperative population health approach. We share the responsibility with the rest of the medical community to not only decrease the financial burden on society and on hospitals but to assist in solving the epidemic, which has now become the number one accidental cause of death in the USA.
Ethics approval and consent to participate
Not applicable
Consent for publication
Not applicable
Competing interests
The authors declare that they have no competing interests.
Publisher's Note
Springer Nature remains neutral with regard to jurisdictional claims in published maps and institutional affiliations.
Open Access
This article is distributed under the terms of the Creative Commons Attribution 4.0 International License (
http://​creativecommons.​org/​licenses/​by/​4.​0/​
), which permits unrestricted use, distribution, and reproduction in any medium, provided you give appropriate credit to the original author(s) and the source, provide a link to the Creative Commons license, and indicate if changes were made. The Creative Commons Public Domain Dedication waiver (
http://​creativecommons.​org/​publicdomain/​zero/​1.​0/​
) applies to the data made available in this article, unless otherwise stated.