01.12.2017 | Research | Ausgabe 1/2017 Open Access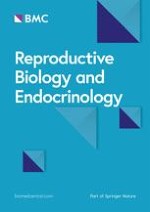 The role of ACE2, angiotensin-(1–7) and Mas1 receptor axis in glucocorticoid-induced intrauterine growth restriction
Zeitschrift:
Autoren:

Elham Ghadhanfar, Aseel Alsalem, Shaimaa Al-Kandari, Jumana Naser, Fawzi Babiker, Maie Al-Bader
Abstract
Background
Plasma and urine levels of the potent vasodilator Ang-(1–7) are elevated in mid and late pregnancy and are correlated with elevated placental angiogenesis, fetal blood flow, and rapid fetal growth. We hypothesized that Ang-(1–7), its receptor (Mas1) and the enzymes involved in Ang-(1–7) production (ACE2 and Membrane metallo-endopeptidase; MME) are down regulated in response to glucocorticoid administration contributing to IUGR.
Methods
Pregnant female Sprague–Dawley rats were injected with dexamethasone (DEX; 0.4 mg/kg/day) starting from 14 day gestation (dg) till sacrifice at 19 or 21 dg while control groups were injected with saline (
n
 = 6/group). The gene and protein expression of ACE2, MME, Ang-(1–7) and Mas1 receptor in the placental labyrinth (LZ) and basal zones (BZ) were studied.
Results
DEX administration caused a reduction in LZ weight at 19 and 21 dg (
p
 < 0.001). IUGR, as shown by decreased fetal weights, was evident in DEX treated rats at 21 dg (
p
 < 0.01). ACE2 gene expression was elevated in the LZ of control placentas at 21 dg (
p
 < 0.01) compared to 19 dg and DEX prevented this rise at both gene (
p
 < 0.01) and protein levels (
p
 < 0.05). In addition, Ang-(1–7) protein expression in LZ was significantly reduced in DEX treated rats at 21 dg (
p
 < 0.05). On the other hand, Mas1 and MME were upregulated in LZ at 21 dg in both groups (
p
 < 0.05 and
p
 < 0.001, respectively).
Conclusion
The results of this study indicate that a reduced expression of ACE2 and Ang-(1–7) in the placenta by DEX treatment may be responsible for IUGR and consequent disease programming later in life.