15.07.2016 | Laboratory Investigation | Ausgabe 1/2016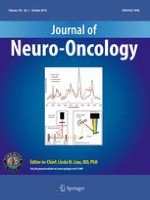 The role of AKT isoforms in glioblastoma: AKT3 delays tumor progression
Zeitschrift:
Autoren:

Anna Joy, Manisha Kapoor, Joseph Georges, Lacy Butler, Yongchang Chang, Chaokun Li, Acacia Crouch, Ivan Smirnov, Mitsitoshi Nakada, James Hepler, Max Marty, Burt G. Feuerstein
Wichtige Hinweise
Electronic supplementary material
The online version of this article (doi:
10.​1007/​s11060-016-2220-z
) contains supplementary material, which is available to authorized users.
Abstract
The growth factor receptor/PI3K/AKT pathway is an important drug target in many cancers including Glioblastoma. AKT, a key node in the pathway, has 3 isoforms, AKT1, AKT2 and AKT3. Here we investigate their role in GBM. We find each activated, ser473 phosphorylated isoform is present in some GBMs but expression patterns vary. There is a direct relationship between human GBM patient outcome and both AKT1 and AKT2 mRNA levels, but an inverse relationship with AKT3 mRNA. Furthermore, AKT3 mRNA levels were high in a less aggressive GBM subtype. Overexpressing AKT3 improves survival in a rodent model of GBM and decreases colony forming efficiency, but not growth rate, in glioma cells. Silencing AKT3 slows cell cycle progression in one cell line and increases apoptosis in another. Our studies of AKT3 substrates indicate (1) silencing both AKT2 and AKT3 reduces GSK3 phosphorylation (2) only AKT2 silencing reduces S6 phosphorylation. Since S6 phosphorylation is a marker of mTORC1 activity this indicates that AKT2 activates mTORC1, but AKT3 does not. Our results indicate AKT isoforms have different roles and downstream substrates in GBM. Unexpectedly, they indicate AKT3 delays tumor progression. Therefore strategies that inhibit AKT3 may be unhelpful in some GBM patients.