10.10.2020 | Review | Ausgabe 1/2021 Open Access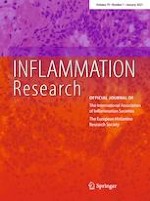 The role of CD8 + T lymphocytes in chronic obstructive pulmonary disease: a systematic review
Zeitschrift:
Autoren:

Maya Williams, Ian Todd, Lucy C. Fairclough
Wichtige Hinweise
Responsible Editor: John Di Battista.
Electronic supplementary material
Publisher's Note
Springer Nature remains neutral with regard to jurisdictional claims in published maps and institutional affiliations.
Introduction
COPD (chronic obstructive pulmonary disease) is a treatable and preventable disease state, characterized by progressive airflow limitation that is not fully reversible. It is a current and growing cause of mortality and morbidity worldwide. The pathological hallmarks of COPD are destruction of the lung parenchyma (pulmonary emphysema), inflammation of the central airways (chronic bronchitis) and inflammation of the peripheral airways (respiratory bronchiolitis). The destructive changes and tissue remodelling observed in COPD are a result of complex interactions between cells of the innate and adaptive immune systems, with growing interest in the role of CD8 + T lymphocytes.
By collating the current evidence, this systematic review aims to determine the exact role that CD8 + T lymphocytes have in the pathogenesis of COPD. Since the burden of COPD is increasing, a better understanding of the underlying pathology could help to identify new therapeutic targets.
Methods
Search strategy
All searches were carried out in October 2019. PubMed and Embase were the two databases chosen for this systematic review. Controlled vocabulary was included following a search of the MeSH and Emtree databases, respectively.
The search strategy for PubMed was as follows:
(((T-lymphocytes, Cytotoxic [MeSH Terms]) OR CD8-positive T-lymphocytes [MeSH Terms])) AND (((((pulmonary disease, chronic obstructive [MeSH Terms]) OR pulmonary emphysema [MeSH Terms]) OR chronic bronchitis [MeSH Terms]) OR COPD [Title/Abstract]) OR chronic obstructive pulmonary disease [Title/Abstract]) 181 papers were identified as a result of this search.
The search strategy for Embase was as follows:
(exp chronic obstructive lung disease/OR exp lung emphysema/OR exp chronic bronchitis/OR chronic obstructive pulmonary disease.ab. OR chronic obstructive pulmonary disease.ti. OR COPD.ab. OR COPD.ti.) AND (exp cytotoxic T lymphocyte/ OR exp CD8 + T lymphocyte/).
617 papers were identified as a result of this search.
Inclusion of publications
The database searches revealed a total of 798 papers which was reduced further to 710 following removal of duplicates. Title and abstract screening of the remaining papers was conducted using Rayyan systematic review scanner software. Common reasons for exclusion included publications which did not consider COPD or CD8 + T lymphocytes specifically and those of the wrong publication type, such as review articles. Further to this, papers written in a foreign language were excluded due to the potential loss of meaning in translation. The decision to place a time restriction to the last 15 years (2005 onwards) was made to only include the most topical research. Consequently, 51 papers were identified for full text analysis.
Three publications were excluded during full text analysis, of which two were conference abstracts whereas one was not in English. A final total of 48 papers were included in the study. The PRISMA 2009 flow chart of article selection is shown in Fig.
1
.
×
Further details of the search strategy and inclusion/exclusion criteria for this systematic review are given in Online Resource 1. Following full text screening, 48 papers were identified for inclusion.
Results
Discussion
Evidence from this review indicates that CD8 + T lymphocytes are both increased in number and have increased functional activity in COPD and highlights some potential mechanisms by which they may elicit pathogenesis.
Some studies showed a smoking related increase in CD8 + T lymphocytes however others did not. This suggests that the increased presence of these cells is most closely related to disease, not simply in response to cigarette smoke. The evidence also suggests that the number of cells in the lung is associated with disease severity. However, not all studies investigated the association between cell frequency and cigarette smoking and/or disease severity and therefore evidence is insufficient to reach a firm conclusion.
Effector CD8 + T lymphocytes differentiate into subpopulations which can be discriminated by cytokine profile. Nine of eleven studies found a higher proportion of pro-inflammatory Tc1 cells in COPD. The two which did not reach this consensus were the oldest and therefore consistency in the recent findings increases confidence in this conclusion.
Likewise, conclusive findings from three mouse models showed significantly reduced alveolar destruction in the absence of CD8 + T lymphocytes, further suggesting their effects involve mediating emphysema-like changes. Animal models however are not truly representative of human disease and so the extent and means in which CD8 + T lymphocytes induce alveolar destruction in human tissue requires further investigation.
There are a number of unavoidable limitations associated with this systematic review: these are detailed in the Supplementary Information. Briefly, differences between studies in terms of design (e.g., cross-sectional versus longitudinal), patient definition (e.g., current and ex-smokers), human versus animal studies, and heterogeneity in outcomes measured must be acknowledged.
Conclusion
This review confirms that the number of CD8 + T lymphocytes is increased in the lungs of patients with COPD. It also highlights the increased capacity of these cells to exert effector functions; namely secretion of pro-inflammatory cytokines and expression of cytotoxic proteins, and goes on to outline several potential mechanisms for their role in disease pathogenesis. The lack of evidence in some areas made it impossible to draw firm conclusions at this stage, but also identified some promising areas for further investigation.
Open Access
This article is licensed under a Creative Commons Attribution 4.0 International License, which permits use, sharing, adaptation, distribution and reproduction in any medium or format, as long as you give appropriate credit to the original author(s) and the source, provide a link to the Creative Commons licence, and indicate if changes were made. The images or other third party material in this article are included in the article's Creative Commons licence, unless indicated otherwise in a credit line to the material. If material is not included in the article's Creative Commons licence and your intended use is not permitted by statutory regulation or exceeds the permitted use, you will need to obtain permission directly from the copyright holder. To view a copy of this licence, visit
http://​creativecommons.​org/​licenses/​by/​4.​0/​
.
Publisher's Note
Springer Nature remains neutral with regard to jurisdictional claims in published maps and institutional affiliations.