26.11.2018 | Review | Ausgabe 2/2019 Open Access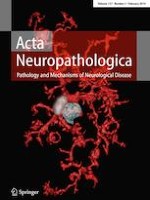 The role of de novo mutations in adult-onset neurodegenerative disorders
Zeitschrift:
Autoren:

Gaël Nicolas, Joris A. Veltman
Wichtige Hinweise
Electronic supplementary material
Abstract
The genetic underpinnings of the most common adult-onset neurodegenerative disorders (AOND) are complex in majority of the cases. In some families, however, the disease can be inherited in a Mendelian fashion as an autosomal-dominant trait. Next to that, patients carrying mutations in the same disease genes have been reported despite a negative family history. Although challenging to demonstrate due to the late onset of the disease in most cases, the occurrence of de novo mutations can explain this sporadic presentation, as demonstrated for severe neurodevelopmental disorders. Exome or genome sequencing of patient–parent trios allows a hypothesis-free study of the role of de novo mutations in AOND and the discovery of novel disease genes. Another hypothesis that may explain a proportion of sporadic AOND cases is the occurrence of a de novo mutation after the fertilization of the oocyte (post-zygotic mutation) or even as a late-somatic mutation, restricted to the brain. Such somatic mutation hypothesis, that can be tested with the use of novel sequencing technologies, is fully compatible with the seeding and spreading mechanisms of the pathological proteins identified in most of these disorders. We review here the current knowledge and future perspectives on de novo mutations in known and novel candidate genes identified in the most common AONDs such as Alzheimer's disease, Parkinson's disease, the frontotemporal lobar degeneration spectrum and Prion disorders. Also, we review the first lessons learned from recent genomic studies of control and diseased brains and the challenges which remain to be addressed.