03.03.2016 | Review | Ausgabe 5/2016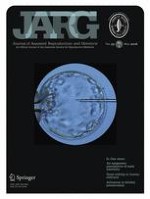 The role of epigenetics in idiopathic male infertility
Zeitschrift:
Autoren:

Sezgin Gunes, Mehmet Alper Arslan, Gulgez Neslihan Taskurt Hekim, Ramazan Asci
Wichtige Hinweise
Capsule
Aberrant DNA methylation, including imprinted genes and developmental genes, histone tail modifications, and short non-coding RNAs are discussed with respect to their association with idiopathic male infertility.
Sezgin Gunes and Mehmet Alper Arslan contributed equally to this work.
Abstract
Infertility is a complex disorder with multiple genetic and environmental causes. Although some specific mutations have been identified, other factors responsible for sperm defects remain largely unknown. Despite considerable efforts to identify the pathophysiology of the disease, we cannot explain the underlying mechanisms of approximately half of infertility cases. This study reviews current data on epigenetic regulation and idiopathic male infertility. Recent data have shown an association between epigenetic modifications and idiopathic infertility. In this regard, epigenetics has emerged as one of the promising research areas in understanding male infertility. Many studies have indicated that epigenetic modifications, including DNA methylation in imprinted and developmental genes, histone tail modifications and short non-coding RNAs in spermatozoa may have a role in idiopathic male infertility.