01.01.2021 | Rhinosinusitis (J Mullol, Section Editor) | Ausgabe 1/2021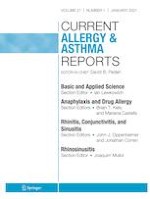 The Role of Epigenetics in the Chronic Sinusitis with Nasal Polyp
Zeitschrift:
Autoren:

Tiancong Liu, Yang Sun, Weiliang Bai
Wichtige Hinweise
This article is part of the Topical Collection on
Rhinosinusitis
Publisher's Note
Springer Nature remains neutral with regard to jurisdictional claims in published maps and institutional affiliations.
Abstract
Purpose of Review
Chronic rhinosinusitis with nasal polyps (CRSwNP) is a common and heterogeneous inflammatory disease. The underlying epigenetic mechanisms and treatment of CRSwNP are partially understood. Of the different epigenetic changes in CRSwNP, histone deacetylases (HDACs), methylation of DNA, and the levels of miRNA are widely studied. Here, we review the human studies of epigenetic mechanisms in CRSwNP.
Recent Findings
The promoters of COL18A1, PTGES, PLAT, and TSLP genes are hypermethylated in CRSwNP compared with those of controls, while the promoters of PGDS, ALOX5AP, LTB4R, IL-8, and FZD5 genes are hypomethylated in CRSwNP. Promoter hypermethylation suppresses the gene expression, while promoter hypomethylation increases the gene expression. Studies have shown the elevation in the levels of HDAC2, HDAC4, and H3K4me3 in CRSwNP. In CRSwNP patients, there is also an upregulation of certain miRNAs including miR-125b, miR-155, miR-19a, miR-142-3p, and miR-21 and downregulation of miR-4492. Epigenetics takes part in the immunology of CRSwNP and may give rise to endotypes of CRSwNP. Both HDAC2 and the miRNA including miR-18a, miR-124a, and miR-142-3p may take function in the regulation of glucocorticoid resistance. HDAC inhibitors and KDM2B have shown effectiveness in decreasing nasal polyp, and DNA methyltransferase (DNMT) or HDAC inhibitors may have a potential efficacy for the treatment of CRSwNP.
Summary
Recent advances in the epigenetics of CRSwNP have led to the identification of several potential therapeutic targets for this disease. The use of epigenetics may provide novel and effective biomarkers and therapies for the treatment of nasal polyp.