28.06.2019 | Original Paper | Ausgabe 6/2019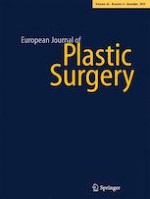 The role of intense pulsed light (IPL) in the treatment of meibomian gland dysfunction (MGD)
Zeitschrift:
Autoren:

Tenna Stefania, Turco Piergiorgio, Brunetti Beniamino, Antonio Di Zazzo, Macchi Jacopo, Bonini Stefano, Persichetti Paolo
Wichtige Hinweise
Publisher's note
Springer Nature remains neutral with regard to jurisdictional claims in published maps and institutional affiliations.
Abstract
Background
Meibomian gland dysfunction (MGD) may result in alteration of the tear film, symptoms of eye irritation, and evaporative dry eye disease (DED). Recent studies suggest that intense-pulsed light (IPL) treatments reduce ocular signs and symptoms, through direct/indirect actions on meibomian glands. The aim of this study is to analyse and measure efficacy and safety of IPL treatment in patients affected by MGD.
Methods
Between September 2016 and January 2017, eleven patients were enrolled in this univariate study based on a single variable. All patients have undergone two IPL sections with Synchro FT- DEKA MELA, once a month. Ocular Surface Disease Index (OSDI), breakup time (BUT), and Schirmer Test Type I have been evaluated preop, 10 days after every treatment and followed up to 1 year.
Results
All patients referred to a relevant improvement of symptoms with two treatments. A reduction of epithelial damage and a modification of glandular function confirmed a statistically significant difference.
Conclusions
IPL could be considered as an adjunctive tool in patients suffering from MGD. The high versatility of IPL device allows customized treatment with minimum discomfort and high tolerability.
Level of Evidence: Level IV, therapeutic study.