12.04.2019 | Review | Ausgabe 7/2019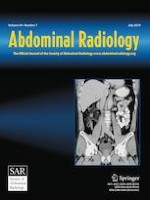 The role of multimodal imaging in guiding resectability and cytoreduction in pancreatic neuroendocrine tumors: focus on PET and MRI
Zeitschrift:
Autoren:

Laura Rozenblum, Fatima-Zohra Mokrane, Randy Yeh, Mathieu Sinigaglia, Florent Besson, Romain-David Seban, Cecile N Chougnet, Paul Revel-Mouroz, Binsheng Zhao, Philippe Otal, Lawrence H. Schwartz, Laurent Dercle
Wichtige Hinweise
Laura Rozenblum and Fatima-Zohra Mokrane contributed equally to the manuscript.
Publisher's Note
Springer Nature remains neutral with regard to jurisdictional claims in published maps and institutional affiliations.
Abstract
Pancreatic neuroendocrine tumors (pNETs) are rare neoplasms that secrete peptides and neuro-amines. pNETs can be sporadic or hereditary, syndromic or non-syndromic with different clinical presentations and prognoses. The role of medical imaging includes locating the tumor, assessing its extent, and evaluating the feasibility of curative surgery or cytoreduction. Pancreatic NETs have very distinctive phenotypes on CT, MRI, and PET. PET have been demonstrated to be very sensitive to detect either well-differentiated pNETs using 68Gallium somatostatin receptor (SSTR) radiotracers, or more aggressive undifferentiated pNETS using 18F-FDG. A comprehensive interpretation of multimodal imaging guides resectability and cytoreduction in pNETs. The imaging phenotype provides information on the differentiation and proliferation of pNETs, as well as the spatial and temporal heterogeneity of tumors with prognostic and therapeutic implications. This review provides a structured approach for standardized reading and reporting of medical imaging studies with a focus on PET and MR techniques. It explains which imaging approach should be used for different subtypes of pNET and what a radiologist should be looking for and reporting when interpreting these studies.