01.12.2017 | Review | Ausgabe 1/2017 Open Access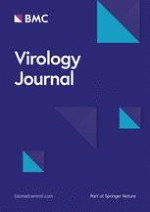 The role of nuclear localization signal in parvovirus life cycle
Zeitschrift:
Autoren:

Peng Liu, Shun Chen, Mingshu Wang, Anchun Cheng
Abstract
Parvoviruses are small, non-enveloped viruses with an approximately 5.0 kb, single-stranded DNA genome. Usually, the parvovirus capsid gene contains one or more nuclear localization signals (NLSs), which are required for guiding the virus particle into the nucleus through the nuclear pore. However, several classical NLSs (cNLSs) and non-classical NLSs (ncNLSs) have been identified in non-structural genes, and the ncNLSs can also target non-structural proteins into the nucleus. In this review, we have summarized recent research findings on parvovirus NLSs. The capsid protein of the adeno-associated virus has four potential nuclear localization sequences, named basic region 1 (BR), BR2, BR3 and BR4. BR3 was identified as an NLS by fusing it with green fluorescent protein. Moreover, BR3 and BR4 are required for infectivity and virion assembly. In
Protoparvovirus
, the canine parvovirus has a common cNLS located in the VP1 unique region, similar to parvovirus minute virus of mice (MVM) and porcine parvovirus. Moreover, an ncNLS is found in the C-terminal region of MVM VP1/2. Parvovirus B19 also contains an ncNLS in the C-terminal region of VP1/2, which is essential for the nuclear transport of VP1/VP2. Approximately 1 or 2 cNLSs and 1 ncNLS have been reported in the non-structural protein of bocaviruses. Understanding the role of the NLS in the process of parvovirus infection and its mechanism of nuclear transport will contribute to the development of therapeutic vaccines and novel antiviral medicines.