23.06.2018 | Rhinology | Ausgabe 8/2018 Open Access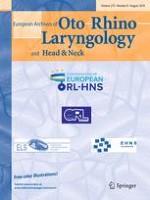 The role of oral anticoagulants in epistaxis
Zeitschrift:
Autoren:

A. M. S. Buchberger, A. Baumann, F. Johnson, N. Peters, G. Piontek, K. Storck, A. Pickhard
Abstract
Purpose
The purpose of this retrospective study was to identify the impact of oral anticoagulants on epistaxis with the focus on new oral anticoagulants.
Methods
The study was conducted at the Department for Ear- Nose- and Throat (ENT), Head and Neck Surgery, Technical University Munich, Germany. All patients presenting in 2014 with the diagnosis of epistaxis to a specialized ENT accident and emergency department were identified and analyzed in clinical data and medication.
Results
600 adult cases, with a median age of 66.6 years were identified with active bleeding. 66.8% of all cases were anticoagulated. Classic oral anticoagulants (COAC) were three times more common in patients than new-generation oral anticoagulants (NOAC). Recurrent bleeding was significantly associated with oral anticoagulants (OAC) (
p
 = 0.014) and bleeding location was most often anterior (
p
 = 0.006). In contrast, severe cases, which required surgery or embolization were significantly more likely in non-anticoagulated middle-aged patients with posterior bleedings (
p
 < 0.05). In our epistaxis cohort, OAC were highly overrepresented (40%) when compared to the general German population (1%) but COAC as well as NOAC played only a minor role in severe courses of epistaxis.
Conclusion
Oral anticoagulation, especially with new-generation drugs, is not associated with more complicated and severe courses of epistaxis, but rather with recurrent bleeding. One should keep this information in mind when triaging the patient in the emergency room and when planning further procedures.