01.12.2017 | Primary Research | Ausgabe 1/2017 Open Access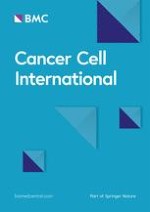 The role of pparγ and autophagy in ros production, lipid droplets biogenesis and its involvement with colorectal cancer cells modulation
Zeitschrift:
Autoren:

José Antonio Fagundes Assumpção, Kelly Grace Magalhães, José Raimundo Corrêa
Wichtige Hinweise
Electronic supplementary material
The online version of this article (doi:
10.​1186/​s12935-017-0451-5
) contains supplementary material, which is available to authorized users.
José Antonio Fagundes Assumpçãoa, Kelly Grace Magalhãesa and José Raimundo Corrêa contributed equally to this work
The original version of this article was revised to amend corresponding author details
Abstract
Background
In cancer cells, autophagy can act as both tumor suppressor, when autophagic event eliminates cellular contends which exceeds the cellular capacity of regenerate promoting cell death, and as a pro-survival agent removing defective organelles and proteins and helping well-established tumors to maintain an accelerated metabolic state while still dealing with harsh conditions, such as inflammation. Many pathways can coordinate the autophagic process and one of them involves the transcription factors called PPARs, which also regulate cellular differentiation, proliferation and survival. The PPARγ activation and autophagy initiation seems to be interrelated in a variety of cell types.
Methods
Caco-2 cells were submitted to treatment with autophagy and PPARγ modulators and the relationship between both pathways was determined by western blotting and confocal microscopy. The effects of such modulations on Caco-2 cells, such as lipid bodies biogenesis, cell death, proliferation, cell cycle, ROS production and cancer stem cells profiling were analyzed by flow cytometry.
Results
PPARγ and autophagy pathways seem to be overlap in Caco-2 cells, modulating each other in different ways and determining the lipid bodies biogenesis. In general, inhibition of autophagy by 3-MA leaded to reduced cell proliferation, cell cycle arrest and, ultimately, cell death by apoptosis. In agreement with these results, ROS production was increased in 3-MA treated cells. Autophagy also seems to play an important role in cancer stem cells profiling. Rapamycin and 3-MA induced epithelial and mesenchymal phenotypes, respectively.
Conclusions
This study helps to elucidate in which way the induction or inhibition of these pathways regulate each other and affect cellular properties, such as ROS production, lipid bodies biogenesis and cell survive. We also consolidate autophagy as a key factor for colorectal cancer cells survival in vitro, pointing out a potential side effect of autophagic inhibition as a therapeutic application for this disease and demonstrate a novel regulation of PPARγ expression by inhibition of PI3K III.