01.12.2012 | Research | Ausgabe 1/2012 Open Access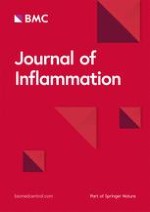 The role of protease-activated receptor-2 on pulmonary neutrophils in the innate immune response to cockroach allergen
Zeitschrift:
Autoren:

Riad Lutfi, Ian P Lewkowich, Ping Zhou, John R Ledford, Kristen Page
Wichtige Hinweise
Electronic supplementary material
The online version of this article (doi:
10.​1186/​1476-9255-9-32
) contains supplementary material, which is available to authorized users.
Competing interests
The authors declare that they have no competing interests.
Authors' contributions
RL participated in the design and implementation of the experiments and drafted the manuscript. IPL performed and analyzed the flow cytometry experiments. PZ performed all the cell work and isolated the neutrophils. JRL performed the animal studies and ELISAs. KP conceived of the study, participated in its design and coordination, and drafted the manuscript. All authors read and approved the final manuscript.
Abstract
Background
Serine proteases in German cockroach (GC) have been shown to mediate allergic airway inflammation through the activation of protease activated receptor (PAR)-2. Neutrophils play an important role in regulating the innate immune response, and are recruited into the airways following GC frass exposure. As such, we investigated the role of PAR-2 in airway neutrophil recruitment, activation and cytokine production following allergen exposure.
Methods
Wild type and PAR-2-deficient mice were administered a single intratracheal instillation of PBS or GC frass and neutrophil recruitment, expression of PAR-2, CD80, CD86, and MHC class II were assessed by flow cytometry and levels of tumor necrosis factor (TNF)α was assessed by ELISA. Uptake of AlexaFluor 405-labeled GC frass by neutrophils was performed by flow cytometry.
Results
Neutrophil recruitment in the lung and airways following GC frass exposure was significantly decreased in PAR-2-deficient mice compared to wild type mice. GC frass exposure increased the level of PAR-2 on pulmonary neutrophils and increased numbers of PAR-2-positive neutrophils were found in the lungs; however PAR-2 did not play a role in meditating allergen uptake. Comparing wild type and PAR-2-deficient mice, we found that a single exposure to GC frass increased levels of CD80 and CD86 on pulmonary neutrophils, an effect which was independent of PAR-2 expression. Neutrophils isolated from the whole lungs of naïve PAR-2-deficient mice treated
ex vivo
with GC frass produced significantly less TNFα than in similarly treated wild type neutrophils. Lastly, neutrophils were isolated from the bronchoalveolar lavage fluid of wild type and PAR-2-deficient mice following a single intratracheal exposure to GC frass. Airway neutrophils from PAR-2-deficient mice released substantially decreased levels of TNFα, suggesting a role for PAR-2 in neutrophil-derived cytokine production.
Conclusions
Together these data suggest PAR-2 expression can be upregulated on lung neutrophils following allergen exposure and the consequence is altered release of TNFα which could drive the early innate immune response.