01.12.2017 | Research | Ausgabe 1/2017 Open Access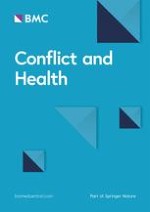 The role of public health information in assistance to populations living in opposition and contested areas of Syria, 2012–2014
Zeitschrift:
Autoren:

Emma Diggle, Wilhelmina Welsch, Richard Sullivan, Gerbrand Alkema, Abdihamid Warsame, Mais Wafai, Mohammed Jasem, Abdulkarim Ekzayez, Rachael Cummings, Preeti Patel
Abbrevations
ACU
Assistance Coordination Unit
DHIS2
District Health Information Systems 2
DYNAMO
Dynamic Monitoring System
EWARS
Early warning and response system
GIS
Geographical information system
HeFRA
Health facility rapid assessment
HeRAMS
Health Resources Availability and Mapping System
HIS
Health information systems
IASC
Inter-Agency Standing Committee
IDPs
Internally displaced persons
INGO
International non-governmental organisation
JRANS
Joint Rapid Assessments in northern Syria
MIRA
Multi-Sector Initial Rapid Assessments
MSNA
Multi Sector Needs Assessment
NCD
Non- communicable disease
NGO
Non-Governmental Organisation
OCHA
Office for the Coordination of Humanitarian Affairs
OHCHR
United Nations High Commissioner for Human Rights
SHARP
Syria Humanitarian Response Plan
SINA
Syria Integrated Needs Assessment
SNAP
Syrian Strategic Needs Analysis Project (SNAP)
SNGO
Syrian Non-Governmental Organisation
SOHR
Syrian Observatory for Human Rights
WHO
World Health Organisation
Background
Methods
The study draws on the multiple operational experiences of the authors as humanitarian health professionals working in the Health Working Group (NGOs based in Turkey), the Syrian Strategic Needs Analysis Project (SNAP) (which supports the humanitarian response in Syria by providing independent analysis and supporting coordinated assessments), and the Assistance Coordination Unit (an NGO coordination body which set up the Early Warning Alert and Response Network (EWARN). More specifically, ED was the Public Health Information Manager with the Health Working Group in Turkey; WW was the lead analyst for SNAP and an assessment coordinator for the food security cluster in Gaziantep, Turkey; RS is a non-communicable diseases and health policy expert; GA has worked in Turkey to support the Syrian Immunisation Task Force; AW is a public health information specialist and has worked in many large scale humanitarian health crises; MW is a Syrian paediatrician working with EWARN and managing its nutrition component; MJ is a Syrian medical expert and manages EWARN; AK is a Syrian medical doctor and epidemiologist who led the health response in north-west Syria with Save the Children; RC is senior humanitarian health advisor at Save the Children; and PP is a social scientist conducting research and capacity-building work in conflict-affected countries.
We also reviewed data from publically available reports such as Multi-Sector Initial Rapid Assessments (MIRA), Dynamic Monitoring System (DYNAMO), Joint Rapid Assessments in northern Syria (JRANS) and individual non-governmental NGOs. This was supplemented with academic and grey literature from PubMed, Reliefweb and Google using search terms such as Syria, conflict, war, health, health information, humanitarian, data, diseases and health system.
Results
Affected population size and general needs assessment
In contested and opposition-held areas of Syria throughout 2013–4, the United Nations Office for the Coordination of Humanitarian Affairs (UNOCHA) produced administrative district profiles on a bi-annual basis without specifying any of the methods used. Information about population size was also collected by humanitarian agencies through consecutive Multi-Sector Initial Rapid Assessments (MIRA), coordinated by UNOCHA and designed to identify priorities during the first weeks following an emergency [
51
–
53
]. These very lengthy assessments (1109 variables of which 149 were for health) relied on a mix of primary and secondary data, the former collected by Syrian interviewers supervised remotely and consisting of structured questionnaires, community information interviews and focus groups selected through convenience sampling. To minimise risk for interviewers and respondents, recording of responses was minimised and instead, qualitative data were transcribed during extensive debriefing of interviewers. Among other topics, the MIRA explored population displacement dynamics [
54
].
In addition to MIRA, a more abridged, multi-sector needs monitoring exercise (DYNAMO) was carried out from March 2014 with irregular (every 2–5 months) frequency by the Assistance Coordination Unit, a Syrian NGO umbrella body based in Turkey, in areas it accessed [
55
]. DYNAMO was also remotely implemented and reliant on convenience sampling, though emphasis was placed on validating and cross-checking information on attacks and major events experienced by the population [
56
].
The main limitations of MIRA and DYNAMO were that they initially sought to collect an unwieldy amount of information, resulting in unclear quality of responses, long delays (particularly for MIRA) in implementation, analysis and publication, and difficulty in longitudinal comparisons due to questionnaire changes. These were, however, the main instruments available to obtain a comprehensive insight into the needs of people inside opposition-held and contested areas of Syria.
Public health risks
Discussion: Key lessons from Syria
Information sharing
Strict information sharing protocols were implemented to allay security and authorisation concerns of agencies working cross-border and from GoS-held areas. However, these agencies were reluctant to share information with WHO, for fear of leakage to the GoS. As a consequence, very little useful information was shared, severely curtailing coordination and strategic planning. Data on locations of health facilities and programmes is often used for direct targeting by combatants on health workers and health care more broadly as illustrated by attacks in Syria, Afghanistan, Yemen, and several other conflict-affected settings [
94
–
96
]. In future conflict settings, health information could be managed by an entirely independent specialised agency [
97
].
Population denominators
Uncertainty about population denominators impeded meaningful analysis of health data (e.g. coverage indicators) and accurate service delivery planning (e.g. for vaccination campaigns or pharmaceutical procurement). Denominator uncertainty was due to a i) a high level of internal and external displacement and the limited capacity to monitor in- and out-flows across borders and different facility catchment areas; ii) the collapse of pre-war statistical services; iii) out-dated census figures (2004); and iv) a potential bias of key informants asked to provide population figures (inflation of figures to maximise relief rations is a known phenomenon in humanitarian settings). More investment should be made into establishing a regularly updated reference point in order to have baseline data to work from [
98
]. In order to have a clearer understanding of population health needs, greater investment should be made into improving the quality of essential baseline data such as population denominators.
E-health and m-health opportunities
Most data were collected remotely, making it difficult to check reliability. Mobile messaging apps such as Whatsapp were popular forms of communication, but transferring large documents via this medium was difficult and dependent on intermittently functioning mobile networks. As collection of data via soft and hard computer files were deemed to be unsafe to due to risk of interception, data were also often collected by committing information to memory. In effect this could have led to a high risk of recall bias. It is expected that modern technology will provide an unprecedented ability to monitor, detect, and respond to crises in similar settings such as Iraq, Libya, Ukraine where social media use, cell-phone and internet connectivity is growing rapidly [
14
,
99
]. Further investment and preparedness into solutions involving mobile phone software should be made. Field assessments can be conducted via mobile phones using free technology similar to limesurvey, and data can be relayed to servers for quick analysis and a fast response [
100
,
101
]. Investment must continue into key e-health tools such as DHIS2 (Health Management Information Systems) and tele-reporting to ensure preparedness for use in all contexts allowing for appropriate language capacity. This will encourage and reassure professionals on the ground that it is worth utilising and discourage development of incompatible systems at field level.
Agencies' capacity for data collection
Throughout 2013–14, NGOs on the ground were entirely responsible for health data collection and analysis, without support from WHO. Coordination staff were very limited, and staff turnover was high, resulting in discontinuity of planning and delays between data collection and action. For example, much effort went into repeated cross-sectional needs assessments, rather than setting up functional prospective systems such as HIS. Syrian NGOs, arguably the best placed for data collection due to their capillary presence inside Syria and high motivation, faced language barriers and had limited opportunities for on-site training on health information methods.
Coordination mechanisms should be staffed with stable teams, including specialists in health information methods, backed up by technical networks for distance support, e.g. from WHO, the Centers for Disease Control and academic centres of excellence. Real-time training of agencies, particularly local entities, in methods and ethical provisions of health data collection should be a consistent function of health clusters and other coordination mechanisms.
Conclusion
In September 2014, the Whole of Syria approach was adopted to bring together the cross-border humanitarian assistance from Turkey and Jordan into a single framework [
102
]. This appears to be improving efficiency and may ensure greater accountability, effectiveness and reach. Clusters have been activated in cross-border responses and the three hubs (Damascus in Syria, Amman in Jordan and Gaziantep in Turkey) are working together to ensure that health needs are jointly assessed with priorities identified, and health information is promptly shared. The UN is now more engaged, and there has been a move toward creating common data collection systems such as EWARN and HeRAMS between the Government of Syria and the contested and opposition-held areas of the country. However, the conflict continues to worsen with growing barriers to the delivery of aid, high levels of insecurity, and the fragmentation and radicalization of armed groups in many areas of Syria [
103
].
Reliable and timely information to support evidence based decision-making to respond to the health crisis among Syrians remains far from ideal, but has improved over time. There is no doubt that humanitarian agencies encountered many challenges in collecting health data in Syria from 2013 to 2014. These included having to maintain strict information sharing protocols, limited sharing of data, duplication of key activities, lack of leadership and coordination, limited NGO capacity and little UN support. We call for a much greater focus on health data within Syria and similar conflicts, and greater engagement by international donors to support this work. Although this paper provides a limited snapshot of the health status in Syria, it raises key points about the need for more health data within Syria and within other humanitarian crises. In future conflict-affected settings, health information could perhaps be managed by an entirely independent specialised agency, and better investment in E- and M-health should be a priority given the growing security and governance challenges in Syria and elsewhere.
Key messages
Between 2013 and 2014, access for humanitarian aid to contested and opposition-held areas of Syria was severely hindered by insecurity, the Government of Syria and lack of leadership from the United Nations

Humanitarian needs have consistently been most acute in contested and opposition-held areas of Syria due to breakdown of Government of Syria services and intense warfare

Humanitarian organisations had to establish de novo data collection systems independent of the Government of Syria to provide essential services in opposition-held and contested areas of Syria

The use of technology such as social media was vital to facilitating remote data collection in Syria as many humanitarian agencies operated with a limited operational visibility given chronic levels of insecurity

Mortality data have been highly politicized and extremely difficult to verify, particularly in areas highly affected by the conflict, with shifting frontlines, populations, and allegiances

Much more attention should be given for the treatment gap for non-communicable diseases including mental disorders

More investment in data collection and use, technological investment in the use of M and E-health, capacity building and strong technical and independent leadership should be a key priority for the humanitarian health response in Syria and other emergencies
Acknowledgements
Thanks to Francesco Checchi, Bayard Roberts, Derek Newman, Nada Abelmagid, Helen Mould, Tanya Axisa, Richard Garfield, Colleen Hardy, Amer Bashir, for their valuable guidance in reviewing the paper.
Funding
No funding was used for this paper.
Availability of data and materials
All data and materials for this paper are in the public domain.
Disclaimer
Designations of political and military entities in Syria used in this paper are solely functional to the paper itself and do not necessary reflect designations accepted by the institutions to which the authors are affiliated.
Ethics approval and consent to participate
Not required as all information for this paper is in the public domain.
Consent for publication
We have obtained consent from all authors to proceed with publication of this study.
Competing interests
The authors declare that they have no competing interests.
Publisher's Note
Springer Nature remains neutral with regard to jurisdictional claims in published maps and institutional affiliations.
Open Access
This article is distributed under the terms of the Creative Commons Attribution 4.0 International License (
http://​creativecommons.​org/​licenses/​by/​4.​0/​
), which permits unrestricted use, distribution, and reproduction in any medium, provided you give appropriate credit to the original author(s) and the source, provide a link to the Creative Commons license, and indicate if changes were made. The Creative Commons Public Domain Dedication waiver (
http://​creativecommons.​org/​publicdomain/​zero/​1.​0/​
) applies to the data made available in this article, unless otherwise stated.