28.01.2020 | Rhinology | Ausgabe 4/2020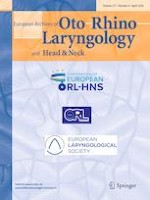 The role of regulatory T cells in allergic rhinitis and their correlation with IL-10, IL-17 and neopterin levels in serum and nasal lavage fluid
Zeitschrift:
Autoren:

Kadriye Erkan, Mete K. Bozkurt, Hasibe Artaç, Hülya Özdemir, Ali Ünlü, Emine N. Korucu, Çağdaş Elsürer
Wichtige Hinweise
Publisher's Note
Springer Nature remains neutral with regard to jurisdictional claims in published maps and institutional affiliations.
Abstract
Purpose
Allergic rhinitis (AR), is an IgE-mediated inflammation of the nose. Regulatory T cells (Tregs) and inflammatory cytokines have been shown to play a critical role in allergic airway inflammation. The aim of the study was to compare the levels of blood T lymphocyte subsets and IL-10, IL-17 and neopterin concentrations in serum and nasal lavage of patients with AR compared to healthy subjects.
Methods
The study included 38 subjects with moderate-severe AR and 36 sex- and age-matched controls. Peripheral blood CD3+, CD3+CD4+ and CD4+CD25+Foxp3 percentages were evaluated using flow cytometry. Levels of IL-10, IL-17 and neopterin were measured both in serum and nasal lavage fluid with ELISA and HPLC, respectively.
Results
No difference was found in the percentages of T lymphocyte subsets between the two groups (
p
 > 0.05). Serum IL-10 levels were similar (
p
 > 0.05), whereas nasal IL-10 was lower in AR subjects compared to control group (2.22 ± 0.91 and 3.12 ± 1.45 pg/ml, respectively) (
p
 < 0.05). Mean serum and nasal IL-17 were higher in AR (107.7 ± 79.61 and 527.36 ± 738.7 pg/ml) than the control group (76.29 ± 28.94 and 328.9 ± 430.8 pg/ml) (
p
 < 0.05 and
p
 > 0.05). There were no significant differences in serum and nasal neopterin levels (
p
 > 0.05).
Conclusions
Although there were no differences in the distribution of lymphocyte subsets between the AR and control groups, the finding of higher levels of serum and nasal IL-17 and lower levels of nasal IL-10 support the cytokine imbalance in the pathogenesis of AR.