01.12.2016 | Research | Ausgabe 1/2016 Open Access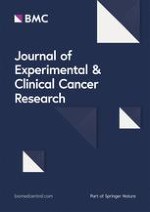 The role of the AMOP domain in MUC4/Y-promoted tumour angiogenesis and metastasis in pancreatic cancer
Zeitschrift:
Autoren:

Jie Tang, Yi Zhu, Kunling Xie, Xiaoyu Zhang, Xiaofei Zhi, Weizhi Wang, Zheng Li, Qun Zhang, Linjun Wang, Jiwei Wang, Zekuan Xu
Wichtige Hinweise
Electronic supplementary material
The online version of this article (doi:
10.​1186/​s13046-016-0369-0
) contains supplementary material, which is available to authorized users.
Abstract
Background
MUC4 is a high molecular weight membrane protein that is overexpressed in pancreatic cancer (PC) and is associated with the development and progression of this disease. However, the exact mechanisms through which MUC4 domains promote these biological processes have rarely been studied, partly because of its high molecular weight, difficulty to overexpress it. Here, we use MUC4/Y, one of the MUC4 transcript variants, as a model molecule to investigate the AMOP-domain of MUC4(MUC/Y).
Methods
We used cell proliferation, migration, invasion and tube formation assays in vitro to explore the abilities of AMOP domain in PC. In vivo, the matrigel plug assay, orthotopic implantation and Kaplan-Meier survival curves were used to check the results we observed in vitro. Finally, we discovered the underlying mechanism through western blot and immunofluorescence.
Results
We found that MUC4/Y overexpression could enhance the angiogenic and metastatic properties of PC cells, both in vitro and in vivo. However, the deletion of AMOP domain could cutback these phenomena. Additionally, Kaplan-Meier survival curves showed that mice injected with MUC4/Y overexpressed cells had shorter survival time, compared with empty-vector-transfected cells (MUC4/Y-EV), or cells expressing MUC4/Y without the AMOP domain (MUC4/Y-AMOP△). Our data also showed that overexpression of MUC4/Y could activate NOTCH3 signaling, increasing the expression of downstream genes: VEGF-A, MMP-9 and ANG-2.
Conclusions
The AMOP domain had an important role in MUC4/Y (MUC4)-mediated tumour angiogenesis and metastasis of PC cells; and the NOTCH3 signaling was involved. These findings provided new insights into PC therapies. Our study also supplies a new method to study other high molecular membrane proteins.