01.12.2017 | Research | Ausgabe 1/2017 Open Access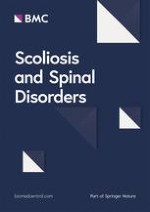 The role of the paravertebral muscles in adolescent idiopathic scoliosis evaluated by temporary paralysis
Zeitschrift:
Autoren:

Christian Wong, Kasper Gosvig, Stig Sonne-Holm
Abstract
Background
Muscle imbalance has been suggested as implicated in the pathology of adolescent idiopathic scoliosis (AIS). The specific "pathomechanic" role of the paravertebral muscles as being scoliogenic (inducing scoliosis) or counteracting scoliosis in the initial development and maintenance of this spinal deformity has yet to be clarified in humans. In the present study, we investigated the radiographic changes of temporal paralysis using botulinum toxin A as localized injection therapy (ITB) in the psoas major muscle in AIS patients.
Methods
Nine patients with AIS were injected one time with ITB using ultrasonic and EMG guidance in the selected spine muscles. Radiographic and clinical examinations were performed before and 6 weeks after the injection. Primary outcome parameters of radiological changes were analyzed using Wilcoxon signed-rank test and binomial test, and secondary outcome parameters of short- and long-term clinical effects were obtained.
Results
Significant radiological corrective changes were seen in the frontal plane in the thoracic and lumbar spine as well as significant derotational corrective change in the lumbar spine according to Cobb's angle measurements and to Nash and Moe's classification, respectively. No serious adverse events were detected at follow-up.
Conclusions
In conclusion, this study demonstrated that the psoas major muscle do play a role into the pathology in adolescent idiopathic scoliosis by maintaining the curvature of the lumbar spine and thoracic spine.