01.12.2010 | Research | Ausgabe 1/2010 Open Access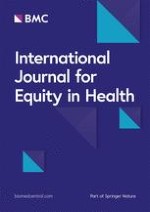 The role of urban municipal governments in reducing health inequities: A meta-narrative mapping analysis
Zeitschrift:
Autoren:

Patricia A Collins, Michael V Hayes
Wichtige Hinweise
Electronic supplementary material
The online version of this article (doi:
10.​1186/​1475-9276-9-13
) contains supplementary material, which is available to authorized users.
Competing interests
The authors declare that they have no competing interests.
Authors' contributions
PC conceived of, and implemented the study design; retrieved and analyzed all of the article abstracts; and developed a draft of the manuscript. MH assisted with the conception of the study and the development of the abstract codebook and search strategy; and assisted in the writing of the manuscript. All authors read and approved the final manuscript.
Background
Methods
Methodology
Meta-narrative mapping - the process of "plotting how a particular research tradition has unfolded over time and placing this dynamic tradition within a broader field of enquiry" [
86
], p.349] - was employed to determine when and how municipal governments have been implicated in the scholarly literature for reducing local health inequities. This novel methodological approach combines the analytical dimensions of traditional narrative research - storytelling, historicity, context, and human relations - with the comprehensiveness and rigor pursued in systematic literature reviews [
86
–
88
]. Among others, meta-narrative mapping has been identified as a useful methodological technique in the synthesis of vast and complex evidence bases to inform policy-making processes [
89
]. While this methodological approach offers utility in capturing the essential features of the health inequities knowledge base over time, the breadth of this analysis also compels readers to be cautious and critical in drawing inferences on municipal-level interventions for health inequities, as the patterns in, causes of, and local solutions to health inequities are highly contextually sensitive. For instance, a recommendation for municipal governments to increase investments in inner-city parks and recreation facilities by a Canadian scholar may have limited relevance to municipalities operating in developing countries that lack basic municipal infrastructure like roads, sewage, or water, or even to other Canadian municipalities that may not experience substantial geographic disparities in the quality of parks and recreation facilities.
Parameters and Strategy for Literature Search
Four bodies of literature on health inequities - 'health promotion' (HP), 'Healthy Cities' (HC), 'population health' (PH), and 'urban health' (UH) - were examined for the meta-narrative mapping analysis. These four literature bodies were chosen because, as discussed earlier, they have made the most significant scholarly contributions to understanding
patterns of
health inequities, and identifying and describing
interventions to reduce
health inequities. While literature from other fields, such as social epidemiology, political science, health geography, sociology, or medical anthropology, have made important contributions to the study of population health inequities and related interventions, these contributions have been made on a more
ad hoc
basis than those made by the bodies of literature that were included in this study. It is possible that, by limiting the searches to these four bodies of literature, our findings may under-represent the true scope of literature pertaining to population health inequities (e.g., overlooking articles from the policy sciences on the determinants of population well-being or welfare). However, because of the breadth of the databases selected and the search terms employed (Figure
1
), we are confident that relevant contributions made by researchers within disciplines not explicitly sampled here would have emerged in the searches.
×
Three electronic databases were selected for the literature search: PubMed, which caters to life sciences, and includes most health sciences journals; Sociological Abstracts which caters to sociology, social science, and policy science, and includes health policy, social policy, and health geography journals; and Web of Science, catering to science, social science, and arts. Web of Science was the most comprehensive of the three databases, capturing articles not found in PubMed or Sociological Abstracts. Article abstract searches were first performed in PubMed, followed by Sociological Abstracts and Web of Science, and were guided by the search strategy outlined in Figure
1
. English language abstracts only were eligible for inclusion.
To capture two full decades of publication activity, the timeframe for the search was 1986 to 2006 inclusive. The year 2006 also marks the 20-year anniversary of two publications that were seminal to the establishment of health inequities research in Canada (and in some other nations) - the Ottawa Charter for Health Promotion [
15
] and the Epp Report [
90
]. Four search themes, and numerous relevant search terms, were generated to facilitate as comprehensive a search strategy as possible (Figure
1
): population health inequities (INEQUITY); government-based interventions to address health inequities (INTERVENTION); interventions from municipal governments on issues related to health and well-being (LEVEL); and Canadian locations for research and/or interventions on health inequities (LOCATION). These search themes were only used in the data collection phase of the research, and were not used in the analysis of the abstracts' contents.
Abstract Inclusion/Exclusion Criteria
Abstracts had to mention, in some capacity, differences in health outcomes or well-being, and/or the SDOH. Abstracts that discussed policy implications were also of distinct interest for review, but this was not an explicit inclusion criterion. Abstracts that described health differences in a strictly clinical scope were excluded, as were abstracts that referred to inequalities or disparities in a different context (e.g., measurement disparities). Highly technical pieces that discussed new clinical technologies, or issues related to healthcare systems and/or delivery, were excluded. Abstracts were also excluded if they contained the words "National Population Health Survey" or "Ottawa Charter for Health Promotion", but lacked any other information relevant to the review.
Development of Abstract Codebook
A codebook was used to simplify and standardize the process of reviewing and synthesizing data. It facilitated the review of a large quantity of qualitative data, application of the same analytical standards to each case within the dataset, categorization of corresponding information, and conversion of the information reviewed into a quantitative dataset [
91
]. Most of the variables were developed iteratively; individual codes were first created and assigned to abstracts as string variables through a process of immersion and crystallization with the data. Once saturation of themes was reached, the list of string variables was analyzed, condensed, and converted into a list of numerical codes representing distinct entities or themes. The final abstract codebook contained three variable categories [see Additional file
1
]: bibliographic characteristics; abstract content variables; and prescriptions for municipal governments.
Bibliographic characteristics of interest were body of literature (i.e., HP, HC, PH, UH) from which the abstract was retrieved; journal name; publication year; geographical region of focus (or origin); type of study described in the abstract; and population investigated by the study or target audience. Abstract contents were captured using two variables: article themes and SDOH profile. Article theme codes were developed through an inductive process of immersion with the article abstracts and saturation of article themes; codes were based not on any one particular keyword or phrase in the abstracts, but on the content area as conveyed by the abstract as a whole. Once each abstract was coded, the complete list of inductively derived article theme codes was reviewed for redundancy, and pared down to a list of 20 distinct article themes. Using Health Canada's list of twelve health determinants [
92
], SDOH profiles of the abstracts were captured by coding up to three different determinants (primary, secondary and tertiary determinants). Determinants coded as 'primary' were those that were given the greatest overall emphasis in the article or, in the case of equal emphasis across multiple determinants, were mentioned first; secondary and tertiary determinants were then coded based on subsequent levels of emphasis and/or timing of appearance in the abstract.
To ensure that the codebook captured the full scope of municipal government prescriptions from the abstracts, several methodological steps were taken. First, abstracts were coded 'yes' for a municipal role if they explicitly prescribed roles for municipal governments in addressing health differences at the local level and/or in improving local health outcomes. Then, the contents of these references to municipal governments were documented using string variables. Once data entry was complete, each string variable was then converted, one at a time, into a numerical code to facilitate quantification. As subsequent string variables were reviewed, and recurrent or overlapping themes emerged, existing codes were assigned and revised to reflect the expanding breadth of the code. After each abstract implicating municipal governments was assigned a code for the 'prescription', the complete list of numerical codes was reviewed for further overlaps and redundancies, synthesized, and pared down to a list of seven coherent and distinct categories of municipal government roles.
Management and Analysis of Search Results
A total of 72 searches were performed (3 databases × 4 bodies of literature × 6 search theme combinations), generating over 1600 abstract hits for review. Every individual abstract was reviewed for relevance based on the inclusion/exclusion criteria, and then screened for redundancies. Relevant abstracts appearing in more than one electronic database were included in the total sample only once, because documenting differences in the electronic indexing system for these abstracts was not an objective of this study. Meanwhile, relevant abstracts appearing in more than one literature body were included in the sample for every literature body from which they were generated (to a maximum of four potential database entries, as four bodies of literature were examined), as documenting systematic differences in abstracts' contents between bodies of literature over time
was
an explicit objective of this study.
To facilitate review of the over 1600 hits, only abstracts, not full-text articles, were assessed. While this approach facilitated only a general analysis of the health inequities knowledge base over time (i.e., the essence of meta-narrative mapping), reviewing abstracts was empirically valid because abstracts emphasize the most important themes, findings, and actors from the full articles upon which they are based. Indeed, for time-strapped policy-makers and service providers, abstracts are often the only segments of academic articles that garner any attention. Included abstracts were assigned a numerical identifier, coded using the abstract codebook, and inputted into an SPSS® database (version 15.0). Quantitative analyses of the abstracts consisted of collecting basic frequency data and performing cross-tabulations between variables.
Results
Discussion
Percentages, Timing, and Characteristics of Abstracts Reviewed
Thematic Contents of Literature and Changes over Time
Four article themes were particularly prominent in the abstracts reviewed. 'Research-related' themes, constituting 13% of article themes, captured issues ranging from conceptual or theoretical concerns (e.g., debates between PH and HP), appropriate use of indicators, instruments, and methods (e.g., how best to measure income inequality), and assessments of knowledge gaps and translation (e.g., lack of program evaluations). The highest proportion of research-themed articles occurred in the first quarter, with a steady decline in the remaining 15 years of the review. That research themes were the most prominent, especially early on in the review timeframe, suggests early efforts to establish a coherent body of knowledge on health inequities, and ongoing challenges in this knowledge base to developing evidence-based policy.
The other three themes that occurred in roughly equal measure (≈8% each) were 'healthy lifestyles' (i.e., consumption of alcohol and tobacco, nutrition and physical activity, preventive screening, and vaccines), 'healthcare' (i.e., access and utilization, costs and expenditures, systems, delivery, primary care, and health human resources), and 'social policy' (i.e., social, public, health, urban planning or policy). The prominence of the 'healthy lifestyles' and 'healthcare' themes illustrate the ongoing tendencies - criticized decades earlier [
10
] - for researchers to fixate on issues and interventions of a 'behavioural' and 'biomedical' nature. The prominence of the 'social policy' article theme might have suggested that a broader academic dialogue on health inequities was taking place. However, timeframe analysis revealed that 'social policy' coverage waned over the 20 year period timeframe, while coverage increased and remained consistently high over the 20 years for 'healthcare' and 'healthy lifestyles', respectively.
Similar findings were observed for the SDOH profile of the literature. The three most commonly profiled determinants - personal health practices & coping skills, healthcare services, and social support networks - reinforce the individualistic perspectives on population health inequities that emerged in the article theme analysis. While broader determinants, such as 'social environments', 'income & social status', and 'physical environments', were profiled, they constituted only 10% to 15% of all SDOH coverage over the entire 20 year time period. In contrast, coverage of 'personal health practices & coping skills' was at or above 20% over the entire timeframe, and 'healthcare' coverage increased considerably over time (from 5% in the first quarter to nearly 15% in the last). Thus, while some health inequities scholars made consistent attempts to steer the discourse towards broader health determinants and related implications that may be politically unpalatable, it appears there was a greater propensity to fixate on health determinants with implications for more downstream interventions that are often more amenable to implementation.
Roles for Municipal Governments
Less than one-fifth (17%) of the abstracts implicated municipal governments in any way. The apparent inattention of the majority of health inequities researchers to municipal governments may be explained by a few reasons: they may simply not hold interests in this particular realm; they may struggle to access funding for research on municipalities; or they may recognize the limitations of municipal governments' capacities to address health inequities and consequently refrain from invoking municipalities' participation and/or target their recommendations to higher authorities. We are unable to discern from our study findings the extent to which any of these, or other factors, contribute to this observation.
Seven categories were established for potential municipal roles, responsibilities and activities to reduce population health inequities (Table
2
). In the Canadian context, categories 1 and 2 deal with assessing health and social needs and delivering health-based services - assessments and service delivery that might typically fall outside the range and jurisdiction of municipal services [
95
,
130
]. Categories 3 through 6 deal with relationships between the municipality and other governments, non-governmental organizations, and within the municipality itself [
84
], while category 7 captures the types of responsibilities over which Canadian municipalities have clear existing jurisdiction, such as zoning, by-law enforcement, public libraries, and fire protection [
68
].
While abstracts of Canadian origin implicated municipalities the most (
n
= 48), the proportion of these relative to all Canadian abstracts reviewed was relatively small (11%). This finding suggests that the overall Canadian contribution to the health inequities knowledge base has been minimal in terms of prescriptions for municipal activity on health inequities. In contrast, while small in number (
n
= 13), the majority of abstracts of Mexican, South & Central American origins (65%) implicated roles for municipalities. The municipal level focus in this region of the world is likely attributable to a few factors: 1) the 'local' nature of many health problems, whereby cities in Mexico, South & Central America are simultaneously lacking basic municipal infrastructure and services to facilitate sanitary living conditions [
131
–
133
],
and
face common Western-world health problems associated with rapid urbanization (e.g., pollution-induced asthma) and widespread adoption of sedentary lifestyles (e.g., obesity) [
132
,
134
]; 2) the influence of the Pan American Health Organization (PAHO) which has played a key role in addressing population health inequities in Latin America, including conducting research on strategies for engaging municipalities in health promotion initiatives [
135
] and providing strategic direction for developing interventions to address 'neglected populations' [
136
]; and 3) higher investments in participatory community-based approaches to tackling local health and social issues, as well as a strong tradition of engagement with the Healthy Cities movement in these countries [
137
–
141
].
Considering both the total number (
n
= 41) and the proportion (33%) of abstracts implicating municipalities, it would appear that the European literature has made the most substantial contribution to the academic dialogue on prescriptions for municipal governments to address local health inequities. The emphasis placed on municipal governments by the European abstracts mirrors the importance placed on healthy urban planning and the prominence of the Healthy Cities movement in the European context [
85
,
123
]. With comparable (if not superior) municipal infrastructures and population health profiles, prescriptions arising from European literature bear some relevance and utility to the North American context. Indeed, it is worth noting that 'joining or building on existing local health networks and partnerships' was the most commonly cited role in both the European and Canadian literatures, suggesting that similar challenges and contexts for municipal intervention exist in these distinct geographical regions.
Limitations
The most important limitation of our study is in attempting to make generalizations about the applicability of potential municipal government interventions across diverse governmental forms and functions, and geographical jurisdictions. As discussed in the introduction, the scope of powers and responsibilities of municipal governments vary tremendously both across and within nations. The generalizability of the study findings was enhanced through the use of more generic terms to code the abstracts, and by synthesizing the full scope of the scholarly 'prescriptions' into seven broadly defined and internationally relevant categories; by employing this thematically broad codebook for extracting data from the abstracts, researchers and policy-makers are permitted greater latitude to conceptualize municipal interventions relevant to their own jurisdictions. Despite a rigorous methodological design, the nature of any meta-analysis requires readers need to be critical in applying study findings to the unique contexts in which they work.
While the literature search was international in scope, the priority placed on abstracts of Canadian origin and the exclusion of non-English language abstracts mars our findings with a 'Western hemisphere' or 'developed country' bias. The English language is predominant in primarily wealthy nations whose researchers have disproportionate access to research funding and success with publication; have well established municipal governance systems and sophisticated municipal infrastructure; and have high functioning acute-care medical systems, and public health sectors that deal increasingly with reducing chronic, rather than infectious, diseases. Meanwhile, there is tremendous international variation in the scope of, and patterns in, population health inequities, and no internationally agreed upon definition for 'population health inequities'. These characteristics have important implications for the nature of municipal governments' involvements in addressing population health inequities, and thus, likely influenced the scope of prescribed roles that emerged from the literature reviewed for this study. Had our language capacities facilitated it, this limitation could have been partly addressed by reviewing articles of non-English origin. However, we submit that this 'Western hemisphere' bias is not isolated to our study, but rather pervades academe in general, and is especially reflected in developing country researchers' inequitable access to research funding and publication acceptation in international journals. It is possible that other prescriptions for municipal-level involvement (likely focusing on developing basic infrastructure and provision of relief aid in partnership with non-governmental organizations) may have emerged if more abstracts been reviewed from researchers in developing countries. Given the implicit interests in this study in understanding potential roles for municipalities with established and operational governance structures, we feel that the breadth of data retrieved from the abstracts that
were
reviewed remains applicable and relevant to jurisdictions that may have been under-represented in our analysis.
Another limitation of this study was in restricting our analysis to the four bodies of literature chosen. As discussed, our decision not to include the policy sciences and social epidemiology, for instance, may have led our findings to under-represent dimensions of the health inequities knowledge base that focus on broader social welfare policies or more technically-oriented epidemiological studies documenting the scope of health inequities at the local level. As we were interested in uncovering scholarly prescriptions for municipal government
interventions
on
health
inequities, we feel that the breadth of the search strategy that was employed (in terms of scope of electronic databases and search terms) captured the abstracts of greatest relevance to the questions posed in this study.
A related limitation was in treating these four bodies of literature as discrete and mutually exclusive entities. These bodies of literature co-developed over the past two decades, and as with most academic disciplines with diverse perspectives, they rely on the same baseline information. Indeed, 51 of the abstracts reviewed appeared in more than one body of literature and accounted for a total of 103 abstract cases in the dataset. An analysis of the differences between the contents of the repeat abstracts and the total sample was performed (results not shown), to document any systematic differences in articles that permeate multiple literatures. While there were no significant differences in geographic origin or in the relative emphasis on categories for municipal roles, compared to the entire sample, these 51 abstracts were significantly more likely to focus on the '
social environment
' determinant of health (p = 0.002) and to implicate municipal governments in the task of addressing health inequities (p < 0.001). Thus, while this approach was employed to ensure methodological transparency and the accurate depiction of the relative contribution of each body of literature, this sub-analysis reveals that the actual quantity of abstracts emphasizing broader health determinants and a role for municipal governments was slightly overestimated and that, in fact, health inequities scholars have been even less vocal on these issues than what our larger analysis suggests.
Having a second reviewer would have been beneficial for confirming the validity and reliability of the codebook, but this was not possible due to inadequate study funding. Similarly, not reviewing entire articles may have presented an analytical weakness in this study, as article abstracts typically provide only cursory information; the information requirements for abstracts vary considerably across journals; and relevant articles without abstracts would have been excluded. Reviewing entire articles would have revealed a more accurate picture of the nuances of the health inequities knowledge base, but the sample size would have necessarily been smaller to facilitate such an intense review. Because of the importance of abstracts in offering readers a "preview of what's to come" while emphasizing some issues over others, the more cursory approach of reviewing abstracts was the best way to track meta-narratives from this large and diverse body of knowledge over a twenty year timeframe.
Policy Implications: Prescriptions for Municipal Government Intervention
Overall, the health inequities knowledge base offered insufficient guidance to municipal governments in developing healthy public policy at the local level. Health was conceptualized in primarily 'behavioural' and 'biomedical' terms, providing little incentive for municipalities to consider, and act on, the full range of the SDOHs. If researchers, who have at their disposal voluminous evidence on the social determinants of health inequities, overwhelmingly defer to healthy lifestyles and healthcare services as the levers for improving health, then how can busy, and often uninformed, policy-makers be expected to conceptualize health any differently? The minimal attention paid to municipal governments in the health inequities knowledge base urges critical reflection on the subject areas and types of health research that funding agencies privilege, and highlights the need for increased funding and translation of interdisciplinary health inequities research that is relevant to policy-makers, especially at the municipal level where human resources devoted to exchange with research communities are in short supply.
The relative silence of the health inequities knowledge base on avenues for municipal action presents another challenge to developing healthy public policy at the municipal level. With less than one-fifth of the abstracts implicating municipalities in any way, and the tendency for those implications to originate from Europe, it is clear that health inequities researchers offer inadequate prescriptions for municipal policy-makers from other jurisdictions to draw from [
142
]. Even if prescriptions were readily available, municipal policy-makers would justifiably have little faith in the effectiveness of such prescriptions, given the dearth of evaluations of programs targeting health inequities [
143
]. At a minimum, though, paradigm shifts are needed in both the academic and policy domains to move the issue of population health inequities onto the municipal government agenda.
Future Research Directions
The findings from this study illuminate a number of potential avenues for future research. Given its explicit 'city' focus, it was not surprising that the Healthy Cities literature implicated municipal governments in the greatest proportion. One might have expected, however, to see more implications from the Canadian Healthy Communities literature, considering the role that Canadian scholars played in launching the Healthy Cities movement. What characteristics are present in Europe, that are not present in North America and other jurisdictions, that would explain the apparent uptake of Healthy Cities agendas by municipal policy-makers across the region (as evidenced by the various past and current Healthy Cities projects across Europe), as well as the high degree of support from the WHO regional office for Healthy Cities programs? What powers might European cities possess that facilitate the implementation of prescriptions from the Healthy Cities movement? These cross-jurisdictional differences signal the need for researchers to investigate the nature of urban health governance across diverse political systems, which could offer an explanation for the lack of action on health inequities at the local level in Canada and elsewhere.
While our findings suggest evidence of uptake of the Healthy Cities component of the health inequities knowledge base by municipal policy-makers, especially within European and Latin American jurisdictions, little is known of the extent of uptake of the other components of this knowledge base by municipal policy-makers. As the objective of this study was to survey the health inequities knowledge base for prescriptions for municipal government intervention, another logical direction for future research would be to assess the extent of awareness and utilization of this knowledge by municipal policy-makers in jurisdictions around the world, as well as the perceptions held by municipal policy-makers themselves of the roles and responsibilities of municipalities in addressing health inequities. In another component of this study, we
have
investigated these questions within the metropolitan region of Metro Vancouver, Canada, which consists of nearly twenty autonomous municipal governments [
144
]. Similar analyses are needed in other jurisdictions.
In addition to investigating the status of translation of the health inequities knowledge base by municipal policy-makers, regular efforts should also be made to review the knowledge base for emergent prescriptions for both governmental and non-governmental interventions. In August 2008, the WHO Commission released another report on the state of the SDOH and strategies for reducing population health inequities [
145
]. The dynamic and evolving nature of this knowledge base suggests that the relevance of, and academic support for, strategies and interventions to reduce population health inequities can be short-lived.
Conclusions
It is well established that municipal governments have a fundamental influence on creating, and potentially reducing, health inequities in cities. The early links in the 19th century between urban planners and public health practitioners facilitated dramatic improvements in the living conditions of city dwellers in the developed world, and set the stage for considerable improvements in longevity over the next century. And, after decades of silence, the importance of our daily living conditions - conditions that are so fundamentally shaped by municipal government policies - has re-emerged within the field of public health as a key determinant of the health of populations. Yet, despite the discursive shift in public health, and the establishment of several academic disciplines examining health inequities in varying capacities since this shift, the precise roles and responsibilities of municipal governments in reducing health inequities at the local level have been inadequately investigated and remain poorly understood.
This study summarizes scholarly prescriptions for municipal government interventions on local health inequities. These prescriptions included partnerships with other levels of government or locally-based non-governmental organizations, assessments of local needs, delivery of health promotion and education programs, enhancing capacities within municipal governments, and investing in existing municipal infrastructure and programming. While biomedical and behavioural perspectives were pervasive in the knowledge base on the whole, abstracts that implicated municipalities tended to employ 'structure-oriented' perspectives that dealt with broader social policy issues. Despite the contents and orientations of these prescriptions however, municipalities received limited overall attention from the scholarly domain.
It may be unreasonable to expect municipalities to glean useful insights from the relatively sparse prescriptions that have been made, or that these limited prescriptions bear relevance to their jurisdictional contexts and health concerns. An understanding of the capacities for urban health governance in diverse political systems is required among readers to critically assess these expectations. To truly reinvigorate the link between public health and urban planning, more research is needed on the extent of knowledge translation of the health inequities knowledge base at the municipal level, as well as the willingness and capacities of municipal governments to intervene on these issues. The findings presented here, which offer unique insights into how municipalities have been implicated by the research community, are a critical step in the journey of translating knowledge into government interventions to reduce population health inequities.
Acknowledgements
Patricia Collins would like to thank the Social Sciences and Humanities Research Council and the Michael Smith Foundation for Health Research for doctoral scholarship support. Patricia Collins currently receives postdoctoral fellowship support from the Population Health Intervention Research Network.
Competing interests
The authors declare that they have no competing interests.
Authors' contributions
PC conceived of, and implemented the study design; retrieved and analyzed all of the article abstracts; and developed a draft of the manuscript. MH assisted with the conception of the study and the development of the abstract codebook and search strategy; and assisted in the writing of the manuscript. All authors read and approved the final manuscript.