24.06.2020 | Original Contributions | Ausgabe 11/2020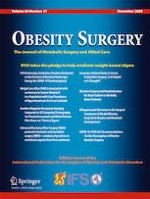 The Role of Ursodeoxycholic Acid (UDCA) in Cholelithiasis Management After One Anastomosis Gastric Bypass (OAGB) for Morbid Obesity: Results of a Monocentric Randomized Controlled Trial
Zeitschrift:
Autoren:

Francesco Pizza, Dario D'Antonio, Francesco Saverio Lucido, Salvatore Tolone, Gianmattia Del Genio, Chiara Dell'Isola, Ludovico Docimo, Claudio Gambardella
Wichtige Hinweise
Publisher's Note
Springer Nature remains neutral with regard to jurisdictional claims in published maps and institutional affiliations.
Abstract
Introduction
Bariatric surgery leads to rapid weight loss, a well-known risk factor for gallstone formation. Postoperative biliary complication rate requiring cholecystectomy is between 0.9 and 7.5% after laparoscopic sleeve gastrectomy and between 6 and 50% after laparoscopic gastric bypass. Several authors recommended ursodeoxycholic acid (UDCA) administration to reduce gallstone formation after diet-induced weight reduction. The aim of this randomized monocentric study is to evaluate gallstone incidence after prophylactic administration of UDCA in patients undergoing one anastomosis gastric bypass (OAGB).
Methods
Patients undergoing OAGB were prospectively randomized into 2 groups: the UDCA group receiving oral UDCA 600 mg/days for 6 months in the immediate postoperative days, and the control group not administered with UDCA. Each group included 95 patients. Abdominal ultrasound, clinical evaluation, and quality of life scoring with Gastrointestinal Quality of Life Index (GIQLI) were performed postoperatively in all patients at 3, 6, and 12 months.
Results
At 12 months of postoperative follow-up, 4 (4.2%) and 24 patients (25.2%) showed gallstones in the UDCA group and control group, respectively (
p
 < 0.05). Among those who developed gallstones, 8 (28.6%) cases were symptomatic whereas 20 (71.4%) did not show any symptom. No statistically significant difference in GIQLI score between the two groups was found.
Conclusion
OAGB, as other malabsorbent procedures, appears to have higher rate of cholelithiasis than purely restrictive procedures. In our prospective randomized controlled study, a regular postoperative UDCA intake during the first 6 months seems to significantly reduce cholelithiasis incidence after OAGB, with no case of intolerance reported. Further studies are needed to assess this issue.