28.01.2020 | Portal Hypertension (J Gonzalez-Abraldes and E Tsochatzis, Section Editors) | Ausgabe 1/2020 Open Access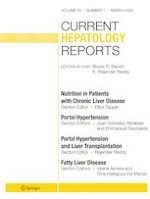 The Role of Vascular Injury and Congestion in the Pathogenesis of Cirrhosis: the Congestive Escalator and the Parenchymal Extinction Sequence
Zeitschrift:
Autor:

Ian R. Wanless
Wichtige Hinweise
Electronic supplementary material
This article is part of the Topical Collection on
Portal Hypertension
Publisher's Note
Springer Nature remains neutral with regard to jurisdictional claims in published maps and institutional affiliations.
Abstract
Purpose of Review
Current research into the pathogenesis of cirrhosis is largely dominated by investigations of hepatocellular injury and fibrogenesis, mostly in short-term experimental models. Cirrhosis in the human evolves for decades with histologic features that are very different from the models studied, dominated by hepatic vein obstruction and congestion. This is a clue that the mechanisms operating in the human are different from those in most animal models.
Recent Findings
This paper presents an updated "vascular hypothesis" with previously unpublished observations that provide a more complete understanding of the pathogenesis of chronic liver disease in the human: (1) a definition of parenchymal extinction emphasizing the importance of sinusoidal destruction, (2) analysis of the temporal evolution of parenchymal extinction lesions, (3) new data to quantify hepatic vein obstruction, (4) a "congestive escalator" hypothesis to explain how vascular obstruction occurs, beginning with sinusoidal endothelial cell injury, fluid translocation, and vascular compression by mechanics known as "compartment syndrome," (5) a "nested cone model" of hepatic vein anatomy that predisposes to compartment syndrome in the human, and (6) a proposal for the mechanism of collagen formation in response to congestion ("congestive fibrosis").
Summary
The guiding principle in this model is that flow has to be vented to keep pressure gradients within the physiological range. Vascular obstruction causes tissue congestion which induces further vascular obstruction that drives a congestive escalator leading to progressive parenchymal extinction. This model may be applicable to all types of cirrhosis found in the human.