09.03.2019 | Original Paper | Ausgabe 4/2019 Open Access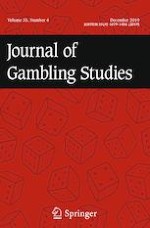 The Same or Different? Convergence of Skin Gambling and Other Gambling Among Children
Zeitschrift:
Autor:

Heather Wardle
Wichtige Hinweise
Publisher's Note
Springer Nature remains neutral with regard to jurisdictional claims in published maps and institutional affiliations.
Introduction
Objectives and Hypotheses
Understanding the potential impact of engagement in skin gambling among children requires a greater consideration of children's behaviours in order to map the basic epidemiology of practices. To date, notions of convergence between gambling-like activities and more traditional forms of gambling have tended to be examined by focusing on the products, with researchers noting the similarities of these practices, their common structural features and reward system mechanisms (King and Delfabbro
2018
; McBride and Derevensky
2017
). It is, however, vitally important to understand convergence of behaviours, especially if theories about one practice leading to another are to be better explored. This research uses nationally representative data of children aged 11–16 to explore this and to estimate:
(a)
the extent to which skin gambling and betting among 11–16 years olds is combined with other, more 'traditional' forms of gambling;
(b)
how the prevalence of skin gambling (alone and in combination with other forms of gambling) varies by different socio-demographic and economic characteristics; and
(c)
whether rates of problem and at-risk gambling vary by engagement in skin betting/gambling.
It is hypothesised that skin gambling and other forms 'traditional' forms of gambling will cluster together, given the similarities between the practices meaning that those who are interested in one form of practice are also likely to be interested in others (H1). It is also hypothesised that this clustering will be socially patterned, being more common among certain types of children, especially boys (H2) and those from more disadvantage backgrounds (H3). Finally, it is hypothesised that children who participate in skin gambling and other forms of gambling will display greater levels of at-risk or problem gambling (H4), as a function of their greater involvement with gambling and gambling-like activities more generally.
Methods
Data
Secondary analysis of the 2017 Youth Gambling Survey, conducted for the British Gambling Commission by Ipsos Mori via their youth omnibus survey, was undertaken. The youth omnibus collects survey information from a random sample of school-aged children in years 7–11 on a range of topics (funded by different clients). The Gambling Commission funds a subsection of the questionnaire to collect some data about gambling behaviour. Overall, 446 secondary schools were randomly chosen from the Edubase list in England and Wales and from a listing provided by the Scottish Government in Scotland. The school sample was stratified by Government Office Region and, within each stratum, further stratified by Local Authority, area deprivation and school size. Within each participating school, one curriculum year group (Year 7–Year 11) was selected to participate at random for each school. All members of the randomly-selected class group were asked to fill out a paper self-completion survey. Overall, 103 selected schools participated, giving a school-based response rate of 23%. Questionnaires were obtained from 2881 pupils aged 11–16 (Ipsos
2017
).
Measures
Skin Betting Measures
In 2017, four questions about video games and skin betting and gambling were included for the first time. The following questions were asked: whether children ever played computer games or game-apps these days; those who had were then asked if they were aware of betting with in-game items and whether they had personally done so. Those who had bet or gambled using skins were asked how often they had done so (within the past 7 days, month or past year). Questions asked about skin betting were preceded by this introduction: 'when playing computer games/apps it is sometimes possible to collect in-game items (e.g. weapons, power-ups and tokens). For some games, it is possible to bet these in-game items for the chance to win more of them.' This is the definition of skin gambling/betting used within the survey and thus is the definition for the analysis presented in this paper. Using this information, children who had bet using skins in the past month were identified.
Gambling Measures
All children were asked whether they had used their
own
money in the past week on one of 14 forms of gambling activity, ranging from purchasing lottery tickets, scratchcards or private betting to betting in bookmakers, casinos or online gambling or betting. All children were also asked how often in the past year they had spent their own money on each of the following: lottery tickets, scratchcards, fruit machines, bingo, online gambling or betting and private betting or gambling with friends. For this analysis, those who had gambled on at least one of these six activities on a monthly basis and anyone who had gambled in the past week were defined as 'past month gamblers'. The absence of more detailed frequency data for some forms of gambling (for example betting in bookmakers) may mean there are some false positives within the non-past month gambler group, though the forms of gambling excluded were very low prevalence (Gambling Commission
2017b
). Gambling problems were measured using the DSM-IV-J-MR instrument. This was developed and validated by Sue Fisher specifically to assess gambling problems among adolescences (Fisher
2000
). Responses to 12 items are scored and summed out of a maximum of 10 (there are three items where a score of one is given if anyone of the three behaviours is endorsed). A score of 4 or more indicates problem gambling and a score of 2–3 indicates at-risk gambling (Fisher
2000
; Olason et al.
2006
; Castrén et al.
2015
). Because of small base sizes (problem gambling n = 25), the at-risk and problem gambling categories have been combined in this analysis and, following Castrén et al. (
2015
) termed at-risk or problem gambling (Castrén et al.
2015
).
Skin Betting and Gambling Measures
Using the measures described above, all children were allocated to one of the following groups: had bet with skins and gambled on other activities in the past month; had bet with skins in the past month only; had gambled on other activities in the past month only, had participated in neither in the past month. This was undertaken for participation in all gambling activities combined and for each of the six individual gambling activities where frequency data was available. These variables were used to explore the extent to which skin gambling may co-occur with certain types of gambling activity as well as gambling overall.
Socio-demographic/Economic Measures
The youth omnibus survey collects very limited details of children's socio-economic or demographic circumstances. This is partly because it is a school-based survey and limited questions can be asked about the home circumstances of their parents and families. It is also partly because it is an omnibus study and questionnaire space is reserved for paying clients. This is common among most surveys of children conducted within this setting. Therefore, demographic and socio-economic measures are limited but do include some key measures known to be associated with children's gambling behaviour, namely age, sex, ethnicity, self-rated academic performance and a measure of low-income status, represented by receipt of free school meals (Blinn-Pike et al.
2010
; Forrest and McHale
2018
). Because of small base sizes, age was grouped into 2-year bands and ethnicity grouped into White/White British; Asian/Asian British, Black/Black British and mixed/other. Children reported how well they felt they were doing at school on a four point scale and responses grouped into those doing well versus not doing well. Children were asked whether they were in receipt of free school meals. Free school meals are only available to parents in receipt of income-based benefits and thus act as a proxy for identifying low-income families.
Analyses
Bi-variate associations between the prevalence of skin gambling (alone and in combination with other forms of gambling) and socio-demographic/economic characteristics were produced using SPSS's complex survey module. For bi-variate analyses, the complex survey function produces an adjusted Wald's F-test as its default test of significance, which assesses the extent to which the independent variable (prevalence of skin betting, for example) varies by the dependent variables (age or gender, for example), whilst taking into account the survey weighting, stratification and clustering of children within classes (Rao and Scott
1984
). All
p
values cited in the tables relate to this type of statistical testing. Following Graham et al. (
2014
), observed-expected ratios were computed to assess the extent to which skin gambling and other forms of gambling cluster together. Observed-expected ratios are interpreted relative to their confidence intervals. An observed-expected ratio greater than one, with a confidence interval that does not straddle 1, represents a higher prevalence than would be expected if the behaviours were independent and indicates clustering of behaviours. Finally, two multivariate logistic regressions were run to (a) examine whether certain forms of gambling were associated with skin gambling in the past month and (b) whether skin gambling was associated with at-risk gambling, once other forms of gambling engagement was taken into account. Checks for collinearity between individual forms of gambling activities were undertaken [assessment of phi correlations for binary data and variance inflation factor (VIF) diagnostic tests] and found to be minimal (available on request from the author). Both models also controlled for age, sex and academic attainment as bi-variate analyses showed these were associated with skin gambling. Regression models were produced using Stata v15, and took into account the survey weights and complex study design. Missing data was minimal and excluded from analyses. Ethical approval was provided by the London School of Hygiene and Tropical Medicine Ethics' committee (Ref. 15960).
Results
Discussion
Limitations
Analyses presented are based on self-reported behaviours from a survey of school-aged children and inherits the attendant issues of this methodology. It is secondary analysis, meaning that the analysis presented is limited to the questions designed and funded by the original survey commissioners (for example, only four questions being asked about video games and skin gambling/betting). Only a very limited number of socio-economic characteristics were included in the original survey, limiting the extent to which it is possible to explore how behaviours vary among different types of children. This also limits the range of covariates available to include in the multivariate models and caution should be taken not to view these as models exploring the full range of factors associated with either skin gambling or at-risk gambling. They are presented to give greater descriptive insight into the relationships highlighted through the bi-variate analyses. The definition of skin gambling/betting used is broad and is likely to include private betting/gambling among peers as well as the betting and gambling of skins on third party websites. However, as the definition of gambling used in the survey also includes betting and gambling for money among peers, these are comparable. There is no data about the sequence of activities, only that they were undertaken at broadly the same time. The measure used to represent past month gambling is likely to slightly under-estimate gambling behaviour as frequency of gambling was only collected for six main forms of gambling and excluded less prevalent forms (for example, betting in a bookmakers). Finally, the digital world is fast moving and new products and practices emerge within a short pace of time. Whilst this data was collected in 2017, meaning it is relatively recent, it is possible that the digital landscape has changed in the intervening period.
Conclusion
Convergence of digital practices is often examined via the lens of the product, where consideration is given to how seemingly similar practices are transferred from one medium to another. Whilst theories about the demarcation between gambling and gaming may be contested, the assimilation of gambling cues within gaming practices and ambiguity about where gaming ends and gambling begins cannot be denied. When considering these issues, it is vital to understand how such conceptual ambiguity manifests in everyday consumption and practice. This paper has shown that, among children, whilst gambling and gaming behaviours do cluster, and do so more for some groups than others, there is also a sizeable majority of children who engage in neither activity or who do one but not the other. This paper also provides some evidence of co-occurring practices among children, especially those conducted through the same medium, where there is a high level of concordance between skin gambling/betting and online gambling. Children who engage in both skin gambling/betting and other forms of gambling should be considered an at-risk group for the experience of harms because of their heightened engagement in gambling and gambling-like activities.
Acknowledgements
Thanks are due to Dr. Kareena McAloney-Kocaman at Glasgow Caledonian University for assistance with the observed/expected ratios. This paper was funded by Wellcome, Grant No. 200306/Z/15/Z. Heather is the Deputy Chair of the Responsible Gambling Strategy Board (RGSB), an independent group that provides advice on gambling policy and research to government. She is remunerated for this position through government by the Gambling Commission (the regulator). In her previous employment (2002–2016), she worked on contracts funded by GambleAware, a national charity mandated by government to commission research into gambling in Great Britain. She is currently working on a small project for GambleAware looking at the relationship between gambling and suicide. Funds for GambleAware are raised by contributions from the industry, though decisions about what research to fund are made by the RGSB. Heather runs a research consultancy, Heather Wardle Research Ltd. She does not and has not provided consultancy services for the gambling industry.
Compliance with Ethical Standards
Conflict of interest
The author declare that their is no conflict of interest.
Open Access
This article is distributed under the terms of the Creative Commons Attribution 4.0 International License (
http://​creativecommons.​org/​licenses/​by/​4.​0/​
), which permits unrestricted use, distribution, and reproduction in any medium, provided you give appropriate credit to the original author(s) and the source, provide a link to the Creative Commons license, and indicate if changes were made.
Publisher's Note
Springer Nature remains neutral with regard to jurisdictional claims in published maps and institutional affiliations.