17.05.2020 | Original Article | Ausgabe 12/2020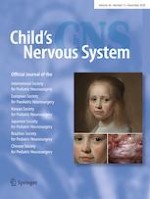 The scalp block for postoperative pain control in craniosynostosis surgery: a case control study
Zeitschrift:
Autoren:

Rossano Festa, Federica Tosi, Angela Pusateri, Sonia Mensi, Rossella Garra, Aldo Mancino, Paolo Frassanito, Marco Rossi
Wichtige Hinweise
Publisher's note
Springer Nature remains neutral with regard to jurisdictional claims in published maps and institutional affiliations.
Abstract
Purpose
Postoperative analgesia after corrective surgery of pediatric craniosynostosis is crucial in terms of short- and long-term outcomes. The objective of this observational study was to evaluate the effectiveness of an analgesic technique based on the scalp block versus traditional pharmacological approach.
Methods
Thirteen patients, aged between 3 months and 2 years, undergoing surgical correction of craniosynostosis, received scalp nerve block before awakening (scalp block group). This group of patients was compared to a second group of 13 patients, retrieved from our database, treated with the traditional pharmacological approach (control group). Pain scores, need of rescue therapy, resumption of oral nutrition, degree of parent satisfaction at discharge, and length of stay in the Pediatric Intensive Care Unit (PICU) and in the hospital were compared between the two groups.
Results
Objective Pain Score values were significantly lower in patients treated with scalp block at 30 min and at 8 h after extubation. The number of pharmacological interventions for the treatment of pain in PICU was significantly higher in Control group. Children in Scalp block group started earlier oral feeding than in Control group, both for clear fluids and milk. Length of stay in PICU was longer in Scalp block group than in Control group, though the difference between the mean data in the two groups is about 3 . This difference does not seem significant from a clinical standpoint, since it seems more related to logistic issues (e.g., availability of bed in the Pediatric Neurosurgery Unit, presence of a parent), rather than clinical problems contraindicating the discharge from PICU. Indeed, the overall hospital length of stay was similar between the two groups.
Conclusion
Scalp nerve block was effective for immediate postoperative pain control in patients younger than 2 years who underwent cranioplasty for craniosynostosis. The best pain control compared to conventional therapy allowed to limit the need for rescue analgesics in PICU and an earlier recovery time.