01.06.2014 | Original Article | Ausgabe 3/2014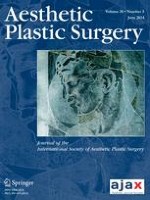 The Skin-Tightening Effects of 1,444-nm Nd:YAG Laser on Human Skin: An In Vivo Study
Zeitschrift:
Autoren:

Kyung Hee Min, Ji Hoon Kim, Hyo Jin Park, Heung Soo Chung, Chan Yeong Heo
Abstract
Background
The 1,444-nm Nd:YAG laser was developed to improve the removal of fat cells and to affect the underlying dermis with the aim of skin tightening. We conducted this study to evaluate whether this laser is effective in tightening the skin and causing histological alterations to dermal collagen fibers, fibroblasts, mucopolysaccharides, and elastin.
Methods
In a 38-year-old patient who was scheduled to undergo elective abdominoplasty, we subdermally performed laser-assisted treatment with the 1,444-nm Nd:YAG laser using different power settings over periods of 3 months and 1 month and prior to surgery. Postoperatively, we evaluated the skin-tightening effect through histopathologic examination.
Results
On histopathology examination, the thickness of the dermis had gradually increased following the 3-month treatment with laser irradiation. In the treatment groups on the abdomen, the collagen fibers were arranged in a more parallel pattern and became denser than those in the control group. Likewise, fibroblast proliferation and the levels of mucopolysaccharides and elastin were higher in the treatment groups than in the control group.
Conclusions
The 1,444-nm Nd:YAG laser was effective in promoting the remodeling of the dermis and the regeneration of collagen fibers. As such, the 1,444-nm Nd:YAG laser could be used for skin tightening in addition to its function in lipolysis.
Level of Evidence II
This journal requires that authors assign a level of evidence to each submission to which Evidence-Based Medicine rankings are applicable. This excludes Review Articles, Book Reviews, and manuscripts that concern Basic Science, Animal Studies, Cadaver Studies, and Experimental Studies. For a full description of these Evidence-Based Medicine ratings, please refer to the Table of Contents or the online Instructions to Authors
www.​springer.​com/​00266
.