01.12.2019 | Original investigation | Ausgabe 1/2019 Open Access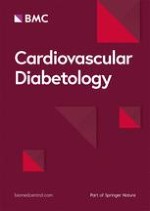 The sodium–glucose co-transporter 2 inhibitor empagliflozin attenuates cardiac fibrosis and improves ventricular hemodynamics in hypertensive heart failure rats
Zeitschrift:
Autoren:

Hsiang-Chun Lee, Yi-Lin Shiou, Shih-Jie Jhuo, Chia-Yuan Chang, Po-Len Liu, Wun-Jyun Jhuang, Zen-Kong Dai, Wei-Yu Chen, Yun-Fang Chen, An-Sheng Lee
Abbreviations
ANP
atrial natriuretic peptide
ALT
alanine amino-transferase
AST
aspartate amino-transferase
+dP/dt
maximal velocity of pressure incline
-dP/dt
maximal velocity of pressure decline
EDPVR
end-diastolic pressure volume relationship
ESPVR
end-systolic pressure volume relationship
HDL-C
high-density-lipoprotein cholesterol
LDL-C
low-density-lipoprotein cholesterol
LVIDd
left ventricle internal dimension at end-diastole
SGLT2i
sodium–glucose co-transporter 2 inhibitor
SHG
second-harmonic generation microscopy
SHR
spontaneous hypertensive rat
Introduction
Materials and methods
Animal models
Male, 5-week-old spontaneous hypertensive rats (SHR) and normotensive Wistar–Kyoto (WKY) littermates (controls) were purchased from the National Laboratory Animal Center (Taipei, Taiwan), and housed in a temperature-controlled animal facility (22 °C) with a 12-h light/dark cycle. All animals had been fed with normal diet for 32 weeks, and then high fat diet (HFD, fat content 45% of energy, RESEARCH DIETS, New Brunswick, NJ, cat. D12451) for 20 weeks. Seven SHR rats at 56-week-old were randomly chosen to the EMPA group, which empagliflozin was administered in drinking water with a dose of 20 mg/kg/day, for 12 weeks. Twelve weeks later, electrocardiography, echocardiography, and invasive PV-loop analysis were performed in vivo (Fig.
1
). Empagliflozin was kindly provided by the Boehringer Ingelheim Pharma GmbH & Co. KG, Biberach an der Riss, Germany. WKY rats at same age were used as the control group.
×
The performance and measurements of echocardiography and electrocardiography
At 69-week-old, recordings were conducted on all groups of animals after being anesthetized with 1.5–2% isoflurane. For the echocardiography, a transducer with a 30 MHz frequency was used. The left ventricular (LV) wall thicknesses [LV posterior wall (LVPW) and interventricular septum (IVS)], and LV chamber dimensions (LVID) at end-diastole were determined from M-mode images. Left atrial size was determined from M-mode at end-systole. The ejection fraction (EF) and LV mass and end-diastole and end-systole volumes (LVEDV and LVESV) were calculated according to Teichholz et al. [
15
]. For the electrocardiogram (ECG), signal capture was accomplished with platinum electrodes inserted subcutaneously in four limbs and connected to a custom-built ECG amplifier and recorded for about 5 min at 2 MHz (IX-RA-834, iWorx Systems, Dover, New Hampshire). Motion-altered ECG signal and artifacts were discarded before analysis. Recordings were analyzed for intervals with LabChart 5 software (ADInstruments, Dunedin, New Zealand), and QTc intervals were calculated with formula for rats: QTc = QT/(RR/150)1/2 [
16
].
Hemodynamic measurements
Rats were anesthetized with intraperitoneal injection of thiopental sodium (60–80 mg/kg ip). Right carotid artery was cut down to insert the microtip 2.0 F Pressure-Volume (PV) catheter (SPR-838, Millar Instruments; Houston, TX). After arterial pressure was recorded, the catheter was advanced to the LV guided by pressure tracing waves as described previously [
17
]. After stabilization, signals of pressure and volume were continually recorded by using a P–V conductance system (MPVS Ultra, emka TECHNOLOGIES, Paris, France) coupled to a digital converter (ML-870, ADInstruments, Colorado Springs, CO). Hemodynamic parameters were measured under different preloads, which were elicited by transiently compressing the abdominal inferior vena cava.
Blood sample collection and biochemical measurements
After hemodynamic study, venous blood was drawn from the inferior vena cava into collecting vials, and plasma was prepared and stored at − 20 °C pending further analysis. Plasma samples were used for the measurement by means of specific kits of the following parameters: fructosamine, triglycerides, total cholesterol, low-density lipoprotein cholesterol (LDL-C), high-density-lipoprotein cholesterol (HDL-C), blood urea nitrogen (BUN), creatinine and, aspartate amino-transferase (AST), alanine amino-transferase (ALT) activities, uric acid, and atrial natriuretic peptide (ANP).
Histology of rat hearts
After venous blood collection, hearts were harvested and processed accordingly for subsequent tissue and molecular analyses. Rat hearts were blotted dry on tissue paper and weighed, then were fixed with 4% paraformaldehyde. Next, they were embedded in paraffin and sections were stained with Masson's trichrome according to the manufacturer's protocol as previously described. The whole hearts were scanned at 20-fold magnification on a high-resolution microscope by using TissueFAXS software (TissueGnostics, Vienna, Austria). The fibrosis content was quantified by identifying and counting the number of blue-staining pixels as a percentage of the total left atrial or left ventricular tissue area using ImageJ software.
Second-harmonic generation microscopy
Collagen deposition in cardiac sections were analyzed by the second-harmonic generation microscopy (SHG). Multiphoton imaging was performed using 10 μm thick acute slices without de-waxing and staining, and acquisitions were taken with a high numerical aperture (NA) objective lens (UPlanSAPo 20×/NA 0.75, OLYMPUS, Japan) which enabled visualization of a major part of the slice. Visualization of micrometer or submicrometer collagen fibers that were heterogeneously distributed in the cardiac tissue at millimeter scale required both a large field of view and a good spatial resolution. The SHG signal was excited by a femtosecond Ti: Sapphire laser (Tsunami, Spectra-Physics, USA) adjusted to wavelength of 800 nm and a fluorescence filter (FF01-390/40-25, Semrock, USA) was specific chosen for SHG detection. We therefore acquired 200 × 200 μm 2 SHG images with 512 × 512 pixels at pixel scanning rate of 30 kHz and had laser power of 22.4 mW on the specimen.
Quantitative real-time reverse transcriptase PCR
Small pieces of atrial and ventricular tissue were placed into liquid nitrogen for snap freezing and later stored in − 80 °C freezer until analysis. Four rats in each group were chosen for heart mRNA expression analysis. Total RNA was prepared using TRI Reagent (Sigma-Adrich, St Louis, MO), then reverse transcribed (Invitrogen, Carlsbad, CA). Quantitative real-time RT-PCR was performed using an ABI 7500 real-time system (Applied Biosystems, Foster City, CA) and TaqMan Universal Master Mix II with TaqMan probes (Applied Biosystems, Foster City, CA): PPARα, Rn00566193_m1; ACADM, Rn00566390_m1; TNF-α, Rn01525859_g1; ANP, Rn00664637_g1 and BNP, Rn00580641_m1.
Data analysis and statistics
Data were expressed as mean ± SD; n indicated the number of rats. One-way ANOVA and Tukey's multiple comparisons test were used. Statistical significance was considered as a P value ≤ 0.05. Statistical analyses were undertaken using GraphPad Prism software (GraphPad Software; San Diego, CA).
Results
Discussions
The beneficial effects of empagliflozin shown in this study include: (1) reduced systemic blood pressure, (2) improved renal function, (3) improvement in left atrial dilatation, (4) attenuated intra-cardiac fibrosis, (5) improved incline and decline dP/dt of left ventricle, and (6) modulated genes related to fatty acid metabolism (PPARα and ACADM) and restored upregulated genes in HF.
Conclusions
Empagliflozin exerted beneficial effects on systemic blood pressure, renal function, and ameliorated left atrial dilatation, intra-cardiac fibrosis, contraction and relaxation dysfunction in hypertensive heart failure rats. The potential application beyond type 2 DM for SGLT2i may include hypertension heart failure.
Authors' contributions
HCL, SJJ, YLS, and ASL participated in the study design. HCL and ASL participated data analysis, interpretation of results and drafting the manuscript. YLS, WCC, CYC, and PLL participated in acquisition of data and interpretation of the results. ZKD, WYC, and YFC participated in acquisition of data. HCL and ALS participated in conception of the study, revision and final approval of the manuscript. All authors read and approved the final manuscript.
Acknowledgements
The authors thank Boehringer-Ingelheim. The authors also thank Dr. Shean-Jen Chen for providing the use of the second-harmonic generation microscopy at College of Photonics, National Chiao Tung University, Tainan, Taiwan.
Competing interests
The authors declare that they have no competing interests.
Availability of data and materials
All data generated or analyzed during this study are included in this published article.
Consent for publication
Not applicable.
Ethics approval and consent to participate
All applicable institutional and governmental regulations concerning ethical use of animals conformed to the NIH guidelines and all animal procedures were approved by the Institutional Animal Care and Use Committee of Kaohsiung Medical University (No. 102155).
Funding
This study was supported by Kaohsiung Medical University Hospital research Grants (KMUH104-4T04, KMUH105-5R09 and KMUH106-6R11), Mackay Medical College research Grants (1051B11 and 1061B23), Taiwan Ministry of Science and Technology Grants (MOST 104-2314-B-037-080-MY3 to HCL and MOST 104-2320-B-715-009-MY3 to ASL), and Taiwan National Health Research Institutes (NHRI-EX107-10724SC to HCL).
Publisher's Note
Springer Nature remains neutral with regard to jurisdictional claims in published maps and institutional affiliations.
Open Access
This article is distributed under the terms of the Creative Commons Attribution 4.0 International License (
http://​creativecommons.​org/​licenses/​by/​4.​0/​
), which permits unrestricted use, distribution, and reproduction in any medium, provided you give appropriate credit to the original author(s) and the source, provide a link to the Creative Commons license, and indicate if changes were made. The Creative Commons Public Domain Dedication waiver (
http://​creativecommons.​org/​publicdomain/​zero/​1.​0/​
) applies to the data made available in this article, unless otherwise stated.