12.03.2019 | Original Article | Ausgabe 8/2019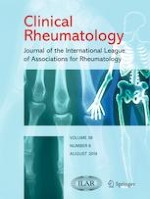 The spectrum and clinical significance of myositis-specific autoantibodies in Chinese patients with idiopathic inflammatory myopathies
Zeitschrift:
Autoren:

Shanshan Li, Yongpeng Ge, Hanbo Yang, Tao Wang, Xiaoxiao Zheng, Qinglin Peng, Xin Lu, Guochun Wang
Wichtige Hinweise
Electronic supplementary material
Publisher's note
Springer Nature remains neutral with regard to jurisdictional claims in published maps and institutional affiliations.
Abstract
Objectives
The aim of this study is to analyze the prevalence of myositis-specific autoantibodies (MSAs) and to elucidate their associations with clinical features in Chinese patients with polymyositis (PM) and dermatomyositis (DM).
Methods
Twelve subsets of MSAs including anti-Mi-2, anti-TIF1-γ, anti-MDA5, anti-NXP2, anti-SAE1, anti-SRP, anti-Jo-1, anti-PL-7, anti-PL-12, anti-EJ, anti-OJ, and anti-HMGCR antibodies were tested. Four hundred and ninety-seven PM/DM patients were enrolled. Clinical features and laboratory data were collected. The frequency of MSAs and the correlations with clinical phenotypes were calculated by SPSS 21.0.
Results
MSAs were present in 65.4% in PM/DM patients. Anti-TIF1-γ (14.3%), anti-MDA5 (12.5%), and anti-Jo-1 (10.1%) were the three commonest MSAs. Anti-SAE1 (OR 14.877, 95% CI 1.427–155.074), anti-SRP (OR 4.339, 95% CI 1.529–12.312) and anti-TIF1-γ (OR 2.790, 95% CI 1.578–4.935) were associated with dysphagia. In contrast, anti-MDA5 (OR 0.356, 95% CI 0.148–0.856) might decrease the frequency of this manifestation. Interstitial lung disease (ILD) was observed more frequently in patients carrying anti-EJ (OR 14.202, 95% CI 1.696–118.902), anti-Jo-1 (OR 11.111, 95% CI 3.306–37.335), and anti-MDA5 (OR 3.109, 95% CI 1.578–6.128). On the contrary, anti-Mi-2 (OR 0.180, 95% CI 0.055–0.589), anti-TIF1-γ (OR 0.163, 95% CI 0.080–0.333), and anti-HMGCR (OR 0.058, 95% CI 0.007–0.451) were protective factors against developing ILD. Anti-TIF1-γ was an independent risk factor for cancer-associated myositis (OR 4.237, 95% CI 1.712–10.487).
Conclusions
PM/DM patients had high frequencies of MSAs. Several MSAs were independent factors in determining unique clinical phenotypes.