13.02.2019 | Review | Sonderheft 1/2019 Open Access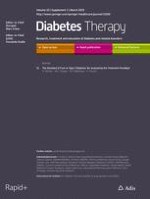 The Standard of Care in Type 2 Diabetes: Re-evaluating the Treatment Paradigm
Zeitschrift:
Autoren:

Viswanathan Mohan, Mark E. Cooper, David R. Matthews, Kamlesh Khunti
Wichtige Hinweise
This symposium took place on the 3rd of October 2018 as part of the 54th Annual Meeting of the European Association for the Study of Diabetes (EASD) in Berlin, Germany.
Chairperson: Viswanathan Mohan. Speakers: Mark E. Cooper, David R. Matthews and Kamlesh Khunti.
Enhanced Digital Features
Abstract
There is currently a worldwide epidemic of type 2 diabetes (T2D) that is predicted to increase substantially in the next few years. With 80% of the global T2D population living in low to middle-income countries, there are issues with cost and of access to appropriate medicines. The objective of this symposium was to provide an overview of the efficacy and safety of glucose-lowering drugs, focussing in particular on sulfonylureas (SUs) in patients with T2D using data taken from both randomised controlled trials (RCTs) and real-world studies, the application of strategies to ensure optimal patient adherence and clinical outcomes, and the optimal use of SUs in terms of dose adjustment and agent choice to ensure the best clinical outcome. The symposium began by exploring a profile of the typical patient seen in diabetes clinical practice and the appropriate management of such a patient in the real world, before moving on to an overview of the risks associated with T2D and how the currently available agents, including newer antidiabetic medications, mitigate or exacerbate those risks. The final presentation provided an overview of real-world studies, the gap between RCTs and the real world, and the use of available glucose-lowering agents in daily clinical practice. Clinical evidence was presented demonstrating that tight glucose control improved both microvascular and macrovascular outcomes, but that aggressive treatment in patients with a very high cardiovascular risk could lead to adverse outcomes. Real-world data suggest that older agents such as SUs and metformin are being used in a large proportion of patients with T2D with demonstrable effectiveness, indicating that they still have a place in modern T2D management. The symposium, while acknowledging the need for newer antidiabetic drugs in specific situations and patient groups, recommended the continuation of SUs and metformin as the primary oral antidiabetic agents in resource-constrained regions of the world.