30.06.2018 | Brief Communication | Ausgabe 5/2018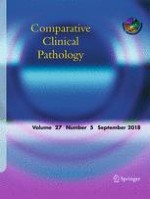 The survey of parasitic infections of wild pigeons (
Columba livia

) in Lahijan city, Guilan, Iran
Zeitschrift:
Autoren:

Mohammad- Reza Chaechi- Nosrati, Ali Eslami, Sadegh Rahbari, Elham Houshmand, Ali Yousefi
Abstract
Pigeons of the order Columbiformes especially wild pigeons (
Columba livia
), are of concern since they have a role in spreading some zoonoses to people as well as being a reservoir of many parasitic diseases for poultry.The aim of this investigation was to study on parasitic infections of
Columba livia
. This survey was conducted from 180
Columba livia
in four parts of the Lahijan city, Northern area of Iran, between March 2015 and April 2016. From 180 pigeons, 43.33 and 36.66% were infected with nematodes and cestodes respectively whereas no trematodes were found. The helminths were Nematoda:
Ascaridia columbae
(50%),
Capillaria obsignata
(38.4%)
Acuaria spiralis
(7.6%), Cestoda:
Raillietina magninumida
(54.5%),
Raillietina echinobothrida
(45.4%),
Raillietina tetragona
(45.4%). Eight different species of ectoparasites included
Pseudolynchia canariensis
(73.3%),
Columbicola columbae
(88.3%),
Dermanyssus gallinae
(3.3%),
Falculifer rostratus
(31.6%),
Menopon gallinae
(6.6%),
Goniodes sp.
(53.3%),
Menacanthus stramineus
(41.6%),
Megninia cubitalis
(13.3%). Also, two species of protozoa were found:
Haemoproteus columbae
in 78.33% of blood samples and
Trichomonas gallinae
of 50% of crop smears. Our finding showed that incidence the rate of parasitic infections in
Columba livia
was high. It advises to more studies in this background.