01.12.2018 | Study protocol | Ausgabe 1/2018 Open Access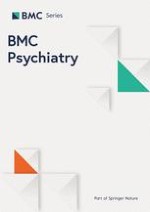 The SyBil-AA real-time fMRI neurofeedback study: protocol of a single-blind randomized controlled trial in alcohol use disorder
Zeitschrift:
Autoren:

Martin Fungisai Gerchen, Martina Kirsch, Nathalie Bahs, Patrick Halli, Sarah Gerhardt, Axel Schäfer, Wolfgang H. Sommer, Falk Kiefer, Peter Kirsch
Abstract
Background
Alcohol Use Disorder is a highly prevalent mental disorder which puts a severe burden on individuals, families, and society. The treatment of Alcohol Use Disorder is challenging and novel and innovative treatment approaches are needed to expand treatment options. A promising neuroscience-based intervention method that allows targeting cortical as well as subcortical brain processes is real-time functional magnetic resonance imaging neurofeedback. However, the efficacy of this technique as an add-on treatment of Alcohol Use Disorder in a clinical setting is hitherto unclear and will be assessed in the Systems Biology of Alcohol Addiction (SyBil-AA) neurofeedback study.
Methods
N
 = 100 patients with Alcohol Use Disorder will be randomized to 5 parallel groups in a single-blind fashion and receive real-time functional magnetic resonance imaging neurofeedback while they are presented pictures of alcoholic beverages. The groups will either downregulate the ventral striatum, upregulate the right inferior frontal gyrus, negatively modulate the connectivity between these regions, upregulate, or downregulate the auditory cortex as a control region. After receiving 3 sessions of neurofeedback training within a maximum of 2 weeks, participants will be followed up monthly for a period of 3 months and relapse rates will be assessed as the primary outcome measure.
Discussion
The results of this study will provide insights into the efficacy of real-time functional magnetic resonance imaging neurofeedback training in the treatment of Alcohol Use Disorder as well as in the involved brain systems. This might help to identify predictors of successful neurofeedback treatment which could potentially be useful in developing personalized treatment approaches.
Trial registration
The study was retrospectively registered in the German Clinical Trials Register (trial identifier:
DRKS00010253
; WHO Universal Trial Number (UTN): U1111–1181-4218) on May 10th, 2016.