01.12.2015 | Research Article | Ausgabe 1/2015 Open Access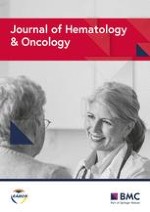 The synergic effect of vincristine and vorinostat in leukemia
in vitro

and

in vivo
Zeitschrift:
Autoren:

Min-Wu Chao, Mei-Jung Lai, Jing-Ping Liou, Ya-Ling Chang, Jing-Chi Wang, Shiow-Lin Pan, Che-Ming Teng
Wichtige Hinweise
Electronic supplementary material
The online version of this article (doi:
10.​1186/​s13045-015-0176-7
) contains supplementary material, which is available to authorized users.
Shiow-Lin Pan and Che-Ming Teng contributed equally to this work.
Competing interests
The authors declare that they have no competing interests.
Authors' contributions
MWC performed almost all the experiments. MJL and JPL provided the HDAC6 inhibitor tubastatin A. YLC was responsible for preparing the materials. JCW and SLP designed the animal study. SLP and CMT organized the manuscript. All authors approved the final manuscript.
Abstract
Background
Combination therapy is a key strategy for minimizing drug resistance, a common problem in cancer therapy. The microtubule-depolymerizing agent vincristine is widely used in the treatment of acute leukemia. In order to decrease toxicity and chemoresistance of vincristine, this study will investigate the effects of combination vincristine and vorinostat (suberoylanilide hydroxamic acid (SAHA)), a pan-histone deacetylase inhibitor, on human acute T cell lymphoblastic leukemia cells.
Methods
Cell viability experiments were determined by 3-[4,5-dimethylthiazol-2-yl]-2,5-diphenyltetrazolium bromide (MTT) assay, and cell cycle distributions as well as mitochondria membrane potential were analyzed by flow cytometry.
In vitro
tubulin polymerization assay was used to test tubulin assembly, and immunofluorescence analysis was performed to detect microtubule distribution and morphology.
In vivo
effect of the combination was evaluated by a MOLT-4 xenograft model. Statistical analysis was assessed by Bonferroni's
t
test.
Results
Cell viability showed that the combination of vincristine and SAHA exhibited greater cytotoxicity with an IC50 value of 0.88 nM, compared to each drug alone, 3.3 and 840 nM. This combination synergically induced G2/M arrest, followed by an increase in cell number at the sub-G1 phase and caspase activation. Moreover, the results of vincristine combined with an HDAC6 inhibitor (tubastatin A), which acetylated α-tubulin, were consistent with the effects of vincristine/SAHA co-treatment, thus suggesting that SAHA may alter microtubule dynamics through HDAC6 inhibition.
Conclusion
These findings indicate that the combination of vincristine and SAHA on T cell leukemic cells resulted in a change in microtubule dynamics contributing to M phase arrest followed by induction of the apoptotic pathway. These data suggest that the combination effect of vincristine/SAHA could have an important preclinical basis for future clinical trial testing.