01.01.2016 | CLINICAL ARTICLE - NEUROSURGERY TRAINING | Ausgabe 1/2016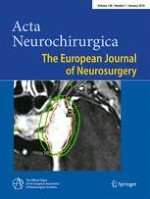 The teaching of neurosurgery in UK medical schools: a message from British medical students
Zeitschrift:
Autoren:

Yiannis Skarparis, Callum A. Findlay, Andreas K. Demetriades
Wichtige Hinweise
Comment
This is a report on the level of pregraduate knowledge concerning neurosurgical problems. The authors sent a total of 417 questionnaires, each contains 26 MCQs, to undergraduate students of nine UK medical schools. Some questions concerned basic neurosurgical knowledge, others represented short clinical scenarios rather which required decision-making about referral, i.e., to neurosurgery or other specialties. A total of 357 questionnaires could be analyzed. Significance was found for the following results: senior-year students (years 4-5) scored better than junior students (years 1-3). Students of all years (years 1-5) scored better when they had been exposed to clinical neurosurgery during their pregraduate education. Most students (61 %) would like to spend some time as observers in the neurosurgical OR. As compared to other surgical fields, the insecurity to make appropriate decisions for referral to a specialized center (i.e., neurosurgery vs. vascular surgery), this insecurity is highest among the students when it comes to neurosurgical clinical problems. The authors discuss the relevance of neurosurgical clinical exposure during undergraduate education already, as a lot of insecurity exists among students when it comes to appropriate decision-making. Students should thus have more exposure to the real neurosurgical world during their undergraduate years. Early adherence and building of relationships between senior doctors and interested students may also enhance the likelihood of ensuring adequate numbers of neurosurgical offspring.
Karl Schaller
Geneva, Switzerland
Abstract
Background
A great variability exists in the clinical exposure of neurosurgery across all academic years in UK medical schools, although the effects of this on knowledge level and confidence in referring cases appropriately to specialists have not been reported.
Methods
A cross-sectional study was carried out involving students in years 1–5 across nine British medical schools. An electronic questionnaire was sent out which consisted of questions concerning the teaching of the subject; and questions assessing the knowledge of basic neurosurgery through mini clinical scenarios testing which specialty should receive a referral.
Results
Of 417 participants, 60 were excluded due to incomplete participation. Senior years outperformed students in junior years for correctly answered questions on five neurosurgical scenarios (mean score: years 1–3 (184/357) = 3.33/5, years 4–5 (173/357) = 3.79/5,
p
 < 0.05). Participants in years 1–5 with prior clinical exposure in neurosurgery scored higher than participants who had no exposure (mean score: exposed (247/357) = 4.21/5, not-exposed (110/357) = 3 · 50/5,
p
 < 0.05). Sixty-one percent prefer receiving neurosurgical teaching via increased exposure to operations. Students in years 4–5 with exposure in both classroom and operating theatre scored higher than students with classroom-only experience (mean classroom (69/131) = 3.62/5, mean classroom and operating theatre (62/131) = 4.21/5,
p
 < 0.05); 33.3 % of final-year students reported difficulty in identifying patients that require neurosurgical referral.
Conclusions
Students with exposure to an operating theatre outperformed those students exposed to just classroom teaching. Students indicated an increased preference for teaching through the operating theatre scene. One in three final-year medical students had difficulty identifying the need for a neurosurgical referral.If neurosurgical teaching were further enhanced at medical school, it could lead to increased confidence and efficiency in junior-year doctors when facing the neurosurgical referral process. Increased exposure to clinical neurosurgery may significantly improve the ability of future doctors to tackle neurosurgical scenarios.