01.12.2014 | Research | Ausgabe 1/2014 Open Access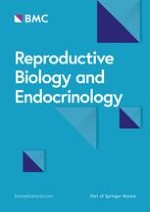 The term basal plate of the human placenta as a source of functional extravillous trophoblast cells
Zeitschrift:
Autoren:

Alexandre U Borbely, Silvana Sandri, Isabella R Fernandes, Karen M Prado, Elaine C Cardoso, Simone Correa-Silva, Renata Albuquerque, Martin Knöfler, Patricia Beltrão-Braga, Ana Campa, Estela Bevilacqua
Wichtige Hinweise
Electronic supplementary material
The online version of this article (doi:
10.​1186/​1477-7827-12-7
) contains supplementary material, which is available to authorized users.
Alexandre U Borbely, Silvana Sandri contributed equally to this work.
Competing interests
Authors declare that they have no competing interests.
Authors' contributions
AUB standardized the isolation and culture of EVT cells, carried out immunofluorescence and functional assays and drafted the manuscript. SS standardized the isolation and culture of EVT cells, carried out gelatin zymography and PCR assays and drafted the manuscript. IRF helped with isolation and culture of EVT cells. KMP participated on isolation of EVT cells and immunofluorescence assays. ECC, SCS and RA participated on flow cytometry assays. MK participated in study design and donated first trimester samples and antibodies. PBB and AC participated in study design. EB conceived of the study, and participated in its design and coordination and helped to draft the manuscript. All authors have read and approved the final manuscript.
Abstract
Background
Extravillous trophoblast (EVT) cells are of pivotal importance in human embryo implantation and homeostasis of the maternal fetal interface. Invasion of the endometrium by EVT contributes to placental anchorage, spiral artery remodeling, immunological defense, tolerogenic responses, and several collaborative cross talks involved in establishing and maintaining a successful pregnancy. We report here an improved protocol for the isolation of fully differentiated EVT cells from the basal plate of the human term placenta.
Methods
The basal plate was carefully dissected from the villous tissue and the amniochorion membrane prior to enzymatic digestion. Term basal EVT cells were isolated using a 30 and 60% Percoll gradient. A panel of markers and characteristics of the isolated cells were used to confirm the specificity and efficiency of the method so that their potential as an investigative tool for placental research could be ascertained.
Results
Isolated cells were immunoreactive for cytokeratin-7 (CK-7), placental growth factor, placental alkaline phosphatase, human leukocyte antigen G1 (HLA-G1), and α1 and α5 integrins, similarly to the EVT markers from first trimester placental villi. Around 95% of the isolated cells labeled positively for CK-7 and 82% for HLA-G1. No significant change in viability was observed during 48 h of EVT culture as indicated by propidium iodide incorporation and trypan blue test exclusion. Genes for metalloproteinases MMP-2 and MMP9 (positive regulators of trophoblast invasiveness) were expressed up to 48 h of culturing, as also the gelatinolytic activity of the isolated cells. Transforming growth factor (TGF)-beta, which inhibits proliferation, migration, and invasiveness of first-trimester EVT cells, also reduced invasion of isolated term EVT cells in transwell assays, whereas epidermal growth factor was a positive modulator.
Conclusions
Term basal plate may be a viable source of functional EVT cells that is an alternative to villous explant-derived EVT cells and cell lines. Isolated term EVT cells may be particularly useful in investigation of the role of trophoblast cells in pathological gestations, in which the precise regulation and interactive ability of extravillous trophoblast has been impaired.