01.12.2015 | Research article | Ausgabe 1/2015 Open Access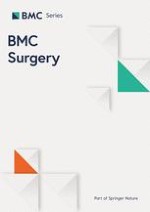 The TICAP-Study (titanium clips for appendicular stump closure): A prospective multicentre observational study on appendicular stump closure with an innovative titanium clip
Zeitschrift:
Autoren:

Alexander Rickert, Colin M. Krüger, Norbert Runkel, Andreas Kuthe, Jörg Köninger, Boris Jansen-Winkeln, Carsten N. Gutt, Daniel R. Marcus, Brian Hoey, Moritz N. Wente, Peter Kienle
Wichtige Hinweise
Alexander Rickert and Colin M. Krüger contributed equally to this work.
Competing interests
Alexander Rickert, Carsten Gutt, Boris Jansen-Winkeln, Norbert Runkel, Colin Krüger, Jörg Köninger, Daniel R. Marcus and Brian Hoey have no competing interests or financial ties to disclose. Moritz N. Wente is a permanent employee of B. Braun Aesculap AG, Tuttlingen.
Peter Kienle and Andreas Kuthe hold lectures and training courses for B. Braun Aesculap AG, Tuttlingen.
Author' contributions
All authors approved the final manuscript. AR, PK and CK acquired and interpreted the data and drafted the manuscript. MW was involved in the study design and interpreted the data. AK, CG, JK, NR, BJW, DM and BH were responsible for the surgery and collection of the data. All authors read and approved the final manuscript.
Abstract
Background
To evaluate the effectiveness and safety of the DS Titanium Ligation Clip for appendicular stump closure in laparoscopic appendectomy.
Methods
Overall, 502 patients undergoing laparoscopic appendectomy were recruited for this observational multicentre study in nine study centres between October 2011 and July 2013. The clip was finally applied in 390 patients. Primary outcome variables were feasibility of the clip, intra-abdominal surgical site (abscesses, stump leakages) and superficial wound infections. Patients were followed 30 days after surgery.
Results
The clip was applicable in nearly 80 % of patients. Reasons for not applying the clip were mainly an inflamed caecum or a too large diameter of the appendix base. Superficial wound infections were found in nine (2.31 %), intra-abdominal abscesses in five (1.28 %), appendicular stump leak in one (0.26 %), and other adverse events in 22 (5.64 %) patients. In total, 12 (3.08 %) patients were re-admitted to hospital for treatment. Seven re-admissions were surgery-related; ten (2.56 %) patients had to be re-operated. One patient died during the course of the study due to persisting peritonitis (mortality 0.26 %).
Conclusions
The results suggest that the DS Titanium Ligation Clip is a safe and effective option in securing the appendicular stump in laparoscopic appendectomy. The complication rates found with the use of the DS-Clip are comparable to the rates in the literature when other methods are used.
Trial Registration