01.12.2018 | Research article | Ausgabe 1/2018 Open Access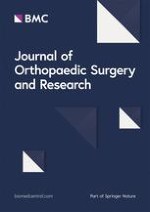 The titanium elastic nail serves as an alternative treatment for adult proximal radial shaft fractures: a cohort study
Zeitschrift:
Autoren:

Ying-Cheng Huang, Jenn-Huei Renn, Yih-Wen Tarng
Abstract
Background
To investigate whether closed reduction and internal fixation (CRIF) with titanium elastic nails (TENs) is a viable alternative treatment in proximal radial fractures.
Methods
In Kaohsiung Veterans General Hospital, from November 2013 to April 2015, five adult male patients with forearm injuries (average age 43 years; range 35–64 years) were treated for proximal radial shaft fractures. CRIF with TENs for radial shaft fractures was performed in these five patients. Radiographs; range of motions; visual analog scale (VAS); quick disabilities of the arm, shoulder, and hand (Quick DASH) questionnaire; and time to union were evaluated in our study.
Results
Mean follow-up period was 30 months (range 28–36 months). Average time of radius union was 7.3 months (range 6–10 months). Functional outcomes 1 year after operation revealed an average Quick DASH score of 7.92 (range 4.5–25), an average VAS of 1.5 (range 1–3), and average forearm supination and pronation of 69.2° (range 45°–75°) and 82.5° (range 80°–85°). No major complication was noted.
Conclusions
CRIF with TEN for adult proximal radial fractures is a method to avoid extensive exposure or nerve injury during ORIF, especially in multiple trauma patients who require short operative time, uremia patients with ipsilateral forearm AV shunt, severe soft tissue swelling due to direct muscle contusion or strong muscularity before surgery, extensive radial fracture, and those in pursuit of cosmetic outcomes.