01.12.2018 | Review article | Ausgabe 1/2018 Open Access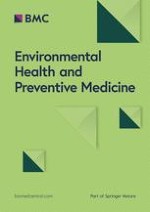 The toxicological mechanisms and detoxification of depleted uranium exposure
Zeitschrift:
Autoren:

Yong-Chao Yue, Ming-Hua Li, Hai-Bo Wang, Bang-Le Zhang, Wei He
Abbreviations
CBMIDA
Catechol-3,6-bismethyliminodiacetic acid
DTPA
Diethylenetriaminepentaacetic acid
EDTA
Ethylenediaminetetraacetic acid
EHBP
Ethane-1-hydroxy-1,1-bisphosphonate
PEI-MC
Methyl-carboxylated poly(ethylenimine)
Background
Depleted uranium (DU) is uranium that contains less of the fissile isotope
235
U than natural uranium. The isotopic composition of DU is typically 99.977%
238
U, 0.2%
235
U, and 0.0008976%
234
U. DU is what remains after removal of enriched uranium, and may also be generated from the reprocessing of spent nuclear reactor fuel [
1
]. DU is known to exert both radioactive and chemical toxicity [
2
]. The radioactivity of DU is approximately 60% that of natural uranium, and their chemical properties are similar. Because of its low price, high penetrability, and pyrophoricity, DU has been widely used in both military and civilian activities [
3
]. At high temperatures, it can destroy armored and fortified structures and vehicles.
DU may be released into the environment as it is mined, processed, and applied. East Germany and Czechoslovakia released one billion tons of uranium-mined ores and residues into soil and surface waters between 1945 and 1989 [
4
]. NATO forces used DU weapons against Serbian heavy infantry in the Kosovo conflict in 1999, and more than 9 tons of DU was used in the war, raising concerns worldwide [
5
]. DU weapons have also been in other wars, including the Persian Gulf War and the Balkans conflicts. The physical half-life of DU exceeds 4.49 × 10
9
years, and it can remain in soil and groundwater a long time, affecting local ecosystems [
3
].
DU enters the body via inhalation, ingestion, or dermal contact, damaging tissue. Both acute and chronic exposures can produce adverse effects, but chemical toxicity mainly ensues from acute exposure, and the kidney is its most vulnerable target. Renal DU toxicity is characterized by damage to the proximal tubulares, potentially leading to tubular necrosis [
6
]. Injections of 0.5, 1 and 2 mg/kg, DU in rats have been shown to damage renal function and mitochondria [
7
]. Intragastric DU administered to rats (204 mg/kg) modulated the expression of cytochrome enzymes involved in vitamin D metabolism in the liver and kidney [
8
]. Chronic DU exposure can also affect the function of multiple tissues and organs such as the kidney [
9
], bone [
10
], brain [
11
], and reproductive systems [
12
]. Rodents exhibited testicular histopathological abnormalities and decreases in pregnancy rates and spermatid numbers after a chronic dose of 10–80 mg/kg/day uranium [
13
,
14
]. Armant et al. [
15
] demonstrated that chronic parental exposure to 20 μg/L DU could impair the histological ultrastructure of organs and molecular development in zebrafish progeny.
This review summarizes the data available on DU toxicity and compounds used in its detoxification.
Entry routes and health effects
DU detoxification
DU accumulation may be reduced by increasing its elimination or decreasing its absorption and distribution. Chelating agents and other chemicals are used to eliminate DU and reduce the risk of toxicity.
Other decorporation drug
Sodium bicarbonate
Sodium bicarbonate has long been used to chelate DU, which is administered by slow intravenous infusion or orally until urinary pH levels reach 8.0–9.0 [
80
]. Sodium bicarbonate is believed to increase the number of bicarbonate ions in blood and the pH in the proximal tubules. The uranyl ion can more easily form a complex with bicarbonate, which is regarded as less nephrotoxic and more stable in vivo, and is filtered promptly by the kidneys. Ohmachi et al. [
80
] demonstrated the renoprotective effect and uranium chelation efficacy of sodium bicarbonate in a rat model, but the main drawbacks of sodium bicarbonate are its low efficiency and high acid-base disturbance. Fukuda et al. [
81
] combined sodium bicarbonate and other chelating agents in rats, with mixed results.
Zinc and metallothioneins
Zinc is an essential trace element required for the normal function of cells, and can inhibit DU-induced apoptosis [
82
]. Metallothionein is a sulfur-containing protein with low molecular weight, which is widely distributed in tissues and organs. Two of its human isoforms have been shown to be involved in the detoxification of heavy metals, perhaps by reducing the levels of oxidative stress and apoptosis and by upregulating the expression of sodium glucose co-transporters [
83
].
Hao et al. [
84
] demonstrated that DU detoxification and survival rates in rats were notably improved by pretreatment with zinc, probably because zinc induced metallothioneins. Compared with effects in wild-type mice, pronounced renal dysfunction and morphological damage in metallothionein-null mice have been shown following DU administration [
85
]. These findings suggest that zinc and metallothioneins may be beneficial in preventing and treating DU-induced nephrotoxicity, but more studies are needed before clinical application.
Hydrogen sulfide
Hydrogen sulfide is a toxic gas that can damage the respiratory and nervous systems. Endogenous hydrogen sulfide has been identified as a signal molecule of nitric oxide and carbon monoxide, and is produced from cysteine or homocysteine by the action of cystathionine
β
-synthase, cystathionine
γ
-lyase, and 3-mercaptopyruvate sulfurtransferase along with cysteine aminotransferase [
86
]. Hydrogen sulfide is anti-inflammatory, anti-oxidative, and cytoprotective [
87
,
88
], and hydrogen sulfide supplementation may protect organs against DU toxicity.
Zheng et al. [
89
] found that the generation of endogenous hydrogen sulfide was downregulated in rat kidney following exposure to uranium. Treatment with sodium hydrosulfide (28 or 56 mmol/kg/day) increased hydrogen sulfide to protective levels by activating the NF-E2-related factor 2 pathway and reducing inflammatory responses. These results indicate that hydrogen sulfide can protect against uranium-induced nephrotoxicity.
Conclusion
DU has been widely applied in the nuclear industry and military activities, but its release into air, soil, and water can adversely affect organisms and ecosystems. DU enters the body by inhalation, ingestion, or dermal contact, and can impair the normal function of the kidney, bone, liver, and brain. However, DU spillings in the environment are expected to increase due to the increased demand in nuclear fuel demand.
Multiple compounds have been synthesized and tested for their suitability to chelate DU, but many exhibit poor tissue specificity and high toxicity, precluding clinical application. 3,4,3-LI(1,2-HOPO) exhibits low acute toxicity in mice, is well-tolerated at high doses in rats, and shows good oral bioavailability. This is the most promising chelation agent and may be a candidate for clinical trials. Other compounds have shown good efficacy but are still in the preclinical phase. Drug combinations, metered-dose inhalers, and novel drug-delivery systems such as liposomes should also be considered, as they may be more efficient than current conventional therapies.
Acknowledgements
The authors thank National Science and Technology Major Project of China on "Key New Drug Creation and Development Program" (Project No. 2014ZX09J14104-06C) and the "Excellent Young Talents Support Program" and Science & Technology Fund Planning Project of Fourth Military Medical University for financial support of the research.
Availability of data and materials
Data sharing is not applicable to this article as no datasets were generated or analyzed during the current study.
Ethics approval and consent to participate
Not applicable.
Competing interests
The authors declare that they have no competing interests.
Publisher's Note
Springer Nature remains neutral with regard to jurisdictional claims in published maps and institutional affiliations.
Open Access
This article is distributed under the terms of the Creative Commons Attribution 4.0 International License (
http://​creativecommons.​org/​licenses/​by/​4.​0/​
), which permits unrestricted use, distribution, and reproduction in any medium, provided you give appropriate credit to the original author(s) and the source, provide a link to the Creative Commons license, and indicate if changes were made. The Creative Commons Public Domain Dedication waiver (
http://​creativecommons.​org/​publicdomain/​zero/​1.​0/​
) applies to the data made available in this article, unless otherwise stated.