01.12.2017 | Research article | Ausgabe 1/2017 Open Access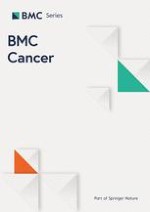 The treatment of primary mediastinal large B-cell lymphoma: a two decades monocentric experience with 98 patients
Zeitschrift:
Autoren:

Alessandro Broccoli, Beatrice Casadei, Vittorio Stefoni, Cinzia Pellegrini, Federica Quirini, Lorenzo Tonialini, Alice Morigi, Miriam Marangon, Lisa Argnani, Pier Luigi Zinzani
Abbreviations
CHOP
Cyclophospamide, doxorubicin, vincristine and prednisone
DLBCL
Diffuse large B-cell lymphoma
EPOCH
Etoposide, doxorubicin, cyclophosphamide, vincristine, prednisone
MACOP-B
Methotrexate, doxorubicin, cyclophosphamide, vincristine, bleomycin, prednisone
PET
Positron emission tomography
PFS
Progression free survival
PMLBCL
Primary mediastinal large B-cell lymphoma
REAL
Revised European American Lymphoma
VACOP-B
Etoposide, doxorubicin, cyclophosphamide, vincristine, bleomycin, prednisone
Background
It is a rapidly-growing and progressive neoplasm, normally presenting with bulky masses usually exerting compressive effects on mediastinal structures, giving rise to the possible abrupt onset of dyspnea, dysphagia, thoracic pain, facial, neck, breasts and arms edema and pleuro-pericardial effusions. In this sense, it should be regarded as a hematological emergency, and promptly treated: initial therapy is therefore crucial for the management of this disease.
Methods
To perform this population-based retrospective study, our clinical database was searched to find all the consecutive patients with a diagnosis of PMLBCL, homogeneously treated with a third-generation MACOP-B chemotherapy regimen, regardless they received either chemotherapy alone, immunotherapy, consolidative RT, or a combination of all these strategies. Patients treated with chemotherapy regimens other than MACOP-B were excluded. The study was approved by our institutional board and by our Ethical Committee and has been performed in accordance with the ethical standards as laid down in the 1964 Declaration of Helsinki and its later amendments. Patients were consecutively enrolled to avoid selection bias, and all patients provided written informed consent to collect retrospectively their data. We obtained a special permission (for scientific purpose) from our Ethical Committee to collect even data of patients who were deceased or lost to follow up.
Diagnostic and staging procedures
Between October 1989 and April 2010, 98 patients with de novo PMLBCL were diagnosed and subsequently treated in our Institution. Diagnostic material was obtained by supraclavicular or transthoracic lymph node biopsy, thoracotomy or mediastinoscopy. Initial clinical evaluation included physical examination, hematologic and biochemical survey, chest X-ray, computed tomography (CT) scan of neck, chest, abdomen and pelvis, and unilateral bone marrow biopsy. PET scan was also performed at baseline in all patients treated after 2001.
Disease stage was established according to the Ann Arbor staging system. Stage II indicated disease spread within contiguous thoracic, jugular or supraclavicular nodes, whereas the presence of distant, non-contiguous, involved nodes on both sides of the diaphragm was consistent with stage III. Patients with any extranodal involvement apart from mediastinal disease were categorized as stage IV. The extent of mediastinal disease was defined as mediastinal mass ratio (MMR), which was calculated by measuring the maximum single horizontal width of the mass on a standing chest radiograph, and dividing it by the maximum intrathoracic diameter. An MMR exceeding one third or a mass measuring more than 10 cm in its largest diameter as measured by CT scan was considered bulky.
Treatment protocol
All patients were treated with the MACOP-B regimen, given for 12 consecutive weeks, with leucovorin rescue after any methotrexate-containing cycle. The median number of cycles delivered was 12. Rituximab was administered every 21 days (375 mg/m
2
) along with chemotherapy in 57 patients (58.2%), all treated after 2001, when it became available in Italy [
7
].
Disease restaging, response assessment and survival analysis
Radiologic restaging was performed by total body CT scan 1 month after the end of immuno/chemotherapy, and then 3 months after the completion of RT. PET scan was done at the same timepoints, whenever available. Bone marrow biopsy was repeated only if positive at baseline. Treatment responses were categorized according to standardized response criteria [
17
,
18
]. Nodal residues larger than 1.5 cm which have regressed by more than 75% in their major diameter were compatible with a complete response (CR), and regarded as residual scar tissue. PET negativity was corroborative of a CR.
Overall survival (OS) was calculated from diagnosis to the last follow-up or death for any cause; progression-free survival (PFS) was calculated from diagnosis to the first disease progression or death; disease-free survival (DFS) was determined in all CR patients as the time between the first documented responses and the first disease relapse, or death as a result of lymphoma or acute treatment toxicity. Survival analysis was conducted according to Kaplan-Meier's method and log rank test was used for comparisons [
19
]. Demographics and patients' characteristics were summarized by descriptive statistics and compared using χ
2
test. Statistical analyses were performed with Stata11 (StataCorp LP, TX) and
p
-values were set at 0.05.
Results
Patients' characteristics and disposition
The median age at presentation was 34.5 (range 15.7–69.5) years; 58 patients were females and 40 males, with a male-to-female ratio of 1:1.45. Three patients (3.1%) presented with stage I disease, 68 (69.4%) with stage II, 9 (9.2%) with stage III and 18 (18.4%) with stage IV disease, with lung, spleen and kidney involvement. B-symptoms were present in 41 (41.8%) patients; bulky disease was detected in 95 (96.9%) patients, with a superior vena cava syndrome in 43 (43.9%) patients.
Sixty-seven (68.4%) patients received mediastinal RT, 4 to 6 weeks after the completion of immuno/chemotherapy, with tumor doses ranging from 30 to 36 Gy over a 4 to 5 weeks treatment schedule, with fractions of 180 cGy/day for 5 days per week. The decision to use RT was based on era-specific institutional guidelines: it was routinely administered after chemotherapy in all patients since 1993 to 2002; before 1993, it was delivered upon physician's discretion; after 2002, along with the use of PET in detecting potential residual masses after chemotherapy, RT was spared in those patients with a negative PET-scan and without bulky disease at onset.
Among the 57 patients who received rituximab, 37 (64.9%) underwent RT, whereas among the 41 who did not receive rituximab, RT was delivered in 30 (73.2%) patients. Eleven (11.2%) patients received chemotherapy only, and 37 (37.8%) received both immunotherapy and RT. According to the treatment received, patients were subdivided in 4 subgroups, as outlined in Table
1
. Patients' clinical characteristics are reported in Table
2
.
Table 1
Patients' subgroups according to the treatment received
| Subgroup | MACOP-B | Rituximab | Radiotherapy | |
| --- | --- | --- | --- | --- |
| 1 | Yes | No | No | 11 (11.2%) |
| 2 | Yes | Yes | No | 20 (20.4%) |
| 3 | Yes | Yes | Yes | 37 (37.8%) |
| 4 | Yes | No | Yes | 30 (30.6%) |
| | 98 (100%) | 57 (58.2%) | 67 (68.4%) | 98 (100%) |
Table 2
Patients' characteristics and treatment outcomes according to subgroups
Subgroup 1

Subgroup 2

Subgroup 3

Subgroup 4

Treatment type

CHT

11

Rituximab + CHT

20

Rituximab + CHT + RT

37

CHT + RT

30

Male: female

Stage I-II

Stage III-IV

B-symptoms

LDH elevation

SVC syndrome

4: 7

5 (45.5%)

6 (54.5%)

7 (63.6%)

5 (45.5%)

7 (63.6%)

7: 13

9 (45.0%)

11 (55.0%)

10 (50.0%)

5 (25.0%)

7 (35.0%)

19: 18

34 (91.9%)

3 (8.1%)

10 (27.0%)

3 (8.1%)

13 (35.1%)

10: 20

23 (76.7%)

7 (23.3%)

14 (46.7%)

12 (40.0%)

16 (53.3%)

ORR

CR

PR

SD

PD

90.9%

6 (54.5%)

4 (36.4%)

1 (9.1%)

0

55.0%

9 (45.0%)

2 (10.0%)

0

9 (45.0%)

100%

37 (100%)

0

0

0

100%

30 (100%)

0

0

0

Relapse/Progress.

Deaths

2 (18.2%)

2 (18.2%)

3 (15.0%)

7 (35.0%)

2 (5.4%)

2 (5.4%)

4 (13.3%)

4 (13.3%)

9 years OS ( a)

9 years PFS ( a)

5 years DFS

80.0%

63.6%

66.7%

62.3%

45.0%

90.0%

93.6%

94.4%

94.4%

92.2%

86.5%

86.5%
Overall treatment response and survival
After 12 cycles of MACOP-B regimen (with or without rituximab), 61 patients out of 98 (62.2%) achieved a CR and 27 (27.6%) a partial response (PR); a stable disease (SD) was documented in one patient, and 9 showed progression (PD). Among those who were irradiated after immuno/chemotherapy, 21 patients previously in PR could convert their disease status to a CR, with no patients being with residual disease after RT. Upon completion of the scheduled treatment, 82 patients achieved a CR (83.7%) and 6 obtained a PR (6.1%), yielding an overall response rate (ORR) of 89.8%. At the time of writing, 73 (88.4%) patients who achieved a CR are still in continuous CR. Median follow-up duration for the entire cohort of patients is 7.6 years. The projected OS at 17 years for all the patients is 72%, with a PFS of 67.6% and a DFS of 88.4%, with all curves showing a
plateau
(Fig.
1a
-
c
).
×
Analysis of response failures
Eleven patients (11.2%) showed a disease relapse or progression during follow-up, in any case within the first 2 years after treatment completion. Nine patients were in CR after therapy and 2 in PR. Five received a rituximab-based treatment and 6 were irradiated. Salvage therapy for these patients consisted of autologous stem cell transplantation in all but one cases, with rapid disease progression and death in 6 of them. The patient who did not receive any further treatment rapidly died of disease.
Fifteen patients died during follow-up (15.3%), 13 as a consequence of lymphoma persistence after first-line treatment or disease relapse or progression. Two patients died of a secondary neoplasm (colon carcinoma) both in a CR status and more than 10 years after the conclusion of the treatment. Although both patients belonged to subgroup 4, none of the two solid tumors developed inside a previously irradiated field.
Subgroup analysis
Clinical characteristics across the 4 subgroups were comparable, with no statistically significant differences seen at the χ
2
test. Overall survival and PFS curves plotted for the four subgroups show a statistically significant difference (
p
= 0.0003 and
p
= 0.0006, respectively), although no difference among groups can be seen in terms of DFS (0.2362) (Fig.
1d
-
f
). However, if OS curves for subgroup 1 and 2 are taken together – i.e. considering patients treated with chemotherapy or chemo + immunotherapy without any RT consolidation – no statistically significant difference can be detected (
p
= 0.0806), thus the discrepancy between these data does not depend either on patients' selection or on particularly unfavorable clinical characteristics of patients in subgroup 2.
All the patients receiving RT – as a consolidation strategy after they had obtained either a CR or a PR – showed an ORR of 100%, with no residual disease being detectable after radiation. This favorable result can be appreciated both in patients receiving rituximab (subgroup 3) and in those with no exposure to the antibody (subgroup 4), with comparable OS rates in the two subgroups at 9 years (
p
= 0.5103).
DFS rates between subgroup 2 and 3 do not significantly differ (
p
= 0.55), although the number of patients in CR after treatment is substantially different. This indicates that patients in CR after chemo + immunotherapy behave similarly to those who achieve a CR after receiving mediastinal RT, suggesting that RT has a small consolidative potential in those who obtain a CR status after chemo-immunotherapy only.
Role of rituximab
When patients are subdivided according to whether they have received rituximab or not (Table
3
), regardless a subsequent consolidative RT, no statistically significant differences in terms of OS and DFS (
p
= 0.1 and 0.19, respectively) can be observed (Fig.
2
), thus indicating that the addition of the anti-CD20 monoclonal seems to have a limited impact on patients' survival in our study population. Of note, however, a more favorable trend to better PFS and DFS is observed in those belonging to subgroup 3 compared to patients in subgroup 4, the former also receiving rituximab together with chemotherapy and RT consolidation.
Table 3
Patients' characteristics and treatment outcomes according to exposure to rituximab
CHT ± RT

R + CHT ± RT

41

57

Male: female

Stage I-II

Stage III-IV

B-symptoms

LDH elevation

SVC syndrome

14: 27

28 (68.3%)

13 (31.7%)

21 (51.2%)

17 (41.5%)

23 (56.1%)

26: 31

43 (75.4%)

14 (24.6%)

20 (35.1%)

8 (14.0%)

20 (35.1%)

ORR

CR

PR

SD

PD

97.6%

36 (87.8%)

4 (9.8%)

1 (2.4%)

0

84.2%

46 (80.7%)

2 (3.5%)

0

9 (15.8%)

9 years OS

9 years DFS

89.0%

83.2%

83.1%

93.5%
×
Discussion
Our monocentric experience over a period of more than 20 years ideally encompasses all the issues met by treating physicians throughout the years, and may virtually suggest some still open points which require clarification with further ad hoc studies. It consists of a series of 98 patients homogeneously treated with a weekly "third-generation" schedule, who in part also received external mediastinal RT and/or anti-CD 20 immunotherapy, depending on our institutional era-specific guidelines.
Conclusions
In conclusion, data we have gathered over a 20-year experience in the treatment of PMLBCL patients clearly indicate that: 1) a "third-generation" chemotherapy regimen such as MACOP-B is feasible and easily deliverable on an outpatient basis; 2) no statistically significant difference is seen in our series between those who received rituximab and those who did not, although a trend to better DFS rates is appreciated in patients treated with chemo + immunotherapy and RT; 3) radiotherapy in this context remains a powerful strategy to convert PRs to CRs, but it may be spared in patients obtaining a PET-documented CR after chemo-immunotherapy without any harmful prognostic consequences. Hopefully, future prospective trials – such as the ongoing International Extranodal Lymphoma Study Group 37 study – will further investigate the role of consolidation radiation therapy in PET-negative patients after induction treatment.
Acknowledgments
None.
Availability of data and materials
Not applicable.
Authors' contributions
AB, BC, VS, CP, FQ, LT, AM, MM, LA and PLZ made substantial contributions to conception and design, or acquisition of data, or analysis and interpretation of data; AB, LA and PLZ have been involved in drafting the manuscript or revising it critically for important intellectual content. All the authors have read and approved this manuscript.
Competing interests
The authors declare that they have no competing interests.
Consent for publication
Not applicable.
Ethics approval and consent to participate
The study was approved by our institutional review board (Comitato Etico del Policlinico S.Orsola-Malpighi di Bologna) and written informed consent was obtained from each patient.
Publisher's Note
Springer Nature remains neutral with regard to jurisdictional claims in published maps and institutional affiliations.
Open Access
This article is distributed under the terms of the Creative Commons Attribution 4.0 International License (
http://​creativecommons.​org/​licenses/​by/​4.​0/​
), which permits unrestricted use, distribution, and reproduction in any medium, provided you give appropriate credit to the original author(s) and the source, provide a link to the Creative Commons license, and indicate if changes were made. The Creative Commons Public Domain Dedication waiver (
http://​creativecommons.​org/​publicdomain/​zero/​1.​0/​
) applies to the data made available in this article, unless otherwise stated.