01.10.2012 | Cardiac Computed Tomography (TC Villines and S Achenbach, Section Editors) | Ausgabe 5/2012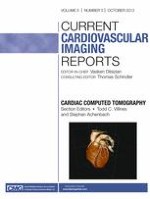 The 'Triple Rule Out' CT Angiogram for Acute Chest Pain: Should it be Done, and If So, How?
Zeitschrift:
Autoren:

Ted A. Foster, Michael D. Shapiro
Abstract
Given the large number of individuals presenting to emergency departments with acute, undifferentiated chest pain and the frequent difficulty in discerning its etiology, there has been great interest in developing techniques that can improve the initial triage of these patients. The 'Triple Rule Out" CT has recently been touted as a tool to quickly assess for life threatening causes of acute chest pain, namely acute coronary syndrome, pulmonary embolism, and aortic dissection. Initial studies suggest that this protocol is safe and compares favorably with the dedicated CT protocols but at the cost of increased doses of iodinated contrast and radiation. New scanner technology has started to address these limitations but the "Triple Rule Out" CT is still in its infancy. It remains to be seen whether or not this application can ultimately improve diagnostic efficiency, cost, and/or clinical decision making.