01.12.2012 | Research | Ausgabe 1/2012 Open Access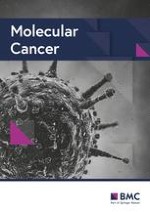 The tumor suppressive role of miRNA-370 by targeting FoxM1 in acute myeloid leukemia
Zeitschrift:
Autoren:

Xiaolu Zhang, Jiping Zeng, Minran Zhou, Bingnan Li, Yuanyuan Zhang, Tao Huang, Lixiang Wang, Jihui Jia, Chunyan Chen
Wichtige Hinweise
Electronic supplementary material
The online version of this article (doi:
10.​1186/​1476-4598-11-56
) contains supplementary material, which is available to authorized users.
Xiaolu Zhang, Jiping Zeng contributed equally to this work.
Competing interests
The authors declare no competing financial interests.
Authors' contributions
JZ, CC and XZ designed the study; XZ, JZ, BL, MZ, YZ and TH performed the research; XZ ,JZ, LW, JJ, and CC analyzed and interpreted data; and XZ, JZ and CC wrote the paper. All authors read and approved the final manuscript.
Abstract
Background
Recent evidence has accumulated that MicroRNA (miRNA) dysregulation occurs in the majority of human malignancies including acute myeloid leukemia (AML) and may contribute to onco-/leukemo-genesis.
Methods
The expression levels of miR-370 and FoxM1 were assessed in 48 newly diagnosed AML patients, 40 AML patients in 1
st
complete remission (CR) and 21 healthy controls. Quantitative real-time PCR, western blots, colony formation assay, and β-Galactosidase ( SA
-
β-Gal) staining were used to characterize the changes induced by overexpression or inhibition of miR-370 or FoxM1.
Results
We found that the down-regulation of miR-370 expression was a frequent event in both leukemia cell lines and primary leukemic cells from patients with de novo AML. Lower levels of miR-370 expression were found in 37 of 48 leukemic samples from AML patients compared to those in bone marrow cells derived from healthy adult individuals. Ectopic expression of miR-370 in HL60 and K562 cells led to cell growth arrest and senescence. In contrast, depletion of miR-370 expression using RNA interference enhanced the proliferation of those leukemic cells. Mechanistically, miR-370 targets the transcription factor FoxM1, a well established oncogenic factor promoting cell cycle progression. Moreover, when HL60 and K562 cells were treated with 5-aza-2′-deoxycytidine, a DNA methylation inhibitor, miR-370 expression was up-regulated, which indicates epigenetic silencing of miR-370 in leukemic cells.
Conclusions
Taken together, miR-370 may function as a tumor suppressor by targeting FoxM1, and the epigenetic silence of miR-370 thus leads to derepression of FoxM1 expression and consequently contributes to AML development and progression.