01.12.2012 | Research | Ausgabe 1/2012 Open Access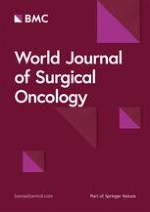 The tumor suppressor gene RBM5 inhibits lung adenocarcinoma cell growth and induces apoptosis
Zeitschrift:
Autoren:

Chen Shao, Lijing Zhao, Ke Wang, Wei Xu, Jie Zhang, Baoxue Yang
Wichtige Hinweise
Electronic supplementary material
The online version of this article (doi:
10.​1186/​1477-7819-10-160
) contains supplementary material, which is available to authorized users.
Chen Shao, Lijing Zhao contributed equally to this work.
Competing interests
The authors declare that they have no competing interests.
Authors' contributions
CS and LZ performed all the experiments and drafted the manuscript. WX collected and provided the tissues. JZ and KW contributed to the research design, the data collection and interpretation. KW oversaw the design of the study and was involved in the critical revision of the manuscript. BY oversaw the manuscript and gave a thorough revision. All authors have read and approved the final version of the manuscript.
Abstract
Background
The loss of tumor suppressor gene (TSG) function is a critical step in the pathogenesis of human lung cancer. RBM5 (RNA-binding motif protein 5, also named H37/LUCA-15) gene from chromosome 3p21.3 demonstrated tumor suppressor activity. However, the role of RBM5 played in the occurrence and development of lung cancer is still not well understood.
Method
Paired non-tumor and tumor tissues were obtained from 30 adenocarcinomas. The expression of RBM5 mRNA and protein was examined by RT-PCR and Western blot. A549 cell line was used to determine the apoptotic function of RBM5
in vitro
. A549 cells were transiently transfected with pcDNA3.1-RBM5. AnnexinV analysis was performed by flow cytometry. Expression of Bcl-2, cleaved caspase-3, caspase-9 and PAPP proteins in A549 lung cancer cells and the A549 xenograft BALB/c nude mice model was determined by Western blot. Tumor suppressor activity of RBM5 was also examined in the A549 xenograft model treated with pcDNA3.1-RBM5 plasmid carried by attenuated
Salmonella typhi
Ty21a.
Result
The expression of RBM5 mRNA and protein was decreased significantly in adenocarcinoma tissues compared to that in the non-tumor tissues. In addition, as compared to the vector control, a significant growth inhibition of A549 lung cancer cells was observed when transfected with pcDNA3.1-RBM5 as determined by cell proliferation assay. We also found that overexpression of RBM5 induced both early and late apoptosis in A549 cells using AnnexinV/PI staining as determined by flow cytometry. Furthermore, the expression of Bcl-2 protein was decreased, whereas the expression of cleaved caspase-3, caspase-9 and PARP proteins was significantly increased in the RBM5 transfected cells; similarly, expression of decreased Bcl-2 and increased cleaved caspase-3 proteins was also examined in the A549 xenograft model. More importantly, we showed that accumulative and stable overexpression of RBM5 in the A549 xenograft BALB/c nude mice model significantly inhibited the tumor growth rate
in vivo
as compared to that in the control.
Conclusion
Our study demonstrates that RBM5 can inhibit the growth of lung cancer cells and induce apoptosis both
in vitro
and
in vivo
, which suggests that RBM5 might be used as a potential biomarker or target for lung cancer diagnosis and chemotherapy. Moreover, we propose a novel animal model set up in BALB/c nude mice treated with attenuated Salmonella as a vector carrying plasmids to determine RBM5 function
in vivo
.