01.12.2017 | Research | Ausgabe 1/2017 Open Access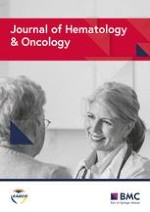 The ubiquitin-conjugating enzyme UBE2O modulates c-Maf stability and induces myeloma cell apoptosis
Zeitschrift:
Autoren:

Yujia Xu, Zubin Zhang, Jie Li, Jiefei Tong, Biyin Cao, Paul Taylor, Xiaowen Tang, Depei Wu, Michael F. Moran, Yuanying Zeng, Xinliang Mao
Abbreviations
AP/MS
Affinity purification-coupled mass spectrometry
BAP1
BRCA1 associated protein-1
CCR1
C-C chemokine receptor type 1
KEGG
Kyoto Encyclopedia of Genes and Genomes
LC/MS/MS
Liquid chromatography tandem mass spectrometry
MARE
c-Maf recognition element
MGUS
Monoclonal gammopathy of undetermined significance
MTT
3-(4,5-Dimethylthiazol-2-yl)-2,5-diphenyltetrazolium bromide
SMM
Smoldering multiple myeloma
TRAF6
TNF receptor associated factor 6
UBE2O
Ubiquitin-conjugating enzyme E2 O
Background
The ubiquitin-conjugating enzymes (E2s) transfer activated ubiquitin molecules to a ubiquitin ligase (E3) or directly mediate substrate ubiquitination. Therefore, the E2 enzymes are critical for protein ubiquitination and stability. There are 35 E2s, of which most are small proteins with molecular weights from 14 to 35 kDa, and these E2s fail to exhibit intrinsic affinity for physiological substrates [
1
]; however, there is an unusually large E2 called E2-230K or UBE2O that can ubiquitinate proteins in an E3-independent manner [
1
]. UBE2O is ubiquitously expressed and has been proposed to play a role in erythroid differentiation [
2
,
3
]. Recently, it is found to mediate monoubiquitination of SMAD6 [
4
] and polyubiquitination of BAP1 [
5
] and AMPKα2 [
6
]. UBE2O also inhibits TRAF6 K63-polyubiquitination [
7
]. Therefore, UBE2O might exhibit various functions upon the contexts.
Multiple myeloma (MM) is an incurable malignancy derived from plasma cells. Although the detailed mechanisms are not fully understood, the Maf family transcription factors raise high attention [
8
]. This family is comprised of seven members of which c-Maf, MafA, and MafB belong to the large Maf subfamily because these transcription factors contain the complete structure and functional domains including the DNA-binding domain and the transcription activation domain [
8
]. All c-Maf, MafA, and MafB are found to be highly overexpressed in MM cells in association with chromosomal translocations and other unknown mechanisms [
9
]. Notably, c-Maf is reported in more than 50% of MM cell lines and primary MM patient samples [
10
]. Overexpression of c-Maf has been regarded as a key factor in MM pathophysiology because interference with c-Maf blocks MM tumor growth in immunodeficient mice [
10
], while c-Maf-transgenic mice develop MM-like symptoms at old age around 50–60 weeks old [
11
]. Therefore, c-Maf is proposed as a target for MM therapy. Our recent study found that c-Maf undergoes degradation via the ubiquitin-proteasome pathway under the direction of ubiquitin ligase HERC4 [
12
]. However, its ubiquitin-conjugating enzyme is yet to know.
In the study of c-Maf ubiquitination-associated enzymes by the affinity purification-coupled mass spectrometry (AP/MS) strategy, UBE2O was identified in the c-Maf co-immunoprecipitates and it interacts with c-Maf protein and mediates c-Maf ubiquitination and degradation. More importantly, UBE2O induces c-Maf expressing MM cell apoptosis and delays MM tumor growth in mice.
Methods
Primary bone marrow cells
Primary bone marrow species were collected from the Department of Hematology, the First Affiliated Hospital of Soochow University. The use of primary bone marrow cells was approved by the Review Board and Ethical Committee of Soochow University, and each patient provided written informed consent to donate 2–5 ml of bone marrow for this study after diagnostic and clinical procedures in accordance with the Declaration of Helsinki. Mono-nuclear cells were isolated by Lympholyte® Cell Separation (Cedarlane, Canada) [
13
].
Constructs
c-Maf and MafA were cloned as described previously [
14
]. UBE2O cDNA (Genebank accession No. BC051868.2) was obtained from the SPARC BioCentre, The Hospital for Sick Children, Toronto, Canada.
Lentiviral UBE2O
To generate UBE2O-expressing lentivirus, the cDNA fragment of UBE2O was generated by using the following primers: 5′-TCGAGCTCAAGCTTATGACCTCAGCCGACGTGATG-3′ (forward) and 5′-CTCACCATGACCCATGACCGGTGGATCCTCCTTGTCCTCTGTGCACTCCG-3′ (reverse) and inserted into pLVX-AcGFP lentiviral vector (Clontech) within the EcoRI and BamHI sites. The specific protocol for packaging of the virus and preparation of lentiviral particles were described previously [
12
].
Affinity purification-coupled mass spectrometry (AP/MS)
The AP/MS process and data analysis were performed as described previously [
12
].
Immunoprecipitation (IP)
HEK293T cells were transfected with c-Maf and UBE2O plasmids for 24–48 h followed by immunoprecipitation as described as previously [
15
] using specific primary antibodies as needed followed by incubation with 40 μl of a 50% slurry of protein A+G agarose beads with gentle rotation at 4 °C for 2 h. Agarose beads were collected and washed five times with the lysis buffer [
12
], followed by re-suspension in 20 μl of 2× SDS loading buffer. Samples were then boiled before being subjected to fractionation on sodium dodecyl sulfate poly-acrylamide gel electrophoresis (SDS-PAGE) and immunoblotting (IB) analysis.
In-tube ubiquitination assay
This assay was adapted from a previous report [
16
]. Briefly, HA-c-Maf and Flag-UBE2O plasmids were transfected into HEK293T cells, respectively. Forty-eight hours later, cells were treated with MG132 for 2 h, followed by cell lysate preparation. To enrich and purify c-Maf and UBE2O proteins, individual cell lysates were subjected to immunoprecipitation with HA- (for c-Maf) or Flag- (for UBE2O) antibody-conjugating agarose beads, respectively, at 4 °C for overnight. After that, the beads were washed four times with an immunoprecipitation lysis buffer, twice with 1× ubiquitin reaction buffer (Boston Biochem, Boston, MA) and then re-suspended in 20 μl of 1× ubiquitin reaction buffer containing 200 ng of recombinant E1, 250 ng of recombinant UbcH5c, 10 μg of ubiquitin, 0.5 mM ATP, and 1× Energy Restoration System (Boston Biochem, Boston, MA). The reaction was carried out at 30 °C for 2 h and then terminated by boiling in the 2× SDS loading buffer. Ubiquitinated products were resolved by SDS-PAGE and detected by immunoblotting analysis.
Immunoblotting (IB) analyses and cycloheximide (CHX) chase analysis
All the IB and CHX chase assays were performed as described previously [
15
].
Cell proliferation assay
Cell cycle analysis
MM cells were infected with lentiviral UBE2O for 48 h; cells were collected and treated with cold 70% ethanol and stained with propidium iodide (PI). Cell cycle was analyzed on a cytometer (FACSCalibur; BD Biosciences, San Jose, CA) as described previously [
19
].
Cell apoptosis by cytometry
MM cells were infected with lentiviral UBE2O at various periods; cells were then stained with 7-ADD and Annexin V-PE (MultiSciences BiotechCo., Ltd., Hangzhou, China) followed by analysis on a cytometer as described previously [
20
].
Luciferase assay
The luciferase reporter plasmid pGL4-CCND2-Luc was constructed as described previously [
15
]. The DNA sequence of CCND2 promoter contained a c-Maf recognition element (MARE) which could be recognized by c-Maf protein [
10
,
21
]. To examine the effect of UBE2O on c-Maf biological function, HEK293T cells were co-transfected with pGL4-CCND2, c-Maf, and UBE2O, and a β-gal expression vector (100 ng). Luciferase and β-gal expression were measured 36 h after transfection according to the manufacturer's protocols (Promega, Madison, WI, USA). Firefly luciferase activity was normalized to β-gal expression for each sample [
15
]. All transfection experiments were performed in duplicates.
GEO dataset analyses
The DNA microarray dataset from primary MM patients and healthy donors was retrieved from Gene Expression Omnibus (GEO) databases (
http://​www.​ncbi.​nlm.​nih.​gov/​gds
) [
22
]. Log
2
(UBE2O mRNA level) was reported.
Reverse transcription polymerase chain reaction (RT-PCR)
Total RNA was extracted using Trizol® (Transgene, Beijing, China). RNA (2.5 μg) was reversely transcribed using a Superscript
TM
-III kit (Invitrogen) according to the manufacturer's instruction. PCR amplification was carried out in 25 μL of PCR reaction mixture containing 10 mM Tris-HCl (pH 8.3), 50 mM KCl, 2 mM MgCl
2
, 20 pmol of each primer set, two units of Taq DNA polymerase (Transgene, Beijing, China), 0.2 mM dNTPs, and 2 μL cDNA. The primers for UBE2O were 5′-ACATCCGCTCCAACGAC-3′ and 5′-GCTGGTGCTGCCTTCTAC-3′, and the primers for GAPDH were 5′-CCAGCCGAGCCACATCGCTC-3′ and 5′-ATGAGCCCCAGCCTTCTCCAT-3′. PCR products were visualized by ethidium bromide staining after electrophoresis on 1.5% agarose gels. The optical densities of the genes were quantified using the ImageJ software (National Institutes of Health, Bethesda, MD) [
19
].
Xenografts in nude mice
LP1 cells (2 × 10
7
) were s.c. inoculated into the right flanks of nude mice (The SLAC Experimental Animal Co., Shanghai, China). When the tumors were palpable, 10 μg of UBE2O plasmids or empty vectors in 100 μl of In Vivo-jetPEI® Delivery Reagent (
N
/
P
 = 6) (Polyplus-transfection Inc., New York, USA) [
23
,
24
] were injected into tumors twice a week for continued 3 weeks [
17
]. Tumor sizes and mice body weights were monitored every other or 3 days. This xenograft study was approved by the Review Board of Animal Ethics of Soochow University. At the end of the experiment, all tumor species were excised for immunoblotting analysis against specific antibodies as indicated.
Statistical analysis
Student's
t
test was used to calculate
P
values for differences. Differences were considered significant at
P
 < 0.05.
Results
Discussion
The above results demonstrated that UBE2O is a ubiquitin-conjugating enzyme that mediates c-Maf polyubiquitination in the absence of ubiquitin E3 ligases. UBE2O induces K48-linked polyubiquitinaition of c-Maf and mediates its degradation in the proteasomes. Moreover, UBE2O displays as a tumor suppressor against MM.
Conclusions
Taken together, the present study identifies that UBE2O as a novel regulator modulates c-Maf protein stability by mediating its polyubiquitination and subsequent degradation in proteasomes. UBE2O specifically induces apoptosis and inhibits proliferation of a subset of MM cells that express c-Maf. This study provides a novel insight in understanding c-Maf biological function and targeted MM therapy.
Acknowledgements
The authors thanked Dr. Guoqiang Xu for his discussion on this project.
Funding
This work was partly supported by the National Natural Science Foundation of China (81320108023 and 81600171), by the Natural Science Foundation of Jiangsu Province (BE2014630), by the Priority Academic Program Development of Jiangsu Higher Education Institutions (PAPD), and by the Jiangsu Key Laboratory for Translational Research and Therapeutics of Neuro-Psycho-Diseases (BK2013003). The study was also partly supported by the Suzhou Key Laboratory for Pediatric Leukemia (SZS201615).
Authors' contributions
XM designed the study; ZZ, YX, JL, TJ, BC, ZX, and PT conducted experiments; XM, XT, DW, YZ, and MM analyzed data; XM and YZ wrote the manuscript. All authors read and approved the final manuscript.
Availability of data and materials
All data generated or analyzed during this study are included in this published article.
Competing interests
The authors declare that they have no competing interests.
Consent for publication
Not applicable.
Ethics approval and consent to participate
This study was approved by the Review Board and Ethical Committee of Soochow University, and each patient provided written informed consent to donate bone marrows for this study after diagnostic and clinical procedures.
Publisher's Note
Springer Nature remains neutral with regard to jurisdictional claims in published maps and institutional affiliations.
Open Access
This article is distributed under the terms of the Creative Commons Attribution 4.0 International License (
http://​creativecommons.​org/​licenses/​by/​4.​0/​
), which permits unrestricted use, distribution, and reproduction in any medium, provided you give appropriate credit to the original author(s) and the source, provide a link to the Creative Commons license, and indicate if changes were made. The Creative Commons Public Domain Dedication waiver (
http://​creativecommons.​org/​publicdomain/​zero/​1.​0/​
) applies to the data made available in this article, unless otherwise stated.