01.12.2017 | Research article | Ausgabe 1/2017 Open Access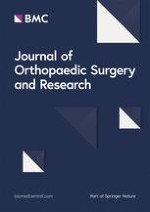 The unresolved problem of beta-2 microglobulin amyloid deposits in the intervertebral discs of long-term dialysis patients
Zeitschrift:
Autoren:

Tsung-Ting Tsai, Arun-Kumar Kaliya-Perumal, Chang-Chyi Jenq, Chi-Chien Niu, Natalie Yi-Ju Ho, Tung-Ying Lee, Po-Liang Lai
Abstract
Background
Dialysis-related destructive spondyloarthropathy caused by beta-2 microglobulin (β2M) amyloid deposits in intervertebral discs is a major burden for patients undergoing long-term dialysis. This study aimed to quantify the presence of β2M amyloid deposits in the intervertebral disc tissue of such patients and analyze whether there was a significant correlation between β2M accumulation and the duration of dialysis.
Methods
Two groups of patients who had undergone surgery for degenerative spinal pathologies were selected: the dialysis group (
n
 = 29) with long-term dialysis and the control group (
n
 = 10) with no renal impairment. Tissue sections were prepared from specimens of intervertebral disc tissue obtained during spinal surgery and analyzed via histological staining, including immunohistochemistry (IHC) and Congo red.
Results
There was a statistically significant multifold increase of β2M expression in the disc tissue of long-term dialysis patients when compared to non-dialysis patients, as shown by both IHC (0.019 ± 0.023 μm
2
vs. 0.00020 ± 0.00033 μm
2
, respectively;
p
 = 0.012) and Congo red staining (0.027 ± 0.041 μm
2
vs. 9.240 × 10
−5
 ± 5.261 × 10
−5
μm
2
, respectively;
p
 = 0.047). We also note a moderate strength positive correlation between the duration of dialysis and positive IHC (
r
 = 0.39;
p
 = 0.015) and Congo-red staining (
r
 = 0.42;
p
 = 0.007).
Conclusions
The problem of β2M amyloidosis in long-term dialysis patients remains unresolved even with predominant use of high-flux dialysis membranes. This highlights the insufficiency of current dialysis modalities to effectively filter β2M.