01.12.2017 | Research | Ausgabe 1/2017 Open Access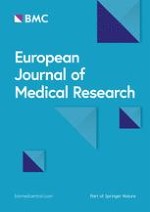 The use of 5-fluorouracil-loaded nanobubbles combined with low-frequency ultrasound to treat hepatocellular carcinoma in nude mice
Zeitschrift:
Autoren:

Qiaoya Li, Hongyang Li, Chengjun He, Zhouhong Jing, Changan Liu, Juan Xie, Wenwen Ma, Huisheng Deng
Abstract
Objective
This study aimed to investigate the therapeutic effects of 5-fluorouracil (5-FU)-loaded nanobubbles irradiated with low-intensity, low-frequency ultrasound in nude mice with hepatocellular carcinoma (HCC).
Methods
A transplanted tumor model of HCC in nude mice was established in 40 mice, which were then randomly divided equally into four groups: group A (saline), group B (5-FU-loaded nanobubbles), group C (5-FU-loaded nanobubbles with non-low-frequency ultrasound), and group D (5-FU-loaded nanobubbles with low-frequency ultrasound). The tumor size in each mouse was observed via ultrasound before and after the treatments. Inhibition of the tumor growth in each group was compared, and survival curves were generated. Tumor tissues were removed to determine the apoptotic index using the TUNEL method and quantitative analysis. Tumor tissues with CD34-positive microvessels were observed by immunohistochemistry, and the tumor microvessel densities were calculated.
Results
The growth rate of the tumor volumes in group D was significantly slower than that in the other groups, while the tumor inhibition rates and apoptotic index in group D were significantly higher than those of the other groups. The number of microvessels staining positive for CD34 was decreased in group D. Therefore, group D presented the most significant inhibitory effects.
Conclusions
Therefore, 5-FU-loaded nanobubbles subjected to irradiation with low-frequency ultrasound could further improve drug targeting and effectively inhibit the growth of transplanted tumors, which is expected to become an ideal drug carrier and targeted drug delivery system for the treatment of HCC in the future.