18.07.2015 | Original Article | Ausgabe 2/2016 Open Access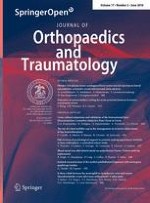 The use of a dual mobility cup in the management of recurrent dislocations of hip hemiarthroplasty
Zeitschrift:
Autoren:

Christian Carulli, Armando Macera, Fabrizio Matassi, Roberto Civinini, Massimo Innocenti
Abstract
Background
Dislocation is one of the most frequent causes of failure of hemiarthroplasties of the hip, which is the most common treatment for femoral neck fractures in elderly patients. A revision with conversion to total hip arthroplasty is the gold standard in case of failure of closed reduction: however, the use of standard or modular components shows variable outcomes. The use of a dual mobility cup has been evaluated in patients with unstable implants, given the good outcomes obtained in primary and revision surgery. The aim of this study was to assess the results of revisions by dual mobility cups in unstable hemiarthroplasties.
Materials and methods
Thirty-one patients (mean age 75.4 years) were retrospectively evaluated between 2006 and 2010 after conversion to total hip arthroplasty with dual mobility cups for recurrent dislocations. The mean number of dislocations was 2.6 (range 2–5). The evaluation was performed by the American Society of Anesthesiologists physical function score (ASA) and the Harris hip score, and several radiologic criteria.
Results
The mean follow-up was 3.8 years. No recurrence of dislocation was recorded. The ASA score remained unchanged, and the mean Harris hip score improved from 62.2 before dislocation to 76.0 points postoperatively.
Conclusions
Dual mobility cups may be a useful option in the treatment of a hemiarthroplasty dislocation. No risk of a new revision due to instability after insertion of dual mobility cups resulted in our experience, and this option may be strongly considered in cases of revisions of unstable hemiarthroplasties.