30.04.2016 | Original Paper | Ausgabe 4/2016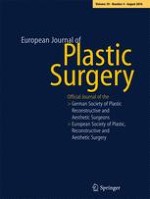 The use of a single local analgesics infusion in operation cavity following mastectomy and its effect on postoperative pain—a retrospective cohort study
Zeitschrift:
Autoren:

Martin Sollie, Camilla Bille
Abstract
Background
Pain following mastectomy often require use of opioids, drugs associated with a significant number of side effects. This study investigated the effect of a single perioperative infusion of bupivacaine in the mastectomy cavity on the postoperative outcomes: use of opioids, pain score, and nausea.
Methods
This retrospective cohort included 244 women undergoing mastectomies at the Odense University Hospital, Denmark. Thirty-five patients received bupivacaine in the mastectomy cavity and were compared to 209 controls who had no local analgesic.
Results
A reduction in the postoperative use of 6.1 "oral morphine equivalents" (OMEQs) was observed in the infusion group in the first 24 h after mastectomy compared to a control group not receiving infusion. This corresponds to a reduction of 6.1 mg of orally administered morphine, equivalent to a 52 % reduction. This was, however, not statistically significant (
p
 = 0.1208). No statistically significant differences between the two groups were found in visual analogue scale (VAS) scores for pain and nausea or in the use of other nonopioid analgesics.
Conclusions
A single perioperative infusion of bupivacaine may have a morphine-sparing effect in the first 24 h after mastectomy. Our results were however not statistically significant when tested on these low-pain surgical procedures. Infusion of analgesics in surgical cavities is simple, fast, and low cost. It might prevent the often seen vicious cycle of nausea and impaired coping with postsurgical pain when patients are introduced to opioids.
Level of Evidence: Level III, therapeutic study.