01.12.2014 | Research article | Ausgabe 1/2014 Open Access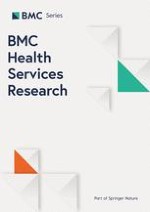 The use of discrete choice experiments to inform health workforce policy: a systematic review
Zeitschrift:
Autoren:

Kate L Mandeville, Mylene Lagarde, Kara Hanson
Wichtige Hinweise
Electronic supplementary material
The online version of this article (doi:
10.​1186/​1472-6963-14-367
) contains supplementary material, which is available to authorized users.
Competing interests
The authors declare that they have no competing interests.
Authors' contributions
KH and ML conceived this study, and all authors contributed to its design. KLM carried out the review and analysis, and wrote the first draft of the manuscript. ML and KH commented on the manuscript. All authors read and approved the final manuscript.
Abbreviations
DCE
Discrete choice experiment
HRH
Human resources for health
LMIC
Low- and middle-income countries
Background
Methods
Search terms
The scope of the review was discrete choice experiments looking at the job preferences of health workers, including doctors, nurses, allied health professionals such as pharmacists, mid-level cadres such as clinical officers, and community health workers. All low-, middle- and high-income countries were included, and there were no limits on date or language.
Search terms were: "health*worker* OR health* personnel OR health* professional* OR human resource* OR staff OR doctor* OR physician* OR clinical OR medic* OR nurse OR midwi?e* OR pharmacist*" AND "discrete-choice* OR choice experiment* OR stated preference* OR job preference* OR conjoint analysis".
Search strategy
We searched the following six databases in order to achieve comprehensive coverage of the healthcare, global health and economics literature: Medline, Embase, Popline, Global Health, Econlit, and Social Policy & Practice. We also searched three grey literature repositories: the HRH Global Resource Center (
http://​www.​hrhresourcecente​r.​org/​
), the Global Workforce Alliance Knowledge Centre (
http://​www.​who.​int/​workforceallianc​e/​knowledge/​en/​
), and the National Bureau of Economic Research Working Papers (
http://​www.​nber.​org/​papers.​html
). A search was also undertaken for us of a database of studies collated by the University of Southampton (United Kingdom) on the use of DCEs in health.
The titles and abstracts of identified studies were screened for relevance. The full text of relevant studies was assessed for eligibility. Ambiguous cases for inclusion were discussed between two of the authors. References of included studies were checked for further relevant studies.
Contact of experts
In order to identify studies not yet included in databases, we contacted experts in the field. These included the corresponding authors of all studies identified by the earlier review and a number of other researchers known to be involved in DCE work. Forty-four experts were contacted, with one reminder email sent after four weeks.
Assessment of included studies
Review of study characteristics
We followed a framework consisting of the four main stages of a DCE (choice task design, experimental design, conduct and analysis) to construct and pilot forms to extract data for key characteristics of included studies. We took the date of publication as that of the earliest publication of the study, in order to more closely reflect when studies were carried out rather than the delays in the publication process. In contrast, if information differed between versions, we used data contained in the peer-reviewed publication where available.
Assessment of validity
We collated a list of 13 criteria to assess the validity of included studies, here defined as the risk of bias or systematic error (see Additional file
1
). We drew on a comprehensive quality checklist constructed by Lancsar and Louviere [
29
], as well as areas of concern highlighted by previous reviews [
30
]. As quality checklists are poorly correlated with validity of studies and often measure the quality of reporting rather than that of the underlying research [
35
,
36
], we limited these criteria to those we considered a substantive threat to the validity of results. These covered all four key stages of a DCE, as poor validity in one stage cannot be negated by high validity in another. Justification for the choice of these criteria is included in Additional file
1
. We assessed whether each criterion for each study was met or not. If the information available for a criterion in any of the study publications was insufficient to judge its achievement, we noted this as a separate category.
Comparison of results
With the increasing number of health workforce DCEs, it would be useful to compare results from studies with similar aims in order to draw broad conclusions from the growing evidence base. Unfortunately, generalisation beyond a single DCE is challenging. It is not possible to directly combine the results of econometric estimations from different studies as coefficients of attributes within a study are interdependent, so to display coefficients from different studies on a linear scale would be misleading [
22
]. In addition, differences in coefficients from separate datasets may be due to scale variance rather than true differences [
4
]. It is more appropriate to compare the relative impact of different attributes across studies when the coefficients have been transformed by methods such as marginal willingness-to-pay or probability analyses.
Only studies that met more than three quarters of the validity criteria (10 out of 13) were included in this comparison. This threshold is necessarily arbitrary when the validity of studies is better thought of as a spectrum [
35
], however this restricted the comparison of results to those studies with few threats to the validity of their results. We compared willingness-to-pay estimates or probability analyses from studies with homogeneous objectives and similar contexts.
No ethical approval was required for this study.
Results
Discussion
There has been a dramatic increase in the number of studies using DCEs to investigate health workforce policy. Twenty-seven studies were identified in this review, with more studies published in the last four years than during 1998–2009. This is the first systematic review of DCEs applied to health workforce policy to our knowledge. Whilst earlier studies may have lagged behind best practice in the field, many of the more recent studies apply state of the art features of design and analysis to address particular issues of health workforces.
Overall, there needs to be more recognition of the heterogeneous nature of health worker experiences, leading to more careful definition of target populations. First, a significant number of studies extrapolated results from students to draw conclusions about the job preferences of qualified health workers. In one study, this even included first year students due to difficulty in recruiting later years [
59
]. Second, certain study samples included qualified workers with large disparities in professional experience. For example, in one study, the experience of health workers surveyed ranged from 0.42 to 32 years [
53
]. Previous qualitative research has shown that job preferences of new healthcare graduates are very different from those of even mid- or late-career professionals [
83
,
84
]. Third, several studies pooled the results from different cadres of health workers despite evidence of significant differences in preferences or income (which would affect willingness to pay estimates) [
59
,
69
,
82
]. Researchers need to be aware that increasing disparity in professional and life experiences will lead to more heterogeneous job preferences, requiring more sophisticated econometric modelling and more careful interpretation to draw valid conclusions. Such variation may in fact mask any true preferences, negating the value of the research. The expediency of combining groups of health workers to obtain an adequate or convenient sample size is outweighed by the benefits of more robust conclusions for a narrower and well defined study population.
Whilst nearly all studies investigated the relative impact of attributes through willingness-to-pay and/or probability analyses, only five studies went on to combine impact measures with cost data to assess cost-effectiveness of policy options to varying degrees. Just one study to date has used Markov modelling to estimate the cost effectiveness of policies over the long run [
65
]
.
The paucity of cost effectiveness analysis likely reflects the difficulty in obtaining accurate cost data (direct and indirect) for salaries and other incentives such as training, in addition to the lack of information on career paths to populate a long-term Markov model [
65
]. This is particularly relevant in LMIC where weak human resource information systems are often a trigger for the use of DCEs over longitudinal studies in the first place. However, cost-effectiveness analysis provides crucial information for policymakers wishing to capitalise on the preferences revealed by DCEs. Indeed, some authors have argued for more use of the willingness to pay values from DCEs in cost-benefit analysis in order to provide fuller evaluation of policy options to decision makers (although concerns have been raised about the use of a price proxy) [
30
,
85
].
All studies included here failed at least some criteria on our validity assessment. This underscores the technical requirements of DCEs for all four stages, but particularly for choice task design. Given that the DCEs reviewed here have been carried out mainly by experienced researchers and that the field is still under great flux, the move to disseminate the use of DCEs more widely amongst non-specialist practitioners may be risky [
28
].
The strengths of this review include its comprehensive search for studies, both published and unpublished. Virtually all known researchers in this field were contacted in order to identify studies in the grey literature, with seven such studies included in the review. This is also, to our knowledge, the first time that a comparison has been made of results from DCEs in HRH. There may, of course, be other relevant studies not identified through our search strategy. This was also the first attempt to assess the validity of DCEs in order to exclude those with significant potential of bias from the comparison of results. There may be debate over our selection of criteria, although we feel these represent the most important threats to validity over the four stages of DCEs. We welcome further efforts to refine these criteria.
Implications for research
No study has yet returned to examine how job preferences change over time in the same population. This would provide welcome insights, as would DCEs on a wider range of health workers. Further training after qualification is clearly important to health workers, with over half of designs including such an attribute in some form. Yet no study has yet compared different forms of further training, for example short-term study leave for courses versus specialist training for doctors. Given the necessity of training for career progression for most health workers, it is likely that health workers place different values on various types of training and this could be explored in future research. Lastly, our attempt to compare results of similar studies was limited, despite using more comparable preferences from predicted probabilities and willingness-to-pay estimates. Methodological research on the generalisability and synthesis of results is urgently needed to allow policymakers to make better use of the growing body ofevidence [
30
].
Implications for policy
The correlation between health workers' stated preferences in DCE studies and revealed preferences of longitudinal studies is still uncertain, although one study here made novel use of accompanying survey data to enhance the realism of policy simulations [
51
]. In other fields, a number of studies show a good correspondence between predictions derived from stated preference models and actual market behaviour [
9
,
16
,
86
]. In HRH, this would translate to acceptance of jobs with valued incentive packages or after implementation of preferred policy changes. It is unclear, however, what a discrepancy between stated and revealed preferences would indicate in the case of HRH policy. Willingness to accept a hypothetical post does not always translate into actual acceptance due to many other aspects of policy implementation, imperfect labour market information and life circumstances that can influence a later career decision. What DCEs do provide is constructive information on health worker preferences for exploratory analysis of policy options, thus allowing limited resources to be deployed based on better evidence. Investment into information systems to keep track of health workers and their career choices should not be neglected, however, so that data can be gathered on the impact of implemented policies.
Conclusions
Discrete choice experiments have become a popular study design to investigate health worker preferences, with several advantages in this field. We identified specific issues relating to this application of which practitioners should be aware to ensure robust results. In particular, there is a need for more defined target populations and increased synthesis with cost data. Research on a wider range of health workers and the generalisability of results would be welcome.
Acknowledgements
The authors gratefully acknowledge Tim Bolt and Karen Gerard of the University of Southampton for searching their database for relevant papers, Hannah Woods of London School of Hygiene and Tropical Medicine for guidance on the search strategy, and all the experts who gave their time to identify further studies. KM is funded by the Wellcome Trust (grant number 09401). The funder had no role in study design, data collection and analysis, decision to publish, or preparation of the manuscript.
This article is published under license to BioMed Central Ltd. This is an Open Access article distributed under the terms of the Creative Commons Attribution License (
http://​creativecommons.​org/​licenses/​by/​4.​0
), which permits unrestricted use, distribution, and reproduction in any medium, provided the original work is properly credited. The Creative Commons Public Domain Dedication waiver (
http://​creativecommons.​org/​publicdomain/​zero/​1.​0/​
) applies to the data made available in this article, unless otherwise stated.
Competing interests
The authors declare that they have no competing interests.
Authors' contributions
KH and ML conceived this study, and all authors contributed to its design. KLM carried out the review and analysis, and wrote the first draft of the manuscript. ML and KH commented on the manuscript. All authors read and approved the final manuscript.